Antique Glass
From
The Drawing Room of Newport
~click on the image to view details about the item~
Gift wrapping is available for smaller items and of course we can ship purchases to most destinations via UPS, U.S. Postal Service
If you wish to be added to our email newsletter - just sign up below:
---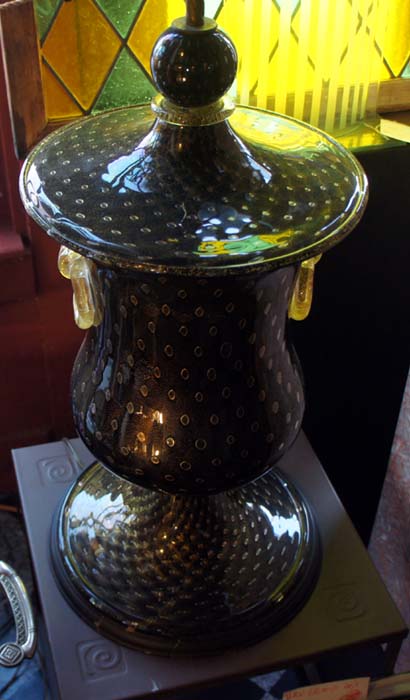 Item # 4112. An Italian Art Glass lamp. Murano: from the workshop of Archimede Seguso. The pattern is Bullicante. Size: the glass section is 25" tall with the lamp to the top of the shade holder being 38" tall; the base is 12" across. Mounted on a wood base. Condition: no fractures, breaks or losses to the glass; the wood base has two line fractures on the edge. This lamp weighs approximately 26 lbs. We have not taken the lamp apart, we suspect that it comes apart in two or three sections. From a Newport Rhode Island Bellevue Avenue home. The last image shows a photo from the Leslie Pina book about Archimede Seguso: page 71 describing an adventurine and bullicante pattern vase with seed-shaped air bubbles. The size and weight of this lamp prohibits us from packing and shipping this item; however we can deliver this lamp to a reputable local packer shipper where our responsibility from its packing and shipping stops and then it is your responsibility to enter into a contract with the shipper and of course, you may pick up this lamp in person from our gallery . Price $2,500.00.
---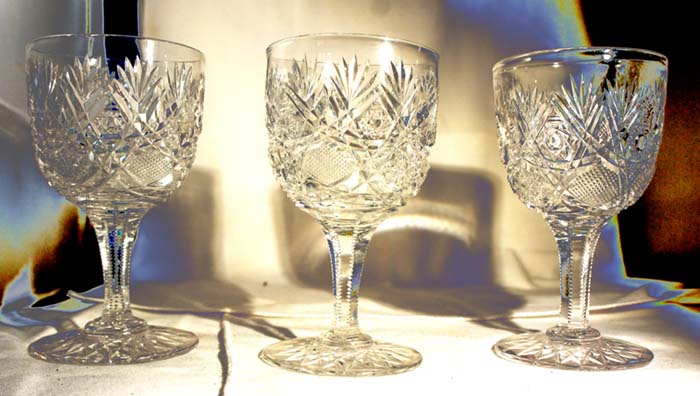 #6012. A set of 14 brilliant period cut glass claret glasses. Gilded Age era. Russian pattern cut glass. Size:4.75" tall. Condition without issue. Circa 1890-1900. Price: 1,250.00 for the set of 14.
---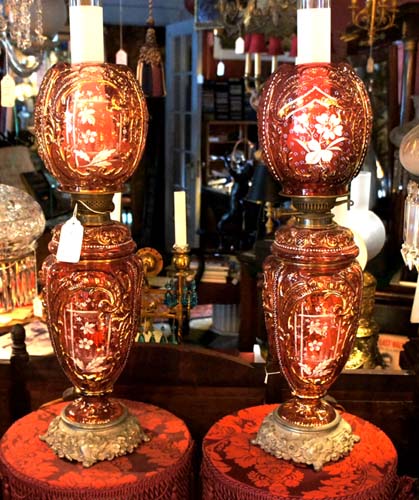 Item #5988. A pair of Ludwig Moser Kerosene table lamps. Cranberry glass with fired painted decorations. Fitted for electricity (without compromising the kerosene burners). Size: to the top of the chimney: 32" - to the top of the burners: 17.5" - shade size: 7 3/4" tall and 4" diameter fitter. The burners are marked "Hugo Schneider Leipzig" Condition: one of the shades has a chip (size of thumbnail) and crack as shown in one of the pictures. The chimneys are new. The shade decorations match the base decorations; however one of the shades has a different decoration compared to the base, so it must have been replaced at the shop where it was purchased. Price for the pair: $3,850.00.
---
# 5986 (b). A late 19th early 20th century art glass vase. 4.5" tall. "Crackle Ware" with applied thick enamel sea weed and two fishes. Unmarked but could be Mt. Washington Glass or perhaps Moser. The pictured colors are a little off: the sea weed is really totally green, not yellow as shown in the image. Price: $450.00.
---
An American Art Glass bowl. Late 19th century. Size: 4.5" tall ( to the top of the ruffle) and handle to handle it is 10.5" across. This bowl was made to look like a handkerchief was laid inside the bowl with the ruffled edge surrounding the bowl. The color is salmon with the edges a pale hue of the darker color. The handles are applied. Condition: tiny flake to the edge of one of the ruffles. Price: $450.00.
---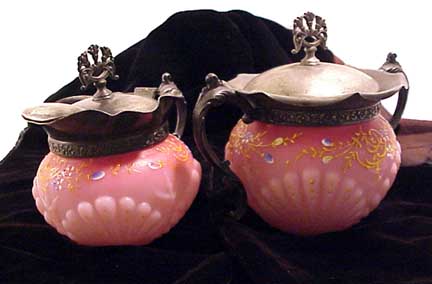 # 5014. A pair of Aesthetic Victorian art glass cream and sugar. Manufactured by Consolidated Glass. It is called shell and seaweed pattern. The glass appears deep rose color at the top fading to a pale pink at the base. The form is a shell and coral like decoration in blown relief with enamel painted flower and stem decorations. The metal work is silver plated consistent with production by any number of Conn. silver companies of the 19th century. The interior of the glass is consistently white implying that the glass is cased. Condition: the metal is worn of most of the silver. The enamel paint decoration appears intact. There are no losses to the metal or cracks or chips to the glass. The shell and coral decoration is very much in blown out relief. There are minor paint losses and scuffing consistent with use and age. I would dates this set around 1885. Price: $450.00 the pair.
---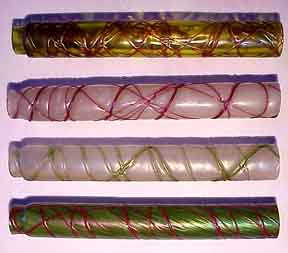 Item # 4667. A set of four candle sleeves probably made for a gas table lamp or gas chandelier or gas wall sconces. The fixture in any event would have been a high style Art Nouveau design. Probably Palme Koenig but possibly Loetz. c. 1900. Each is different but the sizes are the same: 6.5" tall, 3/4" out side dimension with 5/8" inside dimension. Condition: fleck to one of the candles; tiny roughage on tops and bottoms. Price $1,250.00 the set.
---
Shade 5. Offering an unusual Quilted Amberina Style Glass Ball shade. Suitable for a column, moderator or carcel lamp. Size: 7" tall; 7" diameter; fitter opening 2 1/4". Condition: edge flakes to the fitter opening and I suspect that there were fitter rings at the top and bottom of the shade and those are missing. Colors are range from a deep ruby to a very pale pink. Don't know where or who made this shade. Believe it to be period, sometime in the late 19th century. Joseph Locke of the New England Glass Company developed Amberina and it was registered by W.L. Libbey. If this is Amberina, it is a pretty rare shade. Price: $300.00.
---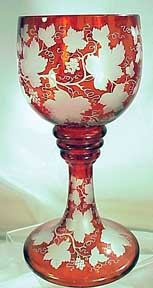 Item # 4551. Believed to be a Sandwich Glass Chalice. c. 1845-55. Size: 9.5" tall. 4 7/8" footprint, 4.25" opening. Condition: as noted a tiny flea bite on one of the leaves in the cup section. Also there is a tiny flea bite on the footed rim and bowl rim. The leaves, vines and grapes are wPerhapsheel cut into the glass. Color red to cranberry: somewhere in between. Perhaps used in a low protestant church. Flashed Bohemian style glass. You can feel the veining in the leaves. From a private home on Cape Cod, MA. Price: $400.00.
---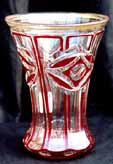 # 3713. Bohemian "Spa" glass, mid 19th century. Red flash against clear. Worn gilt bands at the lip. 4-3/4" tall. $150.00
---
#6088. A glass bowl and cup. Possibly early, perhaps ancient. Each of the two pieces has a museum of collections #: the cup "C.G.1613" in red paint and the plate/bowl "C.G.1730" also in red paint. The bowl is a little shy of 9" across and it is about 2" tall; the cup is app. 2.75" across at the top and 2.5" tall. Condition: no cracks or edge losses; front and back, inside and outside there is a surface "sickness" to the glass creating a complex glaze consistent with age. The color of both of these pieces is pale green. Those who know will recognize if these two pieces are old or reproductions. Inquiries welcome.
---
ZSOLNAY // FURNITURE // GLASS // PORCELAIN // POTTERY // METAL
LIGHTING // PAINTINGS // EPHEMERA // TEXTILES // GOTHIC // MISCELLANEOUS//CLOCKS
---
THE DRAWING ROOM ANTIQUES HOME PAGE
---
The Drawing Room is located at 152-154 Spring Street, Newport, Rhode Island 02840.We are open daily from 11 am to 5 pm and by appointment. If you have an interest in an item listed in this document or wish to purchase an item, please call us at 1-401-841-5060 (cell: 401-261-3980). We have been located in Newport since 1985.
---
Email us

at drawrm@hotmail.com
---