John & Rico's
Antique Glass
From
Their Drawing Room of Newport
____________________________________________________________________
___________________________________________________
___________________________________
_____________________
~click on the image to view details about the item~
Gift wrapping is available for smaller items and of course we can ship purchases to most destinations via UPS, U.S. Postal or Fedex.
If you wish to be added to our email newsletter - just sign up below:
---
# 5986 (b). A late 19th early 20th century art glass vase. 4.5" tall. "Crackle Ware" with applied thick enamel sea weed and two fishes. Unmarked but could be Mt. Washington Glass or perhaps Moser. The pictued colors are a little off: the sea weed is really totally green, not yellow as shown in the image. Price: $450.00.
---
# 5986. An art glass shell form vase with sea-weed footing and decoration. Probably Bohemian (Loetz factory). Size: 3.5" foot and it is 6.75" tall. Condition: without issue. Price: $1,500.00.
---
An American Art Glass bowl. Late 19th century. Size: 4.5" tall ( to the top of the ruffle) and handle to handle it is 10.5" across. This bowl was made to look like a hankerchief was laid inside the bowl with the ruffled edge surrounding the bowl. The color is salmon with the edges a pale hue of the darker color. The handles are applied. Condition: tiny flake to the edge of one of the ruffles. Price: $450.00.
---
A pair of Victorian American Satin Art Glass bobeches. Pink with frosted ruffled edges. Size: about 4.5" across with a 1" opening. This is a matched pair of candle bobeches. Late 19th century. Condition: tiny under edge flakes where the candle fits; no cracks or repairs. Price: $350.00 the pair.
---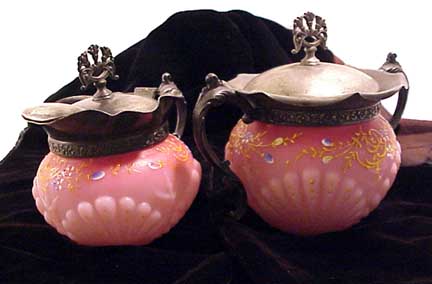 # 5014. A pair of Aesthetic Victorian art glass cream and sugar. Manufactured by Consolidated Glass. It is called shell and seaweed pattern. The glass appears deep rose color at the top fading to a pale pink at the base. The form is a shell and coral like decoration in blown relief with enamel painted flower and stem decorations. The metal work is silver plated consistent with production by any number of Conn. silver companies of the 19th century. The interior of the glass is consistently white implying that the glass is cased. Condition: the metal is worn of most of the silver. The enamel paint decoration appears intact. There are no losses to the metal or cracks or chips to the glass. The shell and coral decoration is very much in blown out relief. There are minor paint losses and scuffing consistent with use and age. I would dates this set around 1885. Price: $450.00 the pair.
---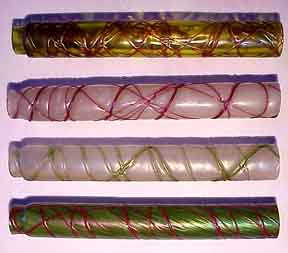 Item # 4667. A set of four candle sleaves probably made for a gas table lamp or gas chandelier or gas wall sonces. The fixture in any event would have been a high style Art Nouvea design. Probably Palme Koenig but possibly Loetz. c. 1900. Each is different but the sizes are the same: 6.5" tall, 3/4" out side dimension with 5/8" iniside dimension. Condition: fleck to one of the candles; tiny roughage on tops and bottoms. Price $1,250.00 the set.
---
Shade 5. Offering an unusual Quilted Amberina Style Glass Ball shade. Suitable for a column, moderator or carcel lamp. Size: 7" tall; 7" diameter; fitter opening 2 1/4". Condition: edge flakes to the fitter opening and I suspect that there were fitter rings at the top and bottom of the shade and those are missing. Colors are range from a deep ruby to a very pale pink. Don't know where or who made this shade. Believe it to be period, sometime in the late 19th century. Joseph Locke of the New England Glass Company developed Amberina and it was registered by W.L. Libbey. If this is Amberina, it is a pretty rare shade. Price: $300.00.
---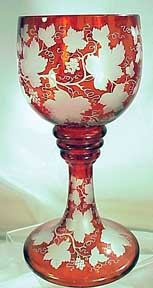 Item # 4551. Believed to be a Sandwich Glass Chalice. c. 1845-55. Size: 9.5" tall. 4 7/8" footprint, 4.25" opening. Condition: as noted a tiny flea bite on one of the leaves in the cup section. Also there is a tiny flea bite on the footed rim. The leaves, vines and grapes are wheel cut into the glass. Color red to cranberry: somewhere in between. Perhpaps used in a low protestant church. Flashed Bohemian style glass.You can feel the veining in the leaves. From a private home on Cape Cod, MA. Price: $400.00.
---
Item Number 4147a. A vase: att. to Pairpoint. layered glass: white on the inside and pale blue on the outside; quilted design. Applied leaf, fruit and handle. Condition: pictures note condition: edge rim flake; possible edge flake to two of the leaf extremeties. Size: 7.25" tall. From a New Bedford Mass Estate. Price: $225.00.
---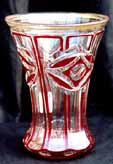 # 3713. Bohemian "Spa" glass, mid 19th century. Red flash against clear. Worn gilt bands at the lip. 4-3/4" tall. $150.00
---
---
ZSOLNAY // FURNITURE // GLASS // PORCELAIN // POTTERY // METAL
LIGHTING // PAINTINGS // EPHEMERA // TEXTILES // GOTHIC // MISCELLANEOUS//CLOCKS
THE DRAWING ROOM OF NEWPORT AND THE ZSOLNAY STORE HOME PAGE
---
The Drawing Room is located at 152-154 Spring Street, Newport, Rhode Island 02840.We are open daily from 11 am to 5 pm and by appointment. If you have an interest in an item listed in this document or wish to purchase an item, please call us at 1-401-841-5060 (cell: 401-261-3980). The Partnership of Gacher and Santi has been in business for over 30 years. We have been located in Newport since 1985.
---
Email us

at drawrm@hotmail.com
---
---
---
---
---
---

Free counters provided by Honesty.com.

Visitors since 01-17-01