John & Rico's
Retro Lighting and Furnishings
from Their Drawing Room Antiques
Chrome and Lucite Chandeliers and Table Lamps
and other
Decorative Arts from 1920 - 1970
Newport's finest selection of Retro Decorative Arts
(If you want to know more about Retro read: Elizabeth E. Guffey's Book titled "Retro The Cultural of Revival" published in 2006 by Realktion Books Ltd. 33 Great Sutton Street London EC1V ODX, UK. ISBN-13: 9 781 86189 290 4 or ISBN-10: 1 86189 290 X - You won't be disappointed !
---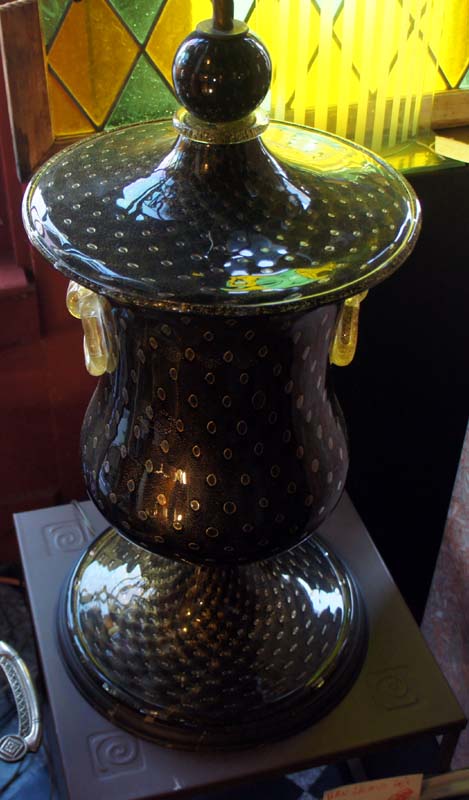 Item # 4112. An Italian Art Glass lamp. Murano: from the workshop of Archimede Seguso. The pattern is Bullicante. Size: the glass section is 25" tall with the lamp to the top of the shade holder being 38" tall; the base is 12" across. Mounted on a wood base. Condition: no fractures, breaks or losses to the glass; the wood base has two line fractures on the edge. This lamp weighs approximately 26 lbs. We have not taken the lamp apart, we suspect that it comes apart in two or three sections. From a Newport Rhode Island Bellevue Avenue home. The last image shows a photo from the Leslie Pina book about Archimede Seguso: page 71 describing an adventurine and bullicante pattern vase with seed-shaped air bubbles. The size and weight of this lamp prohibits us from packing and shipping this item; however we can deliver this lamp to a reputable local packer shipper where our responsibility from its packing and shipping stops and then it is your responsibiliy to enter into a contract with the shipper\and of course, you may pick up this lamp in person from our gallery . Price $5,500.00.
---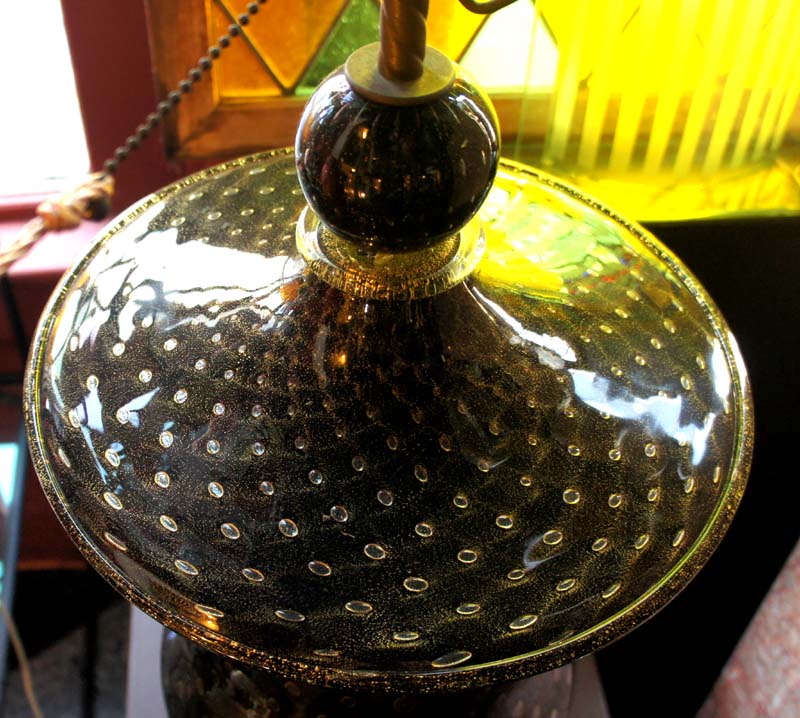 ---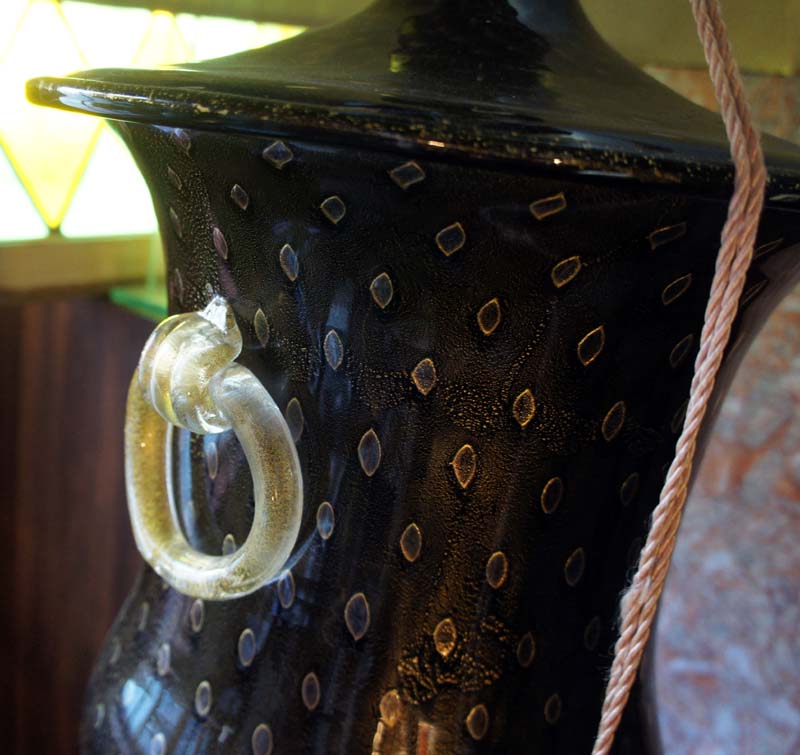 ---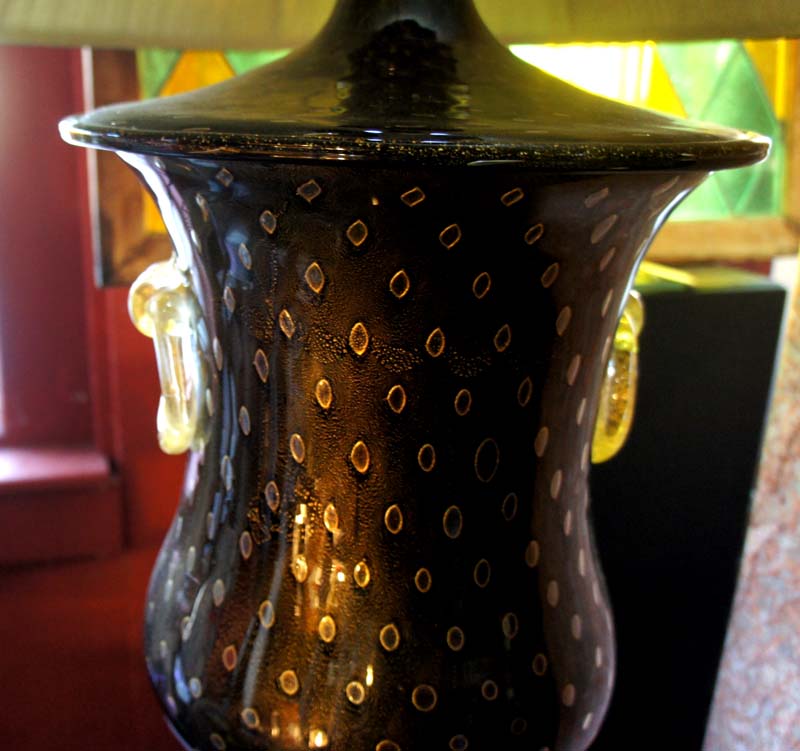 ---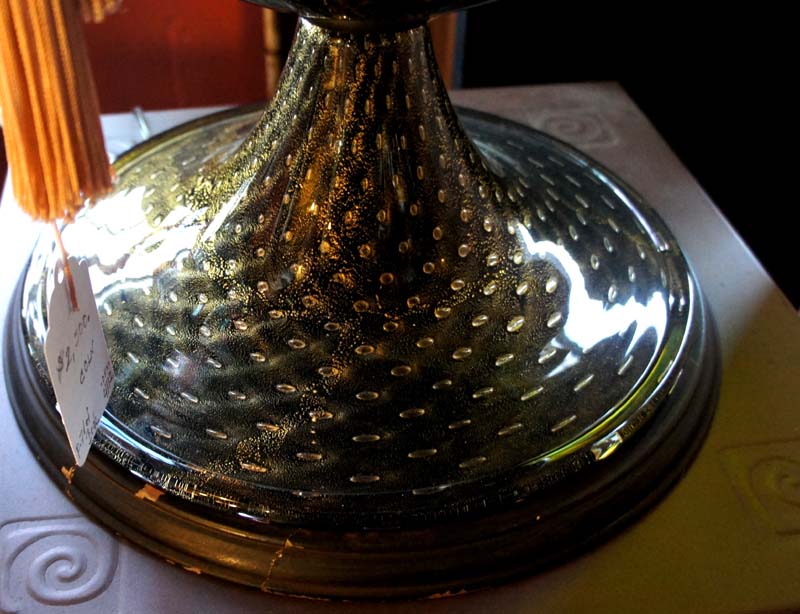 ---
---
---
---
---
---
---
---
Click on your back button to return to the previous page.
---
HOME PAGE FOR THE DRAWING ROOM OF NEWPORT
ZSOLNAY // FURNITURE // GLASS // PORCELAIN // POTTERY // METAL
LIGHTING // PAINTINGS // EPHEMERA // TEXTILES // GOTHIC // MISCELLANEOUS
---
The Drawing Room is located at 152-154 Spring Street, Newport, Rhode Island 02840.We are open daily from 11 am to 5 pm and by appointment. If you have an interest in an item listed in this document or wish to purchase an item, please call us at 1-401-841-5060 (cell: 401-261-3980). The Partnership of Gacher and Santi has been in business for over 30 years. We have been located in Newport since 1985. Our email address

is: drawrm@hotmail.com All images copyright by F. Santi, 2011

Free counters provided by Honesty.com.

Visitors since 01-17-01