Antique Lighting from
The Drawing Room Antiques
---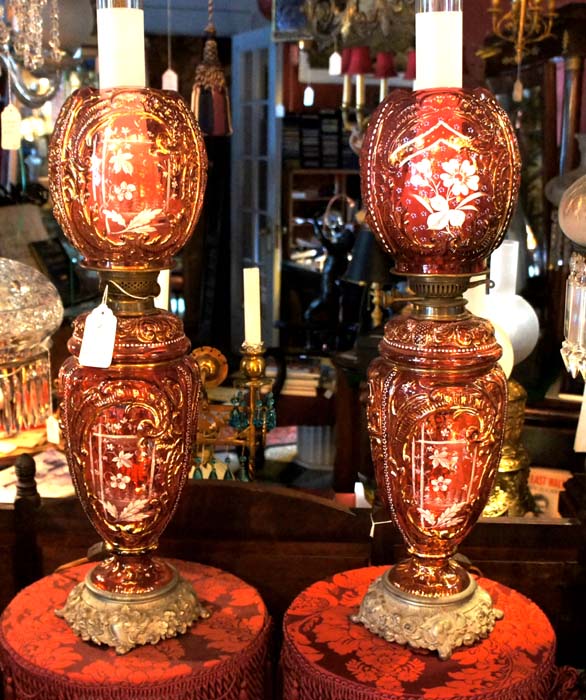 Item #5988. A pair of Ludwig Moser Kerosene table lamps. Cranberry glass with fired painted decorations. Fitted for electricity (without compromising the kerosene burners). Size: to the top of the chimney: 32" - to the top of the burners: 17.5" - shade size: 7 3/4" tall and 4" diameter fitter. The burners are marked "Hugo Schneider Leipzig" Condition: one of the shades has a chip (size of thumbnail) and crack as shown in one of the pictures. The chimneys are new. The shade decorations match the base decorations; however one of the shades has a different decoration compared to the base, so it must have been replaced at the shop where it was purchased. Price for the pair: $3,850.00.
---
---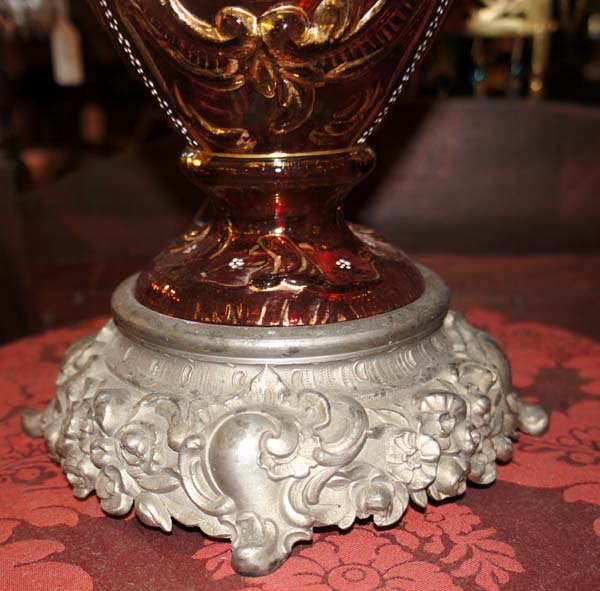 ---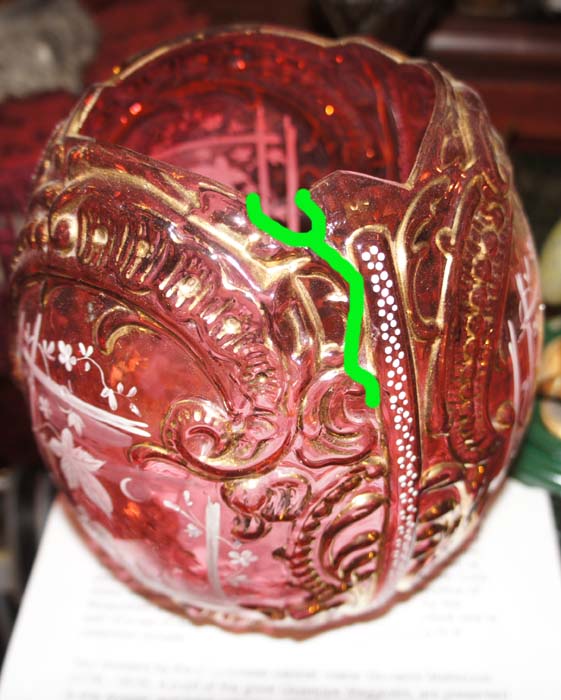 The green line shows the outline of the chip and the ensuing crack.
---
---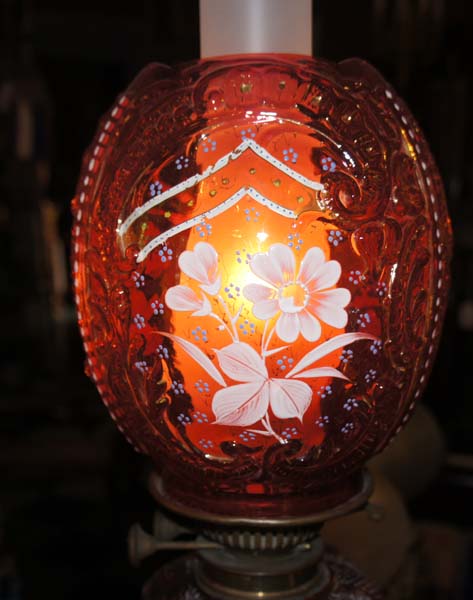 ---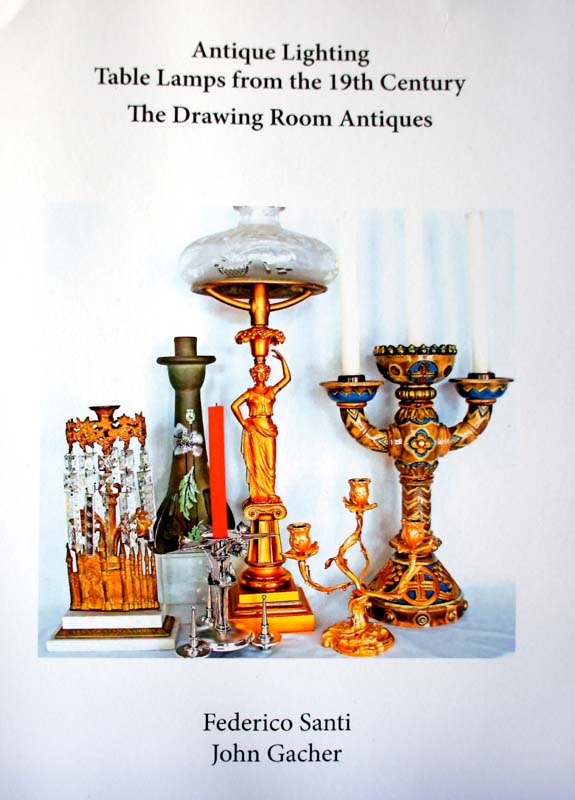 ---
"Antique Lighting
Table Lamps from the 19th Century
The Drawing Room Antiques
Written by Federico Santi and John Gacher
All the lamps in this book are for sale and are priced.
"Antique Lighting: Table Lamps from the 19th century" showcases candelabras, Argand, Sinumbra, Solar, Carcel, Moderator, gas and kerosene fixtures. The Drawing Room Antiques in Newport, RI presents dozens of examples currently in inventory with descriptions including materials, sizes, and prices. This book can also be used as a reference book for beginning collectors of 19th century table lamps. Historic interiors commonly use period lighting to enhance the authentic style being created. Rare examples are often viewed in historic homes across America starting with the White House in Washington. Room settings in museums depicting 19th century decorating styles feature period table lamps because they were critical to families to provide light for evening activities. The range of innovative lighting mechanisms during the 19th century is showcased in this volume
Available from Amazon: ISBN: 9781070164403
---
ZSOLNAY // FURNITURE // GLASS // PORCELAIN // POTTERY // METAL
LIGHTING // PAINTINGS // EPHEMERA // TEXTILES // GOTHIC // MISCELLANEOUS//CLOCKS
THE DRAWING ROOM ANTIQUES HOME PAGE
The Drawing Room is located at 152-154 Spring Street, Newport, Rhode Island 02840.We are open daily from 11 am to 5 pm and by appointment. If you have an interest in an item listed in this document or wish to purchase an item, please call us at 1-401-841-5060 (cell: 401-261-3980). We have been located in Newport since 1985. Our email address

is: drawrm@hotmail.com