John & Rico's
Antique Glass from The Drawing Room of Newport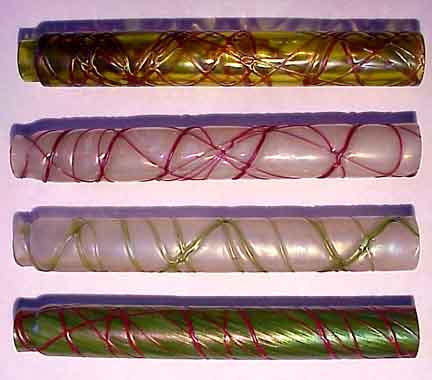 Item # 4667. A set of four candle sleaves probably made for a gas table lamp or gas chandelier or gas wall sonces. The fixture in any event would have been a high style Art Nouvea design. Probably Palme Koenig but possibly Loetz. c. 1900. Each is different but the sizes are the same: 6.5" tall, 3/4" out side dimension with 5/8" iniside dimension. Condition: fleck to one of the candles; tiny roughage on tops and bottoms. Price $1,250.00 for the set.
---
---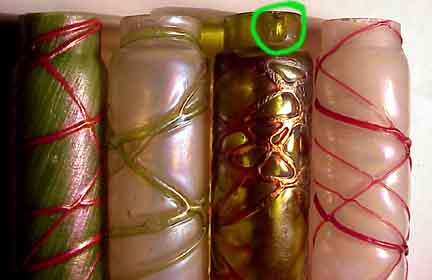 ---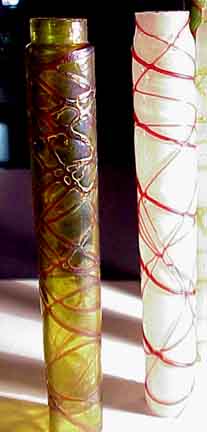 ---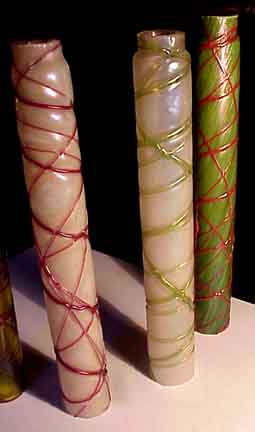 ---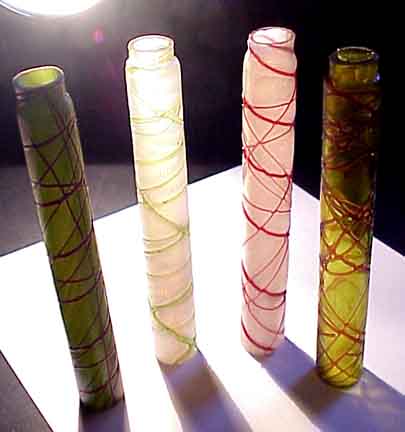 ---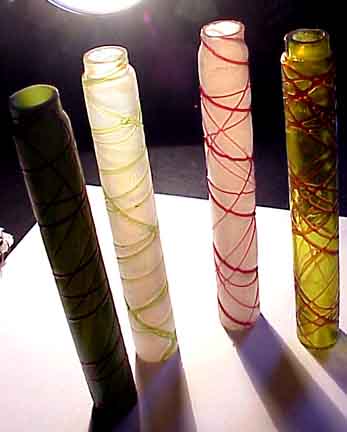 ---
---

---
ZSOLNAY // FURNITURE // GLASS // PORCELAIN // POTTERY // METAL
LIGHTING // PAINTINGS // EPHEMERA // TEXTILES // GOTHIC // MISCELLANEOUS
THE DRAWING ROOM OF NEWPORT HOME PAGE
---
The Drawing Room is located at 152-154 Spring Street, Newport, Rhode Island 02840.We are open daily from 11 am to 5 pm and by appointment. If you have an interest in an item listed in this document or wish to purchase an item, please call us at 1-401-841-5060 (cell: 401-261-3980). The Partnership of Gacher and Santi has been in business for over 30 years. We have been located in Newport since 1985.All images copyright by F. Santi, 2006
Email us

at drawrm@hotmail.com

Free counters provided by Honesty.com.

Visitors since 01-17-01