THE NEWPORT ANTIQUE BOOKS GALLERY
Antique Books of and about Newport, Rhode Island
and Providence Plantations
offer by
John & Rico's
The Drawing Room of Newport
152 Spring Street / Newport, RI 02840 (401-841-5060)
---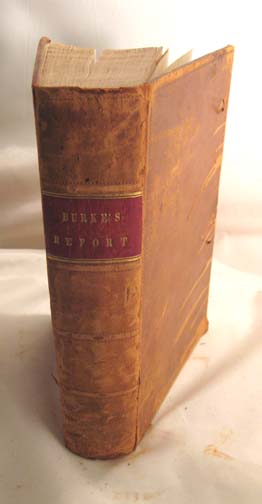 Item # RI 7. Titled: "Rhode Island Interference of the executive in the affairs of" Printed June 7, 1844. The 28th Congress 1st Session Rep. No. 546. House of Representatives. This book consisted of 1070 pages. Owned and inscribed Mr. William J. Underwood Book. Newport R.I. 181 / Thomas Peckham Book. 1844. This book is the historical referencing to the Thomas Wilson Dorr Trial of 1844. This is a remarkable reference book of Rhode Island history of that time period. On page 474 is stated: "List of persons at the election of the 27th 28th and 29th December 1841, for the purpose of adopting the people's constitution." and then there follows to page 622 the list of voters in each town of Rhode Island. There are tables of populations from 1832 to 1841. Condition: scuffs and surface tears to the leather cover; foxing and staining to many interior pages; no pages are missing. Price: $500.00.
---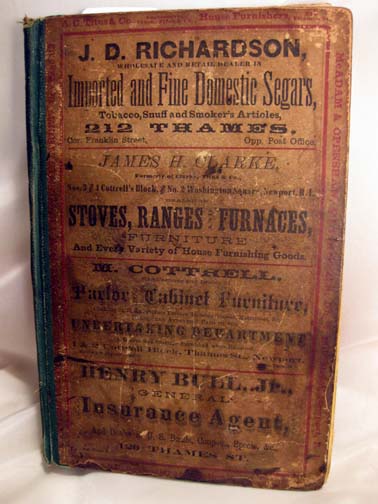 Item # RI 3. "Boyd's Newport City Directory for 1874-1875 with a Business Directory of the Trades and Professions, Sate and City Record and an appendix of much Useful information" This is an original edition, not a copy. This is a great reference book in usable condition. No pages missing. Lots of Advertizements for Newport Rhode Island businesses. Size: app. 6" x 9". Condition: very dirty covers; Cover is broken back from the spine but still attached. 233 pages and none seem to be missing. Price: $500.00.
---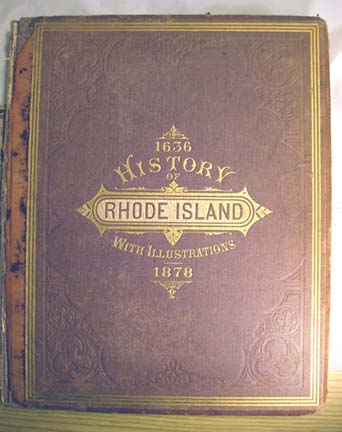 Item # RI 1. Hoag, Wade & Co. [Albert J. Wright, Printer], Philadelphia, 1878. Hard Cover. Book Condition: Missing Spine. First Edition. First edition [no statement of printing]. Oversize [about 11.25" x 14"] volume with bevelled board edges, [originally bound in] dark brown cloth with gold gilt lettering/decoration/rules 370 pages, all edges gilt, illustrated. There are over 100 full page illustrations of homes and commercial structures and churches in Rhode Island of note. Each chapter for every city and town in Rhode Island. Condition: as stated there is no outer spine. Some foxing to some pages; appear to have no pages missing; small tears to several pages. This is a great reference book in usable condition. Scanned and reprinted, the illustrations are beautifully rendered from original drawings and would be great framed. Price: $300.00.
---
Item # RI 4. A rare and hard to come by Rhode Island State Report of the Debt incurred during the "War of the Revolution" and still being addressed in 1847. "The undersigned, Commissioners appointed at the January Session of the General Assembly, A.D. 1846 to inquire into and report upon the history and character of the registered state debt of this state, and to report the substance of all the past acts and proceedings of the General Assebly upon the subject of said debt, and all other information which may be obtained relative to said debt, to the end that it may be ascertained whether this state is legally or equitably bound to pay said debt or not. . ." 15 Pages long with a number of additional blank pages. Size: app. 5" x 7.5". Condition: outer spine with considerable loss. Outer covets intact. Some foxing and small holes in the blank pages. Price: $150.00
---
Item # RI 6. Titled: " Commemortive Discorses Preached in the Beneficent congregational Church Providence R.I. October 18, 1868 by James G. Vose Pastor to which are appended some historical notes and reminiscences and a list of the members of the church" An interesting notation inside: "The publication of these Discourses has been delayed, on account of the burning of the Printing Office, at the time, when the work was nearly comnpleted." SIze: 5" x 7.5". Condition: minor scuffing to the outer cover; complete with no missing pages 135 Pages). I think that the most interesting part of this book is the list of members at the end of the chapters. Price: $150.00.
---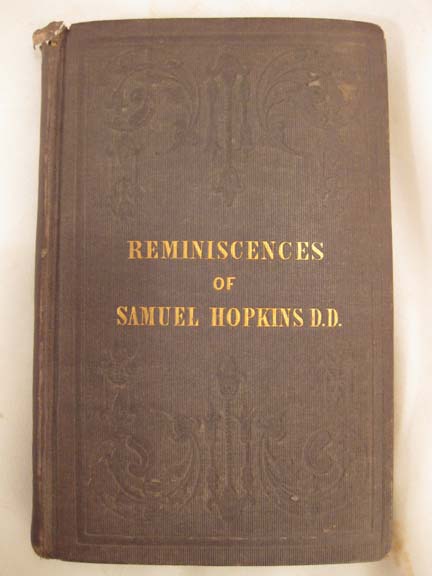 Item # RI 8. Titled: "Reminiscences of the late Rev. Samuel Hopkins, D.D. of Newport, R.I. Illustrative of his character and doctrines, with Incidental Subjects." Written by William Patten, D.D. Isaac H. Cady Market Street, Providence, R.I. Boston . . . etc. 1843. Samuel Hopkins was born September 17, 1721 and died December 20, 1803. He was an American Congregationalist minister of the late Colonial era. Created a new theological structure called The New Divinity also called Hopkinsianism. He is credited with originating the concept of "disinterested benevolence" which became and central concept in "The Great Awakening". An early opponent to the institution of slavey, he published a pamphlet entitled, "A Dialogue Concerning the Slavery of the Africans," which was addressed "To the Honorable Members of the Continental Congress, Representatives of the Thirteen United American Colonies." Size: app. 4" x 6"; condition: fraying to the top outerbinding, some foxing and a couple of tiny holes in a couple of pages. A good Rhode Island reverence book in usable condition. Price: $150.00.
---
Item # RI 11. Titled: "Historic Newport" From the personal collection of William King Covell (April 19, 1947). This 45 page pamphlet was produced by the Newport Chamber of Commerce and this third printing was released in 1941. Paper covers; with text, and striking Block Prints by the artist Lloyd A. Robson. There are a number of full page Block Prints and several pages of photographs of area buildings. Size: a little over 6" x 9". Condition: slight fraying to outer paper covers, pamphlet is intact and usable. Price: $75.00.
---
Item # RI 12. Titled: "A Guide and Map of Newport" By all rights, this pamphlet should not be in as good conditions as it is: there is a folt out map (16" x 26" )that looks like it has never been unfolded. Stapled outer paper front and back cover. Published by Gabriel Weis - 124 Bellevue Avenue and 489 Fifth Avenue (NY). Information (for 1916) lists Boats and Trains, Theatres, Points of Interest; 19 pages of history; 1 page for church listings, and 4 pages of "Lists of Cottages" and then the fold out map. A good resource item in usable condition; the map show the electric trolly lines in Newport at that time. The Cottage listing also lists the owner of the cottage. A hard Newport item to come by. . . Price: $100.00.
---
Item Number NPT 11. From our extensive collection of Newport books, prints and post cards. Titled "Newport The World's Yaching Center" 28 pages, printed around 1930. Mortimer A. Sullivan was the Mayor of Newport At the time of this publication. Photos include: The Constellation, Ida Lewis Yacht Club, The America Yacht, The Enterprise, Was College, Old Colony House, Old Market House, Jewish Synagogue, Hotel Viking, Viking Beach, LaForge, Muenchinger King, Cliff Walk, Fourty Steps, The Cup, The Old Stone Mill, The Casino, Newport Beach, Swiss Village, Cherry, Neck Ocean Drive, Fall River Line Steamship and bi-planes at the Newport Air Port. Size: 6" x 8.5". Condition: front and back cover unattached; 3/4" side edge tear to the last 5 pages including the back cover. Map in color on the back outer cover of the area titled "Narragansett Bay Drive". Price: $50.00.
---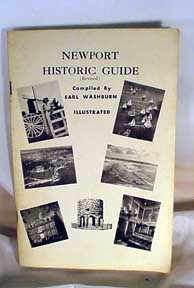 Description Item Number NPT3. From our extensive collection of Newport Rhode Island books, post cards and Historical Ephemera: A tourist booklet: "Newport Historic Guide (revised)" Compiled by Earl Washburn Illustrated. Size: 6" x 9". Outer paper covers. 103 pages. Drawings and photo illustrate the excellent booklet. Condition: stains to the outer cover and discoloration to many of the interior pages. A useful Newport Rhode Island book. Mr. and Mrs. Washburn at one time owned our building in Newport and Delphine had a book store in our gallery. Price: $40.00.
---
Item Number NPT 10. From our extensive collection of Newport books, prints and post cards. Titled "Old Newport Verse" Selected and Illustrated by Helena Sturtevant. Helena was a Newport Rhode Island Artist who taught and was a co founder at the Newport Art Association. She was born in 1871 and died in 1946. This book was No. 344 of 500. The Heronshaw Press of Newport was the printer. Copyrighted by Helena in 1936. 32 Pages with verses by George Berkley, Henry W. Longfellow, Bret Harte, Henry Theodore Tuckerman, Julia Ward Howe, John Jerome Rooney, S. Weir Mitchell, Charles Collinds Van Zandt, Latta Griswold, Alan Seegar. 14 Illustrations by Sturtevant. Condition: good condition with a little fading to the cover. Size: 5.5" x 7 7/8". Price: $40.00.
---
Description Item # NPT 14. Titled: "Friend's Meeting House Newport R.I." By T. Sinclair Litho Philadelphia; Mid 19th century. Size: 11" x 15.75". Condition: Not good: large hole in lower middle right; holes in the left margin; small hole in the sky; staining and paper fragility in the sky. It is a rare print however. The meeting house still stands in Newport but looks a little different now. It actually looks better in this print than in person. Price: $50.00.
---
Item # NPT 15. A set of 5 Glass Plate Negatives on the Interior of Trinity Church in Newport Rhode Island. Size: 5.5' x 7". Condition: good: thought there are a few minor scratches to the emulsion. The lines in the photos are from a slide display device in our office. One plate has a slight nick to the edge outside the image. Age: pre 1940, but I don't know how much earlier than that. Price: $50.00 the set.
---
Item # NPT 16. A single Glass Plate Negative showing the Harbor waterfront of Newport Rhode Island showing also I believe Goat Island. Size: 5" x 7". Condition: good. The lines in the photos are from a slide display device in our office.Age: pre 1940, but I don't know how much earlier than that. Price: $35.00.
---
# A 37."Once upon a Time in Rhode Island" by Katherine Pyle. Illustrated by Helen B. Mason. Copyright by the Society of Colonial Dames in Rhode Island 1914. A hard cover in fair condition: broken spine. Printed by Country Life Press Doubleday Page and Co. Garden City, NY. No paper cover. 205 pages. Price: $40.00.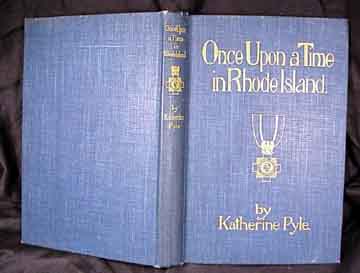 ---
HOME PAGE FOR THE DRAWING ROOM OF NEWPORT AND THE ZSOLNAY STORE
ZSOLNAY // FURNITURE // GLASS // PORCELAIN // POTTERY // METAL
LIGHTING // PAINTINGS // EPHEMERA // TEXTILES // GOTHIC // MISCELLANEOUS
---
The Drawing Room is located at 152-154 Spring Street, Newport, Rhode Island 02840.We are open daily from 11 am to 5 pm and by appointment. If you have an interest in an item listed in this document or wish to purchase an item, please call us at 1-401-841-5060 (cell 1-401-261-3980). All images copyright by Federico Santi, 2009 / We are sorry if a book listed here is not available: we sell these books in our gallery and from time to time we update the listing on these pages.

Our Email address is: drawrm@hotmail.com

Free counters provided by Honesty.com.

Visitors since 01-17-01