---
EROS
---
Erotic Art: the Art of Man
from
The Drawing Room of Newport
---
If you wish to be added to our email newsletter - just sign up below:
---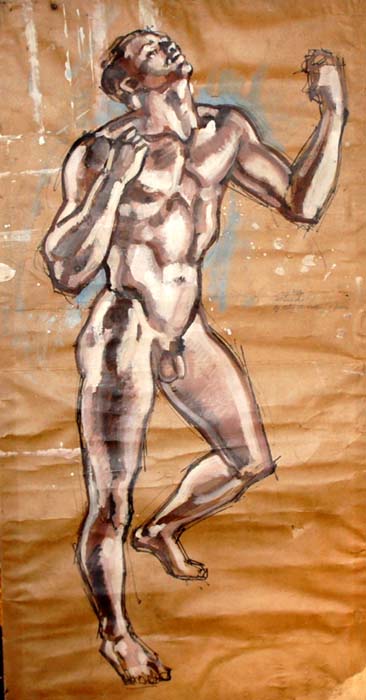 # 4710. An oil over ink on paper. Artist William Horace Littlefield ( was an American painter known for his figure studies of male nudes. Born 10-28-1902, died 7-5-1969. His works are in the Museum of Fine Arts Boston, the Harvard Art Museums, the Worcester Art Museum, Smith College Art Museum, the New Hampshire Institute of Art, the Addison Gallery, the Museum of Modern Art in New York, the Cape Cod Museum of Art. Size: 22.25" x 43". Paper mounted on board. Pencil notations on the art work itself ( "my body...") and notations on the back side in pen: "William Horace Littlefield Paul Thorpe Apollo for Apollo and Daphne. Jan. 1933 Oil on paper over ink." We do not believe that this piece was signed by the artist. Condition: tears, holes. Price $3,950.00.
---
#4584. A pottery figural clock depicting Prometheus, from the firm of Goldscheider - Vienna Austria. Circa 1905. Size: 9" deep x 12.5" wide and 23.5" tall. Prometheus waits while The eagle perches above about to dine on his liver! Condition: the clock (Lenskirk-Germany) is not working. A simple movement that does not chime. Original hands. Very minor nicks to the pottery; rubbing to the toes of Prometheus. Not sure if the decorative (original) bulb is still working. Price: $2,500.00.
---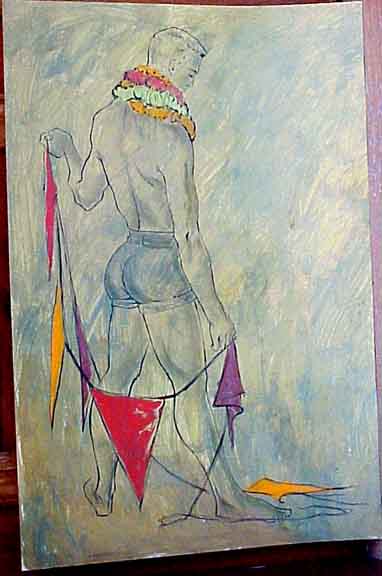 Item # rb8. An india ink and pencil and watercolor or tempra drawing. Size: 18" x 24". Age between 1950 and 1960. Att. to the artist Richard Banks. Not signed. Rear profile of a young man with very tight shorts holding sailing penants with lei's around his neck. Many of Richard Banks subjects were members of the New York City Ballet. Condition: on stiff paper with no real flaws. An interesting gay / erotic collectible. Price: $1,250.00.
---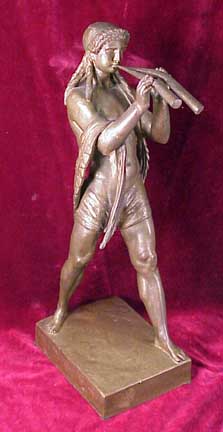 # 4626. A bronze statue of a Classical Male. Artist: Louis Rochet. 19th century. Size: 17.5" tall. Base footprint: 5.25" x 7.25". Condition: the horns are bent and the surface has been patinated a long time ago with what appears to be gold paint. Inscribed: "To Professor Harry Burnes Hutchins Retiring Associate Dean as a token of love and respect from the members of the Cornell University School of Law 1894-95." Information about this fine French Sculptor is as follows: b Paris, 24 Aug 1813; d Paris, 21 Jan 1878). French sculptor and anthropologist. Rochet studied at the Ecole des Beaux-Arts in Paris under Pierre-Jean David d'Angers, but withdrew from the Prix de Rome competition to pursue Oriental languages (especially Chinese) and natural history, at the same time providing models for commercial sculpture. He returned to monumental sculpture in 1838 and followed the example of David d'Angers in sculpting commemorative statues for the provinces, such as Marshal Drouet d'Erlon (bronze, 1844–9; Reims, Place de la Couture). Rochet distinguished himself in the costumed pageantry of figures from earlier French history, such as the equestrian William the Conqueror (bronze, 1846–51; Falaise, Hôtel de Ville), the Marquise de Sevigné (bronze, 1857; Grignan) or Charlemagne Accompanied by Roland and Olivier (bronze, 1853–67; erected 1878, Paris, Place du Parvis Notre Dame). The most popular of these historical re-creations was Napoleon Bonaparte as a Student at Brienne (plaster, exh. Salon, 1853; marble, exh. Exposition Universelle, 1855; bronze, 1855, erected 1859; Brienne, Hôtel de Ville). The bronze monument to Don Pedro I of Brazil (1855–62; Rio de Janeiro) involved Rochet in anthropological and zoological research, as its granite base was enriched by sculptures of groups of natives and local fauna, symbolizing South American rivers. A historicizing approach to style, first used by Rochet in his colossal bronze Notre Dame de Myans, erected near Chambéry in 1855, re-emerged in a later series of Classical subjects, initiated by the 'Archaic' Minerva (plaster, gilded bronze and silver plated, exh. Salon 1864). Signature inscribed on the plateau base. Price: $3,500.00.
---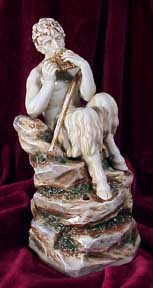 # 4159. A German Porcelain figure of Pan playing his pipe. The form has 10 holes surrounding the figure in the rock outcropping meant to hold flower stems, so the figure was originally placed in a dish or bowl of water. Realistic colors of moss and rock support the pan. Size: app. 8.5" tall. Mark for the Company: Muller & Co. Volkstedt - 1907-1949. Condition: loss to gold paint decoration; no porcelain loss or repairs. Price: $950.00.
---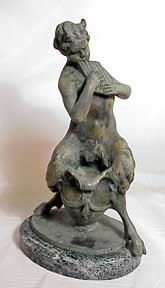 # 3502. A bronze figure of Pan playing his pipes sitting on a decorative urn. Size: 10.5" tall. On a footed antique verde marble base. Exceptionally well detailed. Aged patina. Age: probably late 19th century and possibly earlier. Also possibly a model for a larger garden item. Allard of Paris decorated many of the Newport Rhode Island Cottages and this statue could have been a model for a very large garden statue. We purchased this from a Newport Rhode Island Estate Auction about 15 years ago. Condition: small discoloration on the bronze base at the foot of the urn. There are no foundry marks or signatures on this bronze of a young nude boy pan. Probably European: French; German; Austrian, etc. Price: $2,500.00.
---
If you have Erotic Art that you wish to sell, we are always interested in purchasing such items: paintings, bronzes, carvings, prints, etc. Complete discretion assured.
---
ZSOLNAY // FURNITURE // GLASS // PORCELAIN // POTTERY // METAL
LIGHTING // PAINTINGS // EPHEMERA // TEXTILES // GOTHIC // MISCELLANEOUS//CLOCKS
---
THE DRAWING ROOM ANTIQUES HOME PAGE
---
The Drawing Room is located at 152-154 Spring Street, Newport, Rhode Island 02840.We are open daily from 11 am to 5 pm and by appointment. If you have an interest in an item listed in this document or wish to purchase an item, please call us at 1-401-841-5060 (cell: 401-261-3980). We have been located in Newport since 1985.
---
Email us

at drawrm@hotmail.com
---