---
---
Erotic Art: the Art of Men
from
The Drawing Room of Newport
---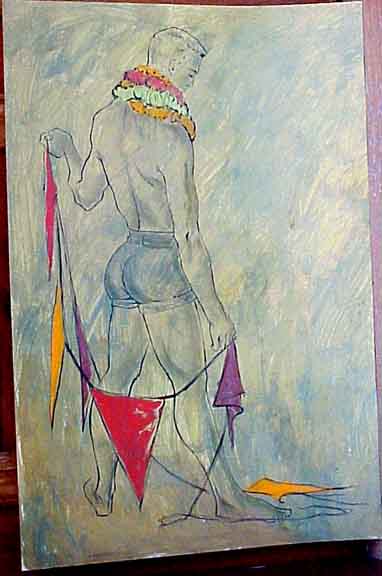 Item # rb8. An india ink and pencil and watercolor or tempra drawing. Size: 18" x 24". Age between 1950 and 1960. Att. to the artist Richard Banks. Not signed. Rear profile of a young man with very tight shorts holding sailing penants with lei's around his neck. Many of Richard Banks subjects were members of the New York City Ballet. Condition: on stiff paper with no real flaws. An interesting gay / erotic collectible. Price: $1,250.00.
---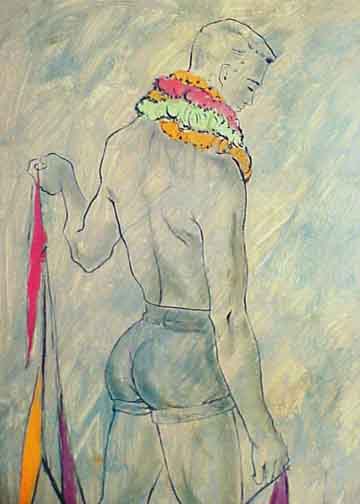 ---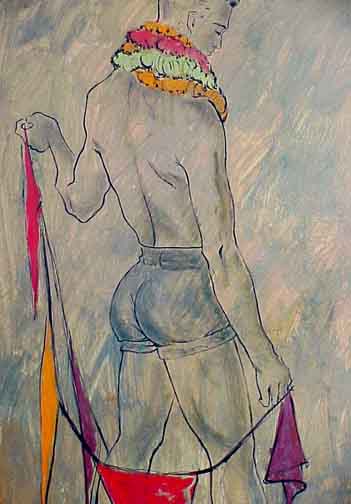 ---
---
---
---
---
If you have Erotic Art that you wish to sell, we are always interested in purchasing such items: paintings, bronzes, carvings, prints, etc. Complete discretion assured.
---
ZSOLNAY // FURNITURE // GLASS // PORCELAIN // POTTERY // METAL
LIGHTING // PAINTINGS // EPHEMERA // TEXTILES // GOTHIC // MISCELLANEOUS//CLOCKS
---
THE DRAWING ROOM ANTIQUES HOME PAGE
---
The Drawing Room is located at 152-154 Spring Street, Newport, Rhode Island 02840.We are open daily from 11 am to 5 pm and by appointment. If you have an interest in an item listed in this document or wish to purchase an item, please call us at 1-401-841-5060 (cell: 401-261-3980). We have been located in Newport since 1985.
---
Email us

at drawrm@hotmail.com
---