---
Asian Antiques
Japanese, Chinese and Asian Antiques: Ceramics, Metalware, Fine Art
From The Drawing Room Antiques
152 Spring Street
Newport, RI 02840
1-401-841-5060
---
If you wish to be added to our email newsletter - just sign up below:
---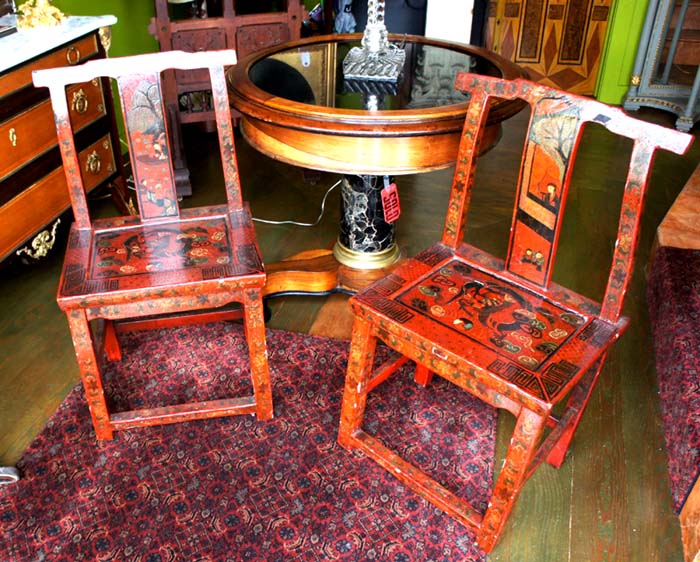 #6029. A pair of lacquered wood and hand painted chairs. Asian: Chinese or Japanese. From the estate of Mrs. Dorrance "Dodo" Hill Hamilton, from her home in Newport, Rhode Island. Size: the seat is 19" wide and 15" deep and is 19" tall. The back of the chairs are 35.75" tall. Condition: chips; cracks; the chairs are very sturdy. Dated prior to 1900. The underside are painted black. Price for the pair: $3,500.00.
---
# 7041. A set of 6 Chinese Tempera panels on rice paper framed by Veerhoff Galleries, Washington, DC. between 1900 and 1910. Each framed panel (under glass) is 11.75" x 49" tall. Condition: without issue. The subjects depicts colorful birds against a royal blue background. Purchased in Peking at the turn of the century. Inquiries.
---
#7045. An Asian altar painting on silk. Size: 15" x 18.5" Condition: very good; framed under glass in a fancy carved wood frame. SOLD
---
#7046. A Thangka of Maitreya Qing Dynasty, 18th/19th century. Size: 17" x 24" Condition: very good; framed under glass in a wood frame. SOLD
---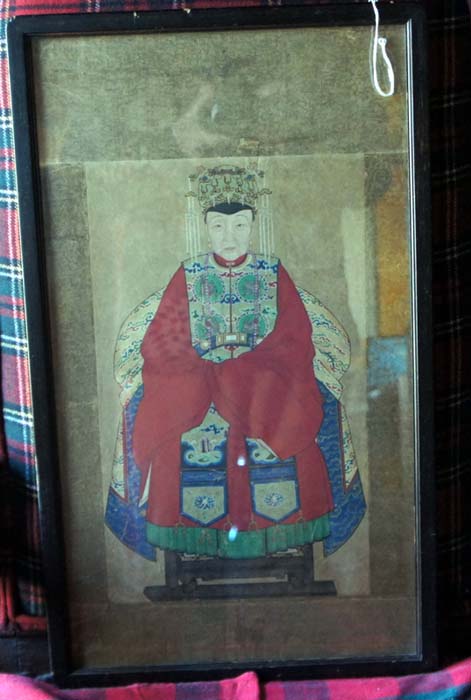 #7044. An Asian altar painting on silk depicting The Dowager Empress. Size: 13.5" x 23". Condition: very good; framed under glass in a wood frame. Inquiries.
---
#ASIA 2. A portable dining service. 19th century. Probably Japanese. Consisiting of a holder (with a ring to attach to a belt), a pair of chop sticks and a knife. All made of shin bone. Size: 11" long. Condition: faiding of the incised blackened decorations; loss to the top green band where the knife and chop sticks are inserted into the holder. A rare item. Price: $250.00.
---

#ASIA 4. A sterling silver personal salt shaker in the form of a lantern. Marked with the rising sun + Sterling + 950. Size: 3.5" tall. The bottom unscrews to fill with salt. Condtion: minor dents and scratches consistient with use and age. Price: $225.00.
---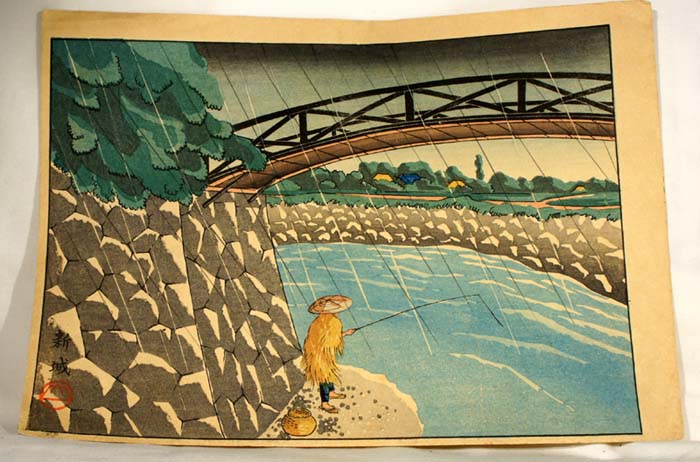 #ASIA 1. A woodblock print. Probably Japanese. Early 20th century. Size: image size is 9.5" x 7". Condition: without issue. Signed on the lower left corner. A fisherman on the shore close to a bridge during a light rain. . . Price: $100.00.
---
#6007. A shin bone carving: probably Chinese. 19th century. Depicting a nobleman. Hand knotted cord with ebony elements. Size: 2" x 2.5". The cord is 14" x 2. . . condition: without issue. Price: $750.00.
---
#5939. A Chinese Porcelain lidded bottle. Size: 14.5" tall and a base size of 6.25". 19th century. Unsigned. Condition: multiple enamel paint losses. The top of the finial was broken off and repaired. Inquiries.
---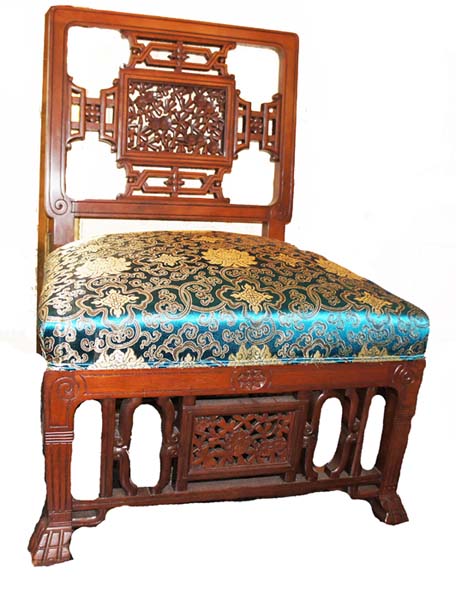 # 5123. A single American parlor chair. Circa 1876. Mahogany. In the Japanesque / Aesthetic style. Size: the back is 30" tall; the seat is 14" tall; the seat is 21" across and 19" deep. There is no evidence that there were castors on this chair. Very good original condition with minor scuffs; no repairs or breaks. All four legs are carved with paws. The oriental carved fret work panels are inset into the frame. Probably New York City. This chair has been re-upholstered in an oriental style covering. Price: $2,250.00.
---
ZSOLNAY // FURNITURE // GLASS // PORCELAIN // POTTERY // METAL
LIGHTING // PAINTINGS // EPHEMERA // TEXTILES // GOTHIC // MISCELLANEOUS//CLOCKS
---
THE DRAWING ROOM OF NEWPORT HOME PAGE
---
The Drawing Room Antiques is located at 152-154 Spring Street, Newport, Rhode Island 02840.We are open daily from 11 am to 5 pm and by appointment. If you have an interest in an item listed in this document or wish to purchase an item, please call us at 1-401-841-5060. We have been located in Newport since 1985.
---
Email us atdrawrm@hotmail.com