---
Kaiserhaus and Ballspenden
Link to site of American Dance Cards
Imperial Decorative Arts of the Habsburg Monarchy
Austro Hungarian Era 1867-1918
From The Drawing Room Antiques
_______________________________________
__________________________________________________
As with all our category pages: click on the image to take you to a page of detail images.
_________________________________________________________________________________________________________
____________________________________________________________________________________________
_______________________________________________________________________________
____________________________________________________________________
____________________________________________________________
___________________________________________________
---
# 5273. An metal plaquette: High style Art Nouveau - Secession - decor. A mountain climber at the bottom reaches toward a naked maiden in the rocks; surrounded by Edelweiss. This charming memento celebrates the efforts of mountain climbing in the Austrian Alps. Size: 3.5" x 5.5". Relief style; gilt and patinated base metal. Designed by F. Mayr. Probably made for a Vienna Ball. Condition: some surface wear to the gilt surface. Price: $350.00.This Item has been sold.
---
# 5272. A Ballspenden Party Favor. Box form; size 2" tall x 2.25" x 2.75". Gilt metal with a framed photograph of Emperor Franz Josef of Austria Hungary. Early 20th century. The metal work is in bright intact condition. The photograph is covered with a celluloid cover which is somewhat warped. This box originally held a piece of wrapped chocolate. These mementos of Vienna Balls are extremely rare; each example was limited in production to the number of ladies attending the ball which could be as few as 100 and usually no more that 400. Few have survived and for the most part, these are the only 'memories' of that ball that have survived. It is a privilege to own a Viennese party favor and one of the most romantic collectibles on today market. Price: $350.00.This Item has been sold.
---
We are offering a fine and rare selection of Hussar figures designed and made at the Zsolnay Factory for the Paris World's Fair in 1900. These figures were made for the Hussar Exhibition Hall. Lajos Mack (1876-1963) and Sandor Apati Abt (1870-1916) were commissioned to create the figures. We have six for sale: 5 in white glaze and one in a polychromed glaze. There were 31 in all including a large figure of Franz Josef on a horse. This entire collection can be viewed in Budapest at the Military Museum in Buda.
---
# 4486. A miniature painting on (believed to be) Ivory depicting Franz 1st of Austria. In a gold leaf metal frame. Size of the frame: app. 3" x 4". Size of the miniature: app. 1 1/4" x 1 3/4". Condition: the ivory appears to have a crack on the left section running vertically and another stress crack running through the center of the image. Emperor Franz 1st lived from 1768-1835. The frame and the entirety possible was made during his reign. The appearance is Rococo by design. It is our understanding that an American Soldier in Vienna just after WW II traded this item for a pack of American Cigarettes. Price: $650.00.This Item has been sold.
---
Ballspenden or Dance Cards
from Vienna Austria
The Drawing Room has the largest and finest selection of Ballspenden from Vienna and Budapest in the United States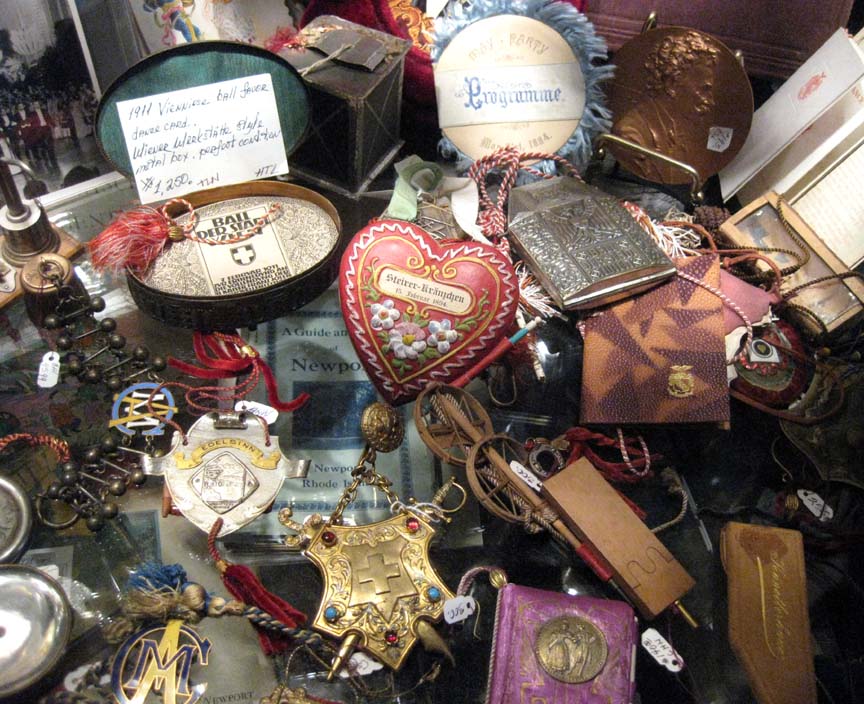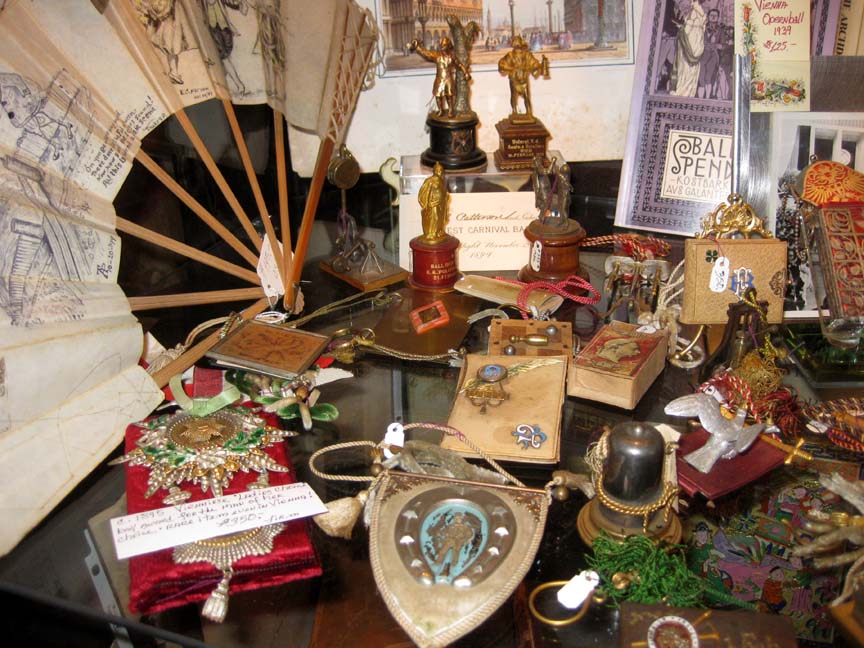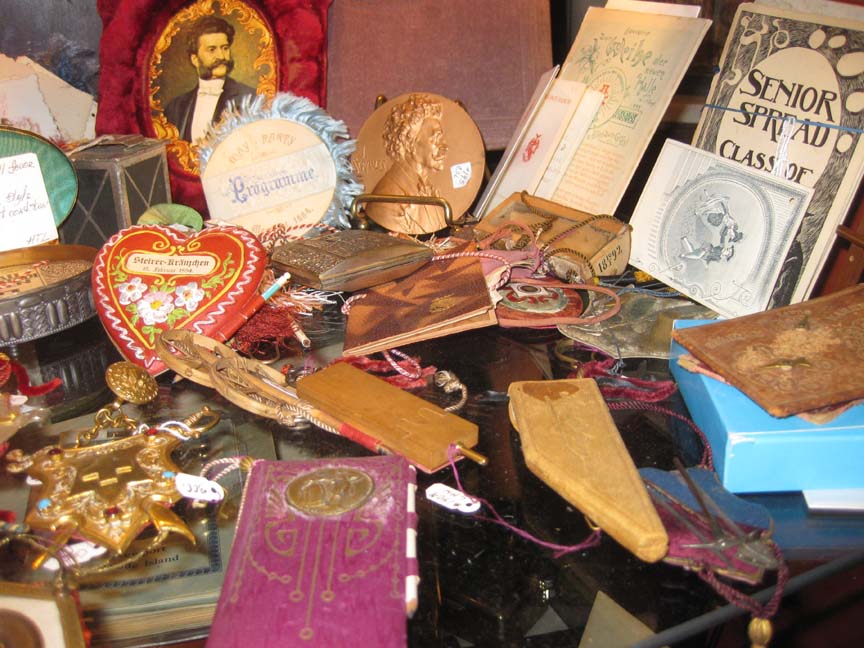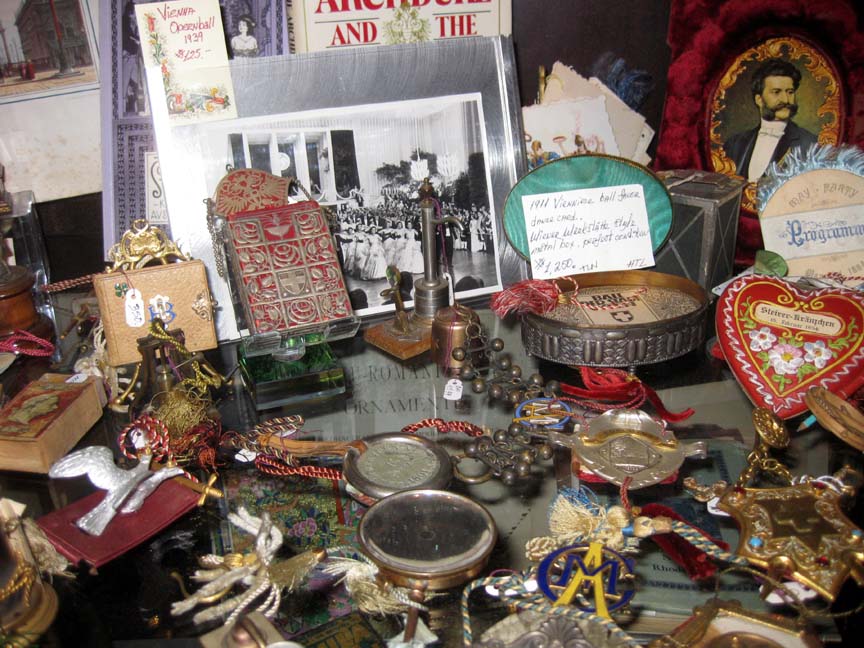 ---
#5234. A Dance Card from Vienna. Titled: "Kranchen der Sodaw. Fabrik der Wr. Gastwirthe 31. Jan. 1900" The medallion on the front shows a seltzer bottle framed by laurel leaves with medals on either side at the top. Size: 8.5" hook to tassel. Medallion size: 2.75" diameter. Condition: Interior card complete; pencil probably not original. Marked inside: " K.K. Blumensale" "Atelier Julius Wachter Wein VIII Lerchens. 22." Price: $350.00.This Item has been sold.
---
# 5233. A Ballspenden from Vienna. Titled "Rudolfsheimer VI Armen Ball 29 Janner 1901" Size: 10.5 from the hook to the bottom tassel. Card size is 3.5" x 3.5". The Armen Ball was the "poor peoples" ball. Johann Strauss wrote a polka, opus 176 titled The Armen Ball Polka. The design is a high style Art Nouveau form; flowers frame and metal poor box with a coin (dated 1901) about to be donated. Condition: scuffing to the paint surface and some enamel loss to the flower color; there is no interior to the attached booklet on the back side; there is a pencil, but probably not the original pencil. A rare and beautiful Art Nouveau memento of an evening of dance. Price: $350.00.This Item has been sold.
---
# 5232. A Dance Card from Vienna. Titled: "Schutzen Kranzchen - Kunstlerhaus 20 Februar 1909" This Ballspenden was made for a shooting club and is in the Egyptian Style. Designed by August Klein " k. und k. Hoflieferant" Wien 1, Graben 20. The Graben is in the center of the old section of Vienna very close to St. Michael's Cathedral. Dances included Polonaise, Walzer, Polka franc, Polka mazur and Polka schnell. This is a rare and attractive dance card from Vienna, Austria. Size: 3" x 5" not including the cord and hook. Condition The book is intact with pencil; minor wear consistent with use and age. Price: $500.00.This Item has been sold.
---
Item number 4598. The organization from Vienna Austria was the Alpine Tunnel Builders titled: "EisenbahnBall [dated] Feb. 4, 1904." inside stating: TUNNEL - BILDER Von Den Neuen Alpenbahnen. Photos by M. Jaffe and the maker of the dance card: August Klein Wien. Size of the main body of the card: 3 1/8" x 2 1/4". The card opens to reveal two pages with dance selections, title page and 20 pages of photos of all aspects of Tunnel Building several which I depict here. Condition: excellent: pencil and tassel and hook intact. Tunnel photos include: Karawanken Tunnel; Elektrische Tunnel showing the locomotive "adam and eve"; So . . . another nice and rare dance card as only the Viennese can do it! So much more interesting than most American Dance Cards. Price: $250.00.This Item has been sold.
---
Item number 4596. A Dance Card dated March 14, 1895. Titled " Alpine Gesellschaft D' Waldegger " As with most Vienna ( Wien ) Dance (or Ballspenden ) cards, this is a three dimensional representation for the sponsoring organization. This Alpine walking club used a lantern for their dance card. Cardboard with siler foil and green paper exterior. The top has edelweiss from the Alps glued to the top. The dance name and list of dances in on the underside of the card. Condition: considerable scuffing to the exterior; some of the flowers are missing; partial loss to the bottom paper; no pencil. Price: $175.00This Item has been sold.
---
DC 4. From a train switchers ball. No book or pencil. The round lever with handle moves the gears which turn the signal. C. 1890. Probably Vienna: Price: $375.00.This Item has been sold.
---
DC 5. From some kind of Industrial Ball. No Book, no pencil. The lever at the left moves up and down and causes the 'press' to operate. Price: $300.00.This Item has been sold.
---
DC 6. From a train workmen ball; probably Vienna. The 'switch' at the left causes the water filler to move from right to left. No book, no pencil. Price: $450.00.This Item has been sold.
---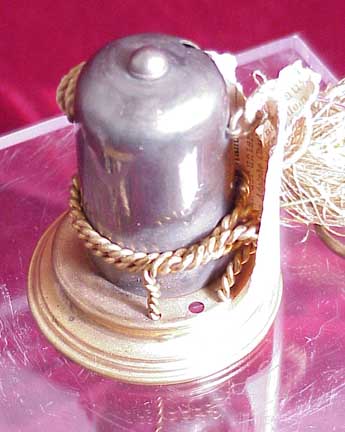 DC 9. From a Vienna Ball made by Jaeger & Thiel, Wien; Jan 31, 1881. From a Boat related group. The 'card' is on a spindle that pulls out from a slit in the silver plated bell shaped device. The 'card' is on a spring that retracts into the device. about 1/3 of the dance card is missing. No pencil. Price: $335.00.This Item has been sold.
---
There is little that we can say about this dance card: probably late 19th early 20 th century. Judging from the dispenser we would assume some organization related to the product, either manufacturer or service group. Gilt brass and nickel plated metal. One foot (of four ) is missing. $350.00.
---
DC 27. This is a wonderful dance card. Unfortunately we know very little about it except that it is from Budapest. The "bell" shaped object on the left is a 50 Kilogram weight and attached are dumb-bells. The materials are fire gilt bronze and enamel. The initials intertwine to form " A M C ". The dance card was stored inside the weight and what little is left of the card states dances in Hungarian. We would date this after the turn of the century. So the style elements surely imply a weight lifting organizations. Dance titles include " Csardas, Keringo (waltz), Tipego, Negyes, Gyorspolka,etc." On the last page of the card is stated: " Kobanyai gyartmany" which may be the manufacturer. $450.00.This Item has been sold.
---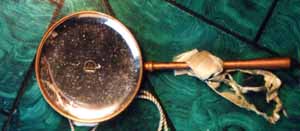 DC 51. Dated Feb. 13, 1895. "Medicus Tanczestely" ( which means Medical Dance ) Budapest. A doctors Ball. This is quite a rare dance card: the form is a device for examining ones eye. The back of the case is opened to reveal the dance information and card. Morzsanyi was the maker. Has tassels and ribbon. Inside (as is normal for Hungarian dance cards) are listed the names of the doctors in attendance (not their wives). Includes pencil ( which is stuck inside the metal case). Material : brass, bronze and mirrored glass. $425.00.This Item has been sold.
---
DC 78. This dance card has no date and no book. We believe that it represents an railroad organization ball. When you move the lever, the signal turns. Probably made in Vienna for a City Ball. The materials are brass, fire gilt bronze and nickel plated bronze. $375.00.This Item has been sold.
---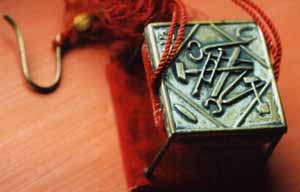 DC 81. This card has no marks, card or pencil. Probably from the 1890's. The form represents an metal workers or forge workers table. It stands on four legs which are supported by a velvet covered base. Under the base was located the dance card information and pencil. Probably Vienna. Nicely detailed. Material: wood, velvet, pewter plated brass. $165.00.
---
DC 82. Again this card is not marked: probably late 19th century and probably Vienna. A wooden plate is hand decorated with burnt drawings and inscriptions which must represent the sponsoring organization with is then framed with a silver plated metal enclosure. Attached with green and white velvet tassels. The dance information must have been attached to the reverse of the wooden plate. Otherwise in nice condition. $165.00.
---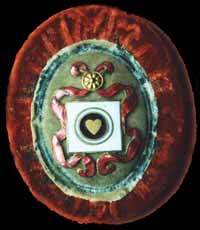 DC 85. This card is dated: March 14, 1892. Marked: 'Künstlerhaus Schützen kränchen' Made by August Klein. The pencil is gone and there was some kind of decorative element on the face in-between the red velvet and the center medallion: perhaps a frame. Material: wood, velvet, high fired enamel on bronze. $150.00.
---
DC 101. The photo depicts an unidentified couple: perhaps military and or royal heritage. This item is about 2" x 3" and is made of red and white ribbon with gold trim and a photo of the couple in the center. The reverse holds a foil wrapped candy (which is still there and uneaten). From Vienna and dated from the turn of the century. These mementos are very rare and fragile. We know that these items were available at Balls but we do not know if they were offered as keepsakes or perhaps as items for sale to raise funds for various reasons: charity, war relief, Ball expenses, etc.. Price: $350.00.
---
DC 105. A rare Ballspenden / Dance Card party favor depicting a photo of Archduke Franz Ferdinand of the Imperial Austro Hungarian Monarchy, son of Archduke Carl Ludwig. Archduke Ferdinand he was to become Emperor of the Austro-Hungarian Empire. Archduke Ferdinand was assasinated at Sarajevo the event that may have been the catalist for the beginning of World War One. This item had a candy attached to the back side originally and that foil covered candy is missing. Size: 3.5" x 3". The original photo is framed in a bright gold brass frame surrounded by period ribbon and netting. Condition: the photo is clear and in good condition. The image is sharp; the foil covered candy is gone. This item could have been also a christmas tree ornament. This rare Austro Hungarian Collectible dates from around 1900 and is an original item, not a reproduction. Very few of these come on the market today. Price: $450.00.
http://www.drawrm.com/dance.htm
---
---
---
---
ZSOLNAY // FURNITURE // GLASS // PORCELAIN // POTTERY // METAL
LIGHTING // PAINTINGS // EPHEMERA // TEXTILES // GOTHIC // MISCELLANEOUS
THE DRAWING ROOM OF NEWPORT AND THE ZSOLNAY STORE HOME PAGE
---
The Drawing Room is located at 152-154 Spring Street, Newport, Rhode Island 02840.We are open daily from 11 am to 5 pm and by appointment. If you have an interest in an item listed in this document or wish to purchase an item, please call us at 1-401-841-5060 (cell phone 401-261-3980). The Partnership of John Gacher and Federico Santi has been in business for over 40 years. We have been located in Newport since 1985. All images copyright by Federico Santi, 2013
Email us:

Our Email address is: drawrm@hotmail.com

Free counters provided by Honesty.com.

Visitors since 01-17-01