Carr Osborn House
c. 1843
We purchased this historic Greek Revival Mansion in the Fall of 1977 and sold it in the Winter of 1985.
In this site I will show photos take during those 8 years. This was our first home that we purchased and we will never forget how wonderful it was to live in such a special home. Federico Santi & John Gacher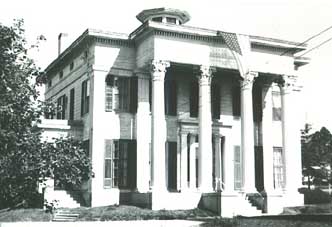 A Short History
The Greek Revival Mansion at 456 Rock Street was built in 1843 by Joseph Durfee, a carpenter and shipwright by education, but who later became involved in the Massosoit and Wamsutta Mills. The house was one of three Durfee-Borden homesteads designed by the noted Rhode Island architect, Russell Warren and is the only one to survive. Similar houses were owned by Dr. Nathan Durfee and Mathew Durfee, both demolished in the late 19th century. Dr. Nathan's home was on Prospect Street at the head of Rock and Mathew's was located on the block north of this house where the Flint estate stood until recently.
Joseph Durfee died in 1847, four years after the completion of the house and his daughter, Elizabeth, married William Carr in 1848. William and Elizabeth Carr installed gas for lighting and re-furnished much of the house in the early Victorian Style of 1850.
William and Elizabeth's daughter, Delia, married James Osborn in 1880. James and Delia Osborn installed two modern bathrooms in 1910, enclosed the open sided porch with windows and installed electricity about 1912.
Elizabeth Osborn, their daughter married Leeds Burchard in 1911 and the family lived here until 1951 when the house was given to the Presbyterian Church, the Burchards having retired to their summer home in Little Compton, Rhode Island. Mrs. Burchard passed away a number of years ago.
In November of 1977 Federico Santi and John Gacher purchased the estate from the Presbyterian church who no longer found the property practical to maintain.
---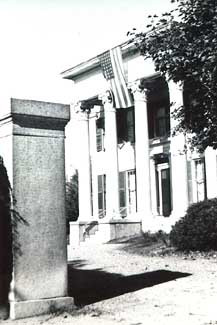 John and I were living in Boston on Upton Street renting the basement apartment in one of Richard and George Buck's brownstones. New tenants above us were extremely noisy (two bartenders who worked in a gay club and would come home every night and party till the early hours of the morning). We got fed up with the noise and were really getting tired of living in Boston and wanted a home of our own. Friends who lived on the top floor of our brownstone were from Fall River and told us that there were wonderful historic homes in their home town and that we should take a drive there some Sunday and look around. We did just that and drove up Rock Street, saw this wonderful Greek Revival home, pulled in the drive way, rang the doorbell and asked the person who answered the door if the home was for sale. Reverend Bell (the home was owned by the Presbyterian Church next door) who was living in the home said that as a matter of fact it was for sale (though there was no for sale sign on the building) and if we were interested in it, we should make an offer. We were told that the church was going to market the home for about $38,000.00. We took the tour then and there. Went back to Boston. Called up the minister, offered $28,000.00: and they took our offer. And . . . within 5 weeks, we were the new owners of a 16 room home.
A December article in the Fall River Daily News stated: "The Carr-Osborn-Burchard House, a monument of Fall River's Greek Revival period, has been sold by the First Presbyterian Church to two preservationists from Boston.
John Gacher and Frederico (sic) Santi, the new owners, plan to restore the mansion which was built by Holder Borden(incorrect), c. 1842. Subsequently owned by the Carr, Osborn and Burchard families, it was for the past half-century, the parish house of the First Presbyterian Church. The church was constructed in 1920 on what , in the 19th century, was the mansion's front lawn, which faced Maple Street.
Last fall, the Rev. Robert Bell, pastor of the church, announced that the congregation could no longer sustain the maintenance expense, nor invest the funds needed for essential repairs. It was offered for sale, with priority given to a restoration-minded buyer.
Gacher and Santi were then neighbors of John and Sheila Mederios in South Boston. The former residents are brother and sister-in-law of Thomas Mederios, president of the Preservation Society of Fall River. "John and Sheila told us about the Carr House; we came down and fell in love with it." Gacher recalled. Negotiations began. The church set a selling price of $38,000.00; the prospective buyers offered $25,000.00. Before long, a compromise was reached; Gacher and Santi closed the sale on November 22 for a final price of $28,000.00.
---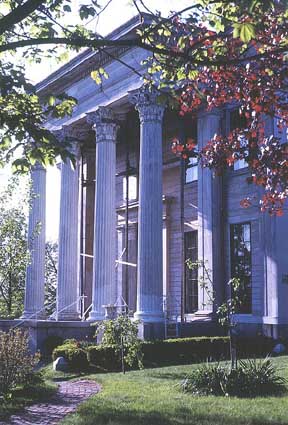 It seems so long ago and it seems like only yesterday that we were there. I like to say that our moving to Fall River was the best thing that we ever did and leaving it was the second best thing that we ever did. It was and is a truly magnificent city. Our life while there did center around our home. Set on 1 1/3 acres of land, the home still retained its original carriage house and the garden entrance from the street still retained the circular driveway.
---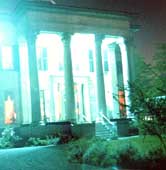 Our first winter there was frightening. Just the two of us in this huge home. Not really knowing its problems and our first home and all. The size of the house was basically 50' across and 100' deep with the first floor ceilings at about 11' tall. The columns in the front are about 25' tall.
---
In 1980 we placed Carr-Osborn house on the National Register.
And so started 8 years of our life in Fall River
---
The above link will allow you to tour our Drawing Room
---
To return to the previous page
---
This site was established on Thursday November 25, 1999 and will continue to be added to from time to time. Federico Santi
---
---
ZSOLNAY // FURNITURE // GLASS // PORCELAIN // POTTERY // METAL
LIGHTING // PAINTINGS // EPHEMERA // TEXTILES // GOTHIC // MISCELLANEOUS//CLOCKS
---
THE DRAWING ROOM ANTIQUES HOME PAGE
---
The Drawing Room is located at 152-154 Spring Street, Newport, Rhode Island 02840.We are open daily from 11 am to 5 pm and by appointment. If you have an interest in an item listed in this document or wish to purchase an item, please call us at 1-401-841-5060 (cell: 401-261-3980). We have been located in Newport since 1985.
---
Email us

at drawrm@hotmail.com
---