Amphora
Antique Art Pottery
The Drawing Room Antiques
These pages include items from the Amphora Factory located in the Turn Teplitz area of Bohemia. Production from Riessner, Stellmacher & Kessel. Factory established around 1892 with production through the early 20th century.Gift wrapping is available for smaller items and of course we can ship purchases to most destinations via UPS, U.S. Postal.
---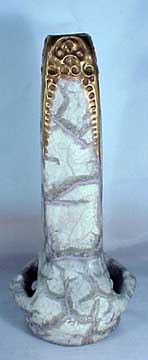 # 4543. A Secession Amphora Style Vase. 14.5" tall. The only marks on the base of this vase is "Made in Austria" and numbers "7084" "3". Great glaze and form. Looks like the Vienna School. Condition: minor wear to the gold decor consistent with use and age. No chips or cracks or repairs. Price: $1,500.00.
---
# 3862 is an exceptional Candlestick. In the Secession Style, c. 1910. Mark from the Amphora Factory. Size 14" tall. Excellent condition. No restorations. Enamel (raised) decor against a gray, putty matte ground. Price: $850.00.
---
AMPHORA: Collecting and Understanding an Era.
Written by Federico Santi
Though not as well documented as most other art pottery manufacturers from the same era, Amphora is more recognizable to dealers and the casual observer by its fairly consistent glaze and style elements.
A complex history of ownership, major fires, wars and who knows what else complicate an already difficult task to trace artisans, owners and outlets of distribution. The presently understood chronology goes something like this: On September 1, 1892 the firm of Reissner, Stellmacher & Kessel was formed at Turn-Teplitz, Bohemia ( not too far from Dresden, Germany).It must be understood that the partnership was formed because each partner contributed their own important element relative to the ceramics process and the next year at the Chicago World's fair in 1893 were awarded top honors for items exhibited. To the best of my knowledge there are no photographic documents showing just what items were honored.
The partnership for a variety of reasons did not stay together and by 1905 Stellmacher broke from the firm and formed his own company which lasted until 1912. Upon his leaving, the original firm was renamed Reissner & Kessel Amphora Works. Again the partnership of two broke with Kessel leaving in 1910. Hans Riessner continued as sole proprietor after 1911 when his brother passed away and the firm was called Amphora Werke Reissner.

It is possible that business documents exist in Vienna; as head of the empire, copies of business documents would have been registered there for tax and regulation reasons. Research must reveal details and will be published in the future. Those details are not for this discussion.
Now with that out of the way, our discussion brings us to our main topic: collecting Amphora. First it goes without saying that one must relate to the design elements of Amphora: figures, organic references, fully developed Art Nouveau or Secession interpretations. All factories producing Art Pottery at the turn of the century were fully aware of each others' capabilities, production and techniques.

Often, in the case of the Zsolnay factory in Pecs, Hungary, competitors "wares" were purchased from all over the world and kept as reference pieces. If anything new appeared on the art pottery scene, it didn't take long before everyone knew about it which is rather remarkable considering the only form of intercontinental transportation was ocean liners.


As it relates to production, one of the interesting facts about Amphora is the existence between 1885 and 1917 of the Imperial Technical School for Ceramics and Associated Applied Arts which provided a steady stream of fresh talent for Amphora. School curriculum demanded the ability to create, using live models from nature, plastic interpretation (exact and stylized) into clay. It has been documented the factories in the Teplitz-Schonau area donated clay raw materials to the school to be used by students. What developed was a symbiotic relationship between all whose interest was art pottery production.

According to Waltraud Neuwirth, in her book: Art Nouveau in Blossom-Austria, vol. II from a report dated 1907-1908 from the Technical School: "The students of the modeling department in years II and III received the following assignments: ' there is a plant in a given space (50 X 35 cm), to be put into a stylized representation, with consideration for an effective spacial distribution. Model an animal in a stylized shape. Design a simple vessel with handle and plastic decoration represented in relief. Line up plant motifs to form a frieze and represent them plastically. Design and model a flower pot employing flow glazes. Sketch a figure (nude) after a live model, etc.' In decorative drawing and painting, the students received the following assignments: 'In a given space, draw an animal from one's own studies in such a way that a good decorative effect is made. Design the shape of a jug with simple decoration for execution in colored bodies. Execute a color sketch with plant motifs to be used for a panel executed in ceramics. Design two flower pots in different shapes and colors; the decoration is to be done in underglaze colors. Draw wall tiles making use of linoleum cuts. Design a tea service to be executed in porcelain with the use of colored pastes or solutions, the decoration should be simple and purely ornamental, etc."


So . . . The end result as it relates to Amphora is that a very disciplined, regimented curriculum lasting several years was the 'right of passage' into the factory and the end result was and is today the extra-ordinary art pottery we discuss.


Each piece we find today was designed by someone and most of the time we will never know the name of the person. In all probability, each piece started with a piece of paper, pencil and watercolor. After the design was completed to the satisfaction of Artist, Committee and Director, it was given a number and we assume that numbers found on the underside of most Amphora today does correspond to a form and decoration design on a piece of paper.
One of the missing links, is the form and decor book: fires, wars, Communism, all must have had a part in loosing this important bridge to the past. Without those documents we can only admire the existing Amphora and only wonder who or what type of person created these marvels in clay.


Having sold dozens of Amphora vases thorough the years two observations come to mind: a form often was made in different sizes and the same form was decorated (paint and glaze) in a variety of ways. I believe that this was the case of many European art pottery factories. We have had the same form in a vase (table top size) all the way up to an umbrella stand. The feeling must have been: a great design form would be successful no matter what the size. I am not aware that American potters observed that philosophy.


If I have been disappointed in any one phase concerning Art Pottery collectors, it has been in the consistent insensitivity of the misunderstand relationship between art pottery and the 'display' environment. How disappointed it has been for me to view an extraordinary art pottery collection lined up on shelves in a basement. Displaying Art Pottery in a room that reflects the era of production brings to life the true spirit behind the form. Historical interiors, thought time consuming to create, are worth the effort and once completed showcase the jewels art pottery like Amphora truly represent.


For the new collector, categories of collectorship may include: color, design, form , size, etc. with sub classifications including animals, marine, designs, flora, etc. Because no substantiative books of the range of production exists, unless one makes an effort to 'discover' Amphora at shops, shows and auctions, it is hard to imagine how varied the production.
Today, Amphora sales tend to go to dealers and private collectors. I know of several collectors who have hundreds of examples. I wouldn't be surprised if the major book about Amphora will be an auction catalogue for some yet unknown estate after the collector passes away.


All the major auction houses around the world offer better examples of Amphora and prices today have never been higher. Values certainly increase on average 10 % per year though you could never say what a piece of Amphora is worth only what someone has paid for it.
Is it too late to start collecting Amphora ? It is almost never too late to collect anything!

Most Amphora sells for less than $1,000.00 each and more than often for far less.

Concerning pieces with repairs, losses, cracks (pieces not in perfect condition), there are only so many pieces in existence today and more and more collectors every year, so condition should relate to price but should not exclude consideration. If condition dictates your purchases, you will exclude yourself from some wonderful examples.

I know that this is a pretty extreme statement but there is probably more period Duncan Phyfe furniture in existence today than Amphora on a piece by piece basis. Amphora pottery is very fragile, made during a relatively short period of time and yet is very affordable and a history of sales value implies Amphora will appreciate in worth. Buying antiques for investment is always a risk, but I can think of few risks more beautiful to look at than Amphora Art Pottery.


To view Amphora for sale from our Internet Gallery, return to the Pottery page.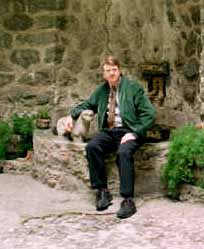 Federico Santi is a partner of The Drawing Room Antiques
To return to the Drawing Room Pottery Pages
---
ENTER HERE FOR THE ZSOLNAY

TILE COLLECTION FOR SALE
---
---
SELECT A CATEGORY TO GO TO A SPECIFIC PAGE:
ZSOLNAY // FURNITURE // GLASS // PORCELAIN // POTTERY // METAL
LIGHTING // PAINTINGS // EPHEMERA // TEXTILES // GOTHIC // MISCELLANEOUS//CLOCKS
---
THE DRAWING ROOM ANTIQUES HOME PAGE
---
The Drawing Room is located at 152-154 Spring Street, Newport, Rhode Island 02840.We are open daily from 11 am to 5 pm and by appointment. If you have an interest in an item listed in this document or wish to purchase an item, please call us at 1-401-841-5060. We have been located in Newport since 1985.
Email us:

Our Email address is: drawrm@hotmail.com
Newport RI