---
John & Rico's
THE GRAND TOUR
A COLLECTION OF OBJECTS PURCHASED BY TRAVELERS ABROAD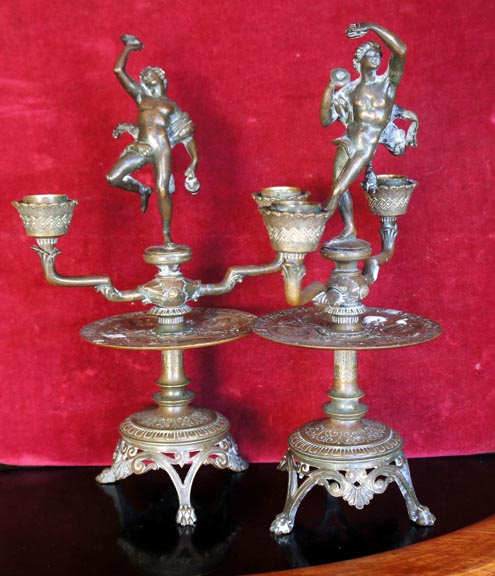 # 5227: A pair (2) of 19th century Italian Grand Tour Candelabras. Bronze. Probably made in Rome or Naples. Each is app. 12" tall; base is 4.5" across. Sitting on three paw feet supporting a platter with 4 Roman recessed 'coin' medallions inturn supporting a two arm candle holder topped with a male nude figure: one Baccus and the other a cymbal player. Signed with the initials: A.D. and a star. Condition: the threaded rod holding the candelabra together has probably been replaced; there may or may not have been candle cup inserts (candles fit and are supported very well in the candle holders).There are tiny white paint spatters on the candelabras that should be easy to remove; the medallion pans: one seems to be lighter that then other suggesting that it was cleaned at one time. These candelabras are beautifully detailed with Neo-Grec decorations. Of the scores of Italian Grand Tour objects over the years, this is the first pair of candelabras in this style and decoration that we have come across. Price: $3,500.00.
---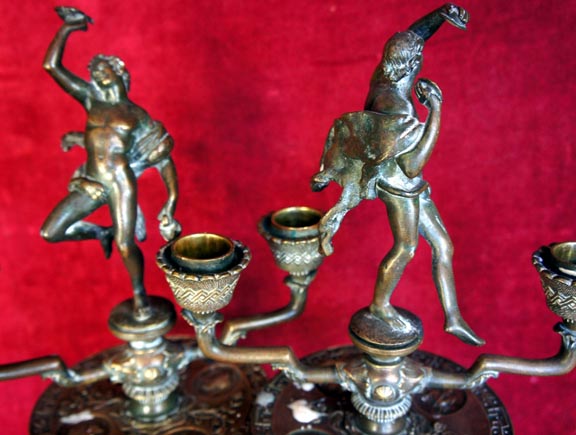 ---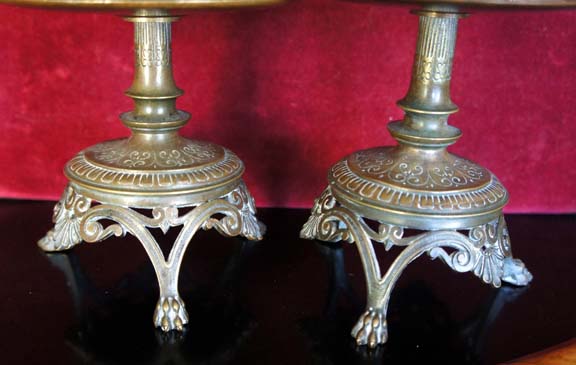 ---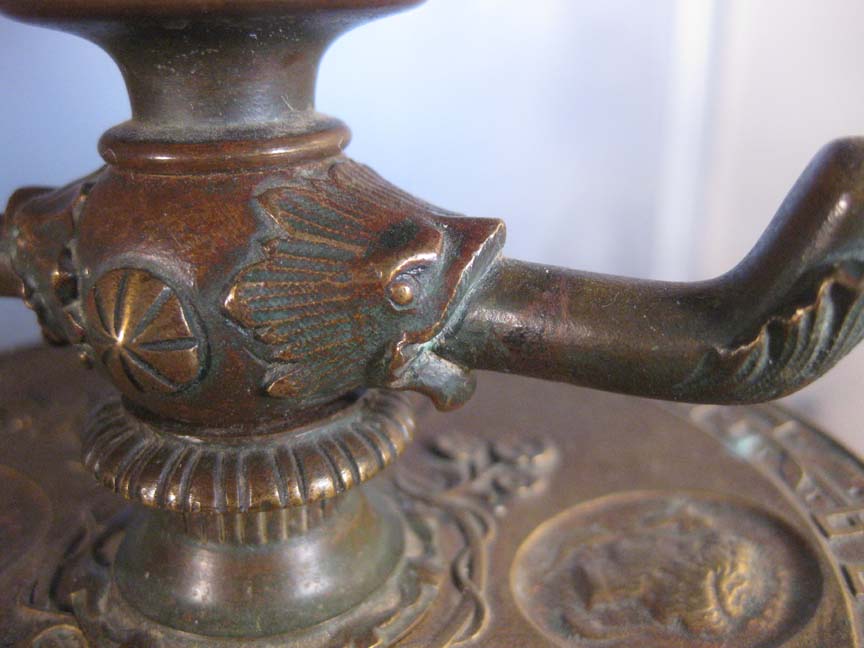 ---
---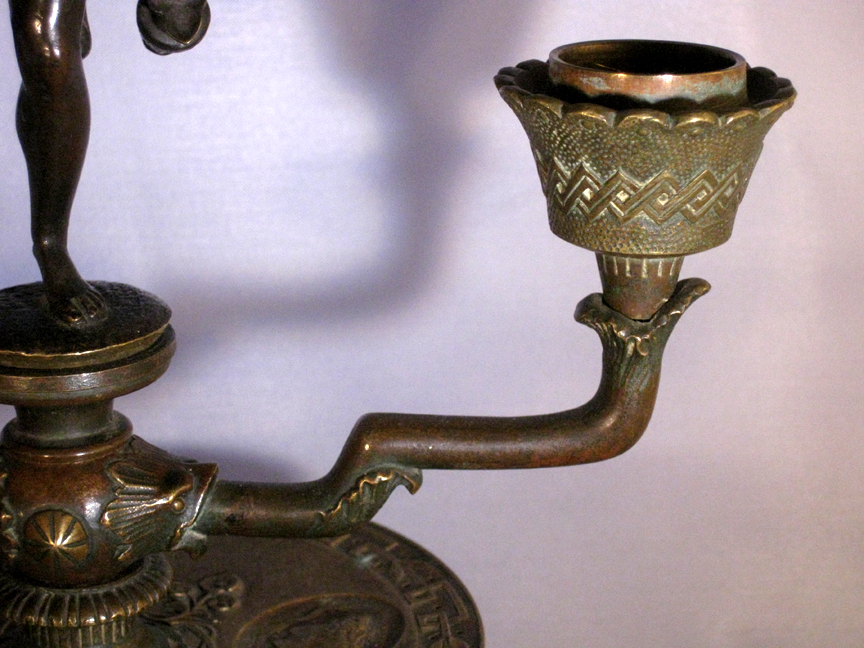 ---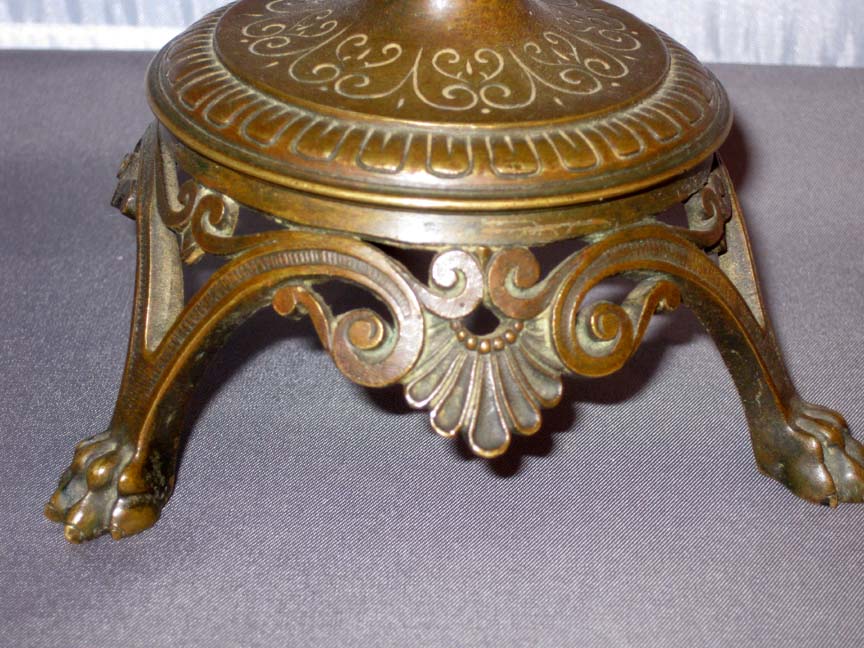 ---
---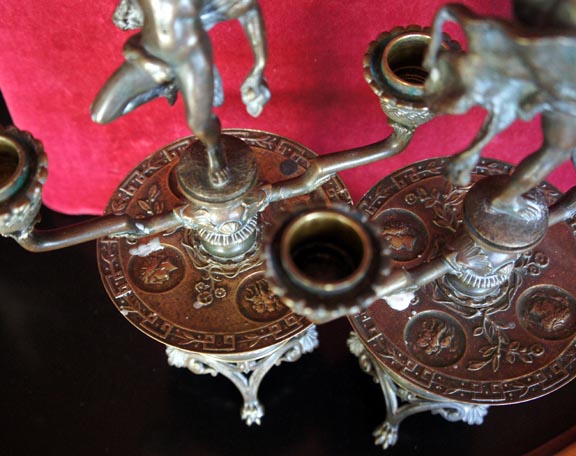 ---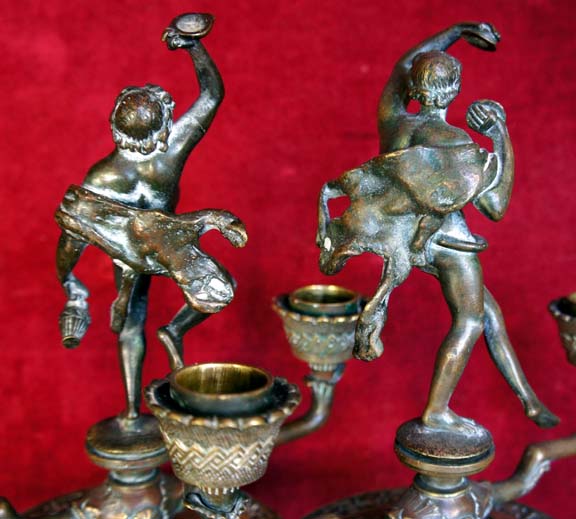 ---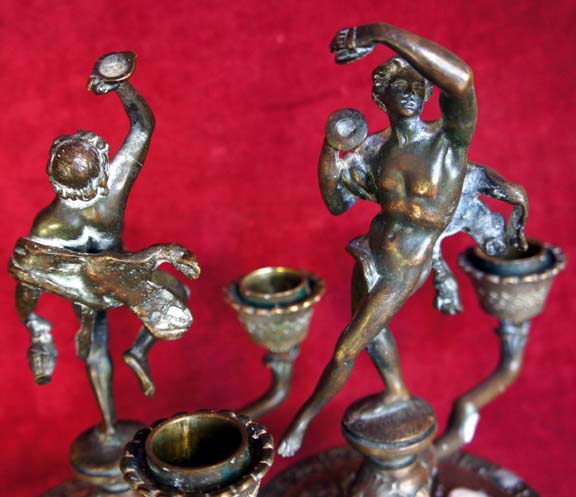 ---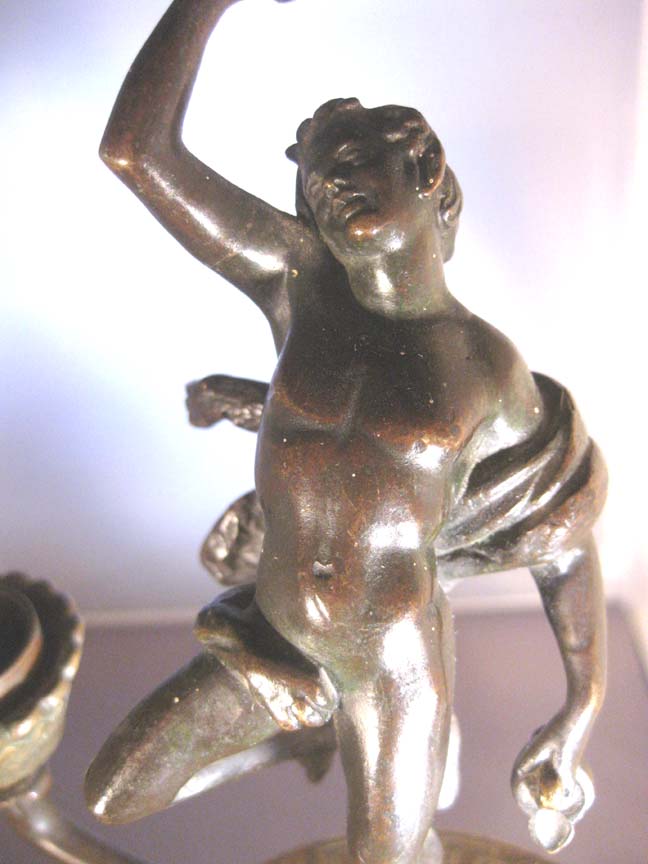 ---
ZSOLNAY // FURNITURE // GLASS // PORCELAIN // POTTERY // METAL
LIGHTING // PAINTINGS // EPHEMERA // TEXTILES // GOTHIC // MISCELLANEOUS
THE DRAWING ROOM OF NEWPORT AND THE ZSOLNAY STORE HOME PAGE
HOME PAGE FOR THE DRAWING ROOM OF NEWPORT
---
The Drawing Room is located at 152-154 Spring Street, Newport, Rhode Island 02840.We are open daily from 11 am to 5 pm and by appointment. If you have an interest in an item listed in this document or wish to purchase an item, please call us at 1-401-841-5060 (cell: 401-261-3980). The Partnership of Gacher and Santi has been in business for over 30 years. We have been located in Newport since 1985. Our email address

is: drawrm@hotmail.com

Free counters provided by Honesty.com.