Antique Porcelain from The Drawing Room.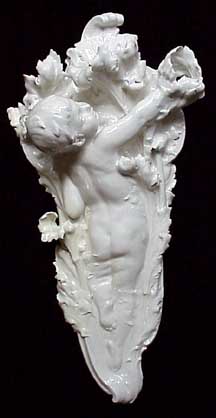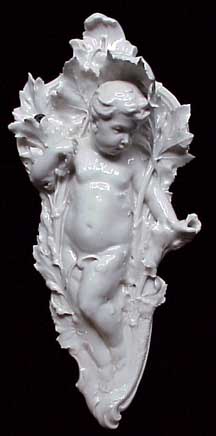 Through a series of images we offer a fine and rare pair (2) of White porcelain wall mounted plaques. Each plaque is app. 20" tall. The left plaque is marked with the mark for the Royal Porcelain Manufactory Berlin. It is a blue mark under a slip glaze over the bisque. The left relief is about 5" deep and 10" across at its widest: . Both of these high relief plaques have had tip restorations. I would say that about ten of of the tips to the foliage have been repaired. The heads of both items have never had repairs. The right plaque is 8" at its widest. The holes shown the the foliage toward the top of each plaque: what were they for? I believe that they held electrical sockets for lights, though I am not positive. The age: The mark, thought I am sure is from the Royal Porcelain Manufactory is hard to date, though I believe that these items were made after 1870. The detail mark of the right plaque I suspect is a definite date mark and those who know works from this firm will be able to date them. The workmanship is consistent with that if Royal Vienna, Meissen, etc. Price for the pair is $4,500.00. Additional images below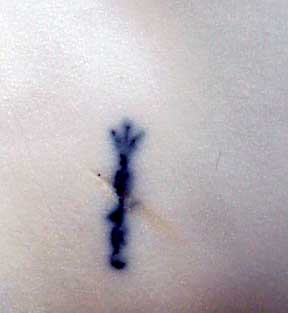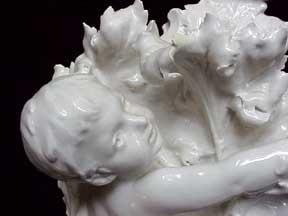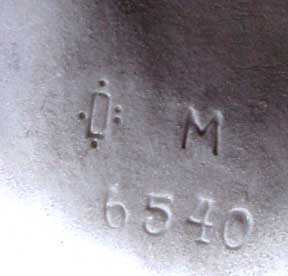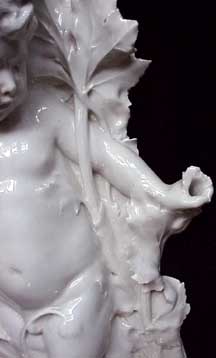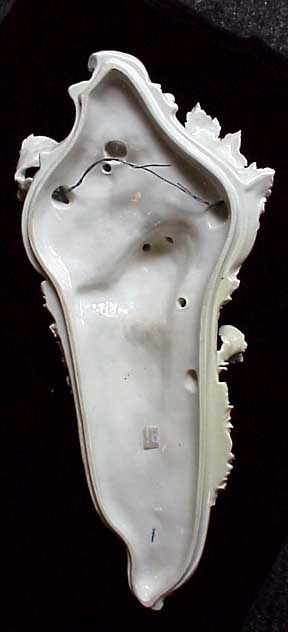 Click on your back button to return to the previous page.
HOME PAGE FOR THE DRAWING ROOM OF NEWPORT
---
ZSOLNAY // FURNITURE // GLASS // PORCELAIN // POTTERY // METAL
LIGHTING // PAINTINGS // EPHEMERA // TEXTILES // GOTHIC // MISCELLANEOUS
THE DRAWING ROOM OF NEWPORT AND THE ZSOLNAY STORE HOME PAGE
---
The Drawing Room is located at 152-154 Spring Street, Newport, Rhode Island 02840.We are open daily from 11 am to 5 pm and by appointment. If you have an interest in an item listed in this document or wish to purchase an item, please call us at 1-401-841-5060. The Partnership of Gacher and Santi has been in business for over 25 years. We have been located in Newport for over 11 years. Our email address:

is: drawrm@hotmail.com All images copyright by F. Santi, 2004