Fine Porcelain from The Drawing Room of Newport Rhode Island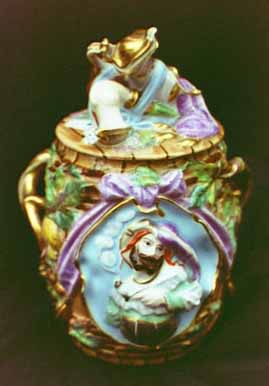 # 3625. Offering a colorful "Paris Porcelain" Tobacco Jar. Third Quarter of the Nineteenth Century. Unmarked *. Size: app. 9.75" tall; jar opening app. 4.25" across. On the front side of this tobacco container is a framed depiction of possibly Prince Albert or Sir Walter Raleigh olding a pipe with smoke coming from the pipe. The figure is wearing 16th century attire. The lower section of the figure is wearing a section of armor and that area is silver gilt. Silver gilt is not common in Paris Porcelain of this era. Stretching over the frame is a lavander colored ribbon. The form of the jar is that of a wood barrel covered by leaves and vines. The handles are gilt limbs of a tree. The Lid supports all manner of gentleman vices: pipe, tobacco leaves, playing cards, tobacco pouch, dice, a bundle of cigars, wine or spirits pitcher, all wrapped together with a blue cloth. Condition: wear to the gilt consistent with age and use, the tip of the lid which depicted an end of a pipe (a white tip) is broken and missing; the underside of the lid has considerable crazing indicating a possible edge restoration surrounding the inner surface: we cannot tell if there has been any restoration to this area, but we cannot guarantee that there has been none. The only mark* is an incised "H" on the underside. This is a very attractive and museum quality tobacco jar and would be a suitable addition to a serious collector. $1,250.00.
---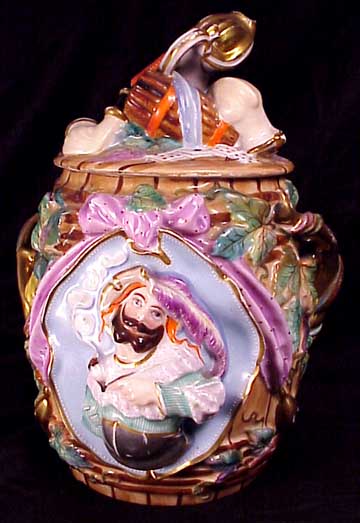 ---
---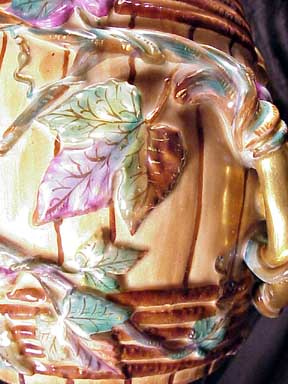 ---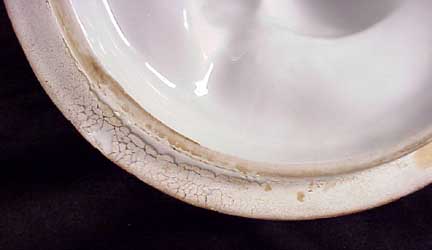 ---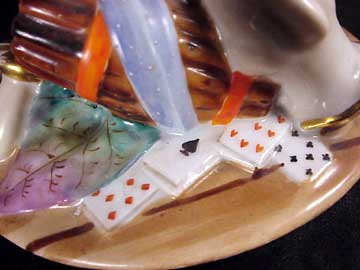 ---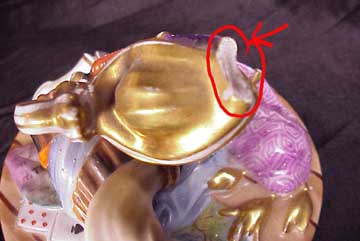 Note the loss to the tip of the spout.
---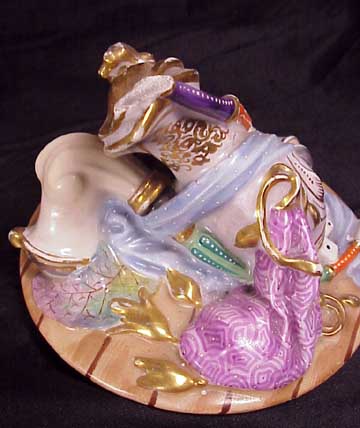 ---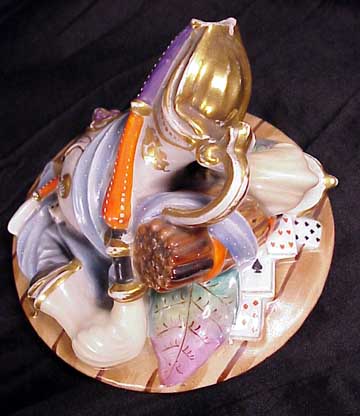 ---
---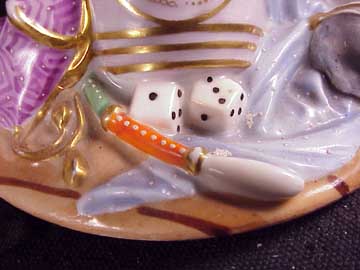 ---
ZSOLNAY // FURNITURE // GLASS // PORCELAIN // POTTERY // METAL
LIGHTING // PAINTINGS // EPHEMERA // TEXTILES // GOTHIC // MISCELLANEOUS
THE DRAWING ROOM OF NEWPORT AND THE ZSOLNAY STORE HOME PAGE
---
The Drawing Room is located at 152-154 Spring Street, Newport, Rhode Island 02840.We are open daily from 11 am to 5 pm and by appointment. If you have an interest in an item listed in this document or wish to purchase an item, please call us at 1-401-841-5060. The Partnership of Gacher and Santi has been in business for over 30 years. We have been located in Newport since 1985. Our email address:

is: drawrm@hotmail.com All images copyright by F. Santi, 2009
---