Wanted to Purchase
Below you will find photos and descriptions of items that we are interested in acquiring. If you have a similar item and wish to sell it to us, just email

us with a description of age, size and price. We will respond as soon as possible.
---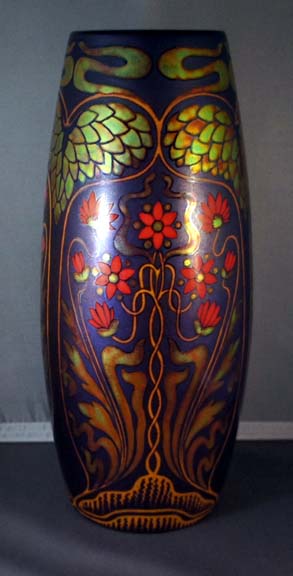 Zsolnay Wanted
We are always interested in purchasing high style Secession examples of Zsolnay ceramics from Pécs, Hungary. We travel to Europe frequently and can make arrangements to meet you overseas.
---
2-5/8" (fitter opening) gas shades, c. 1870. Red or orange flash, acid etched, Roman themes: chariots, soldiers,etc.
---
3", 4" and 5" (fitter opening) gas shades with aesthetic designs with red or orange flash color design.
---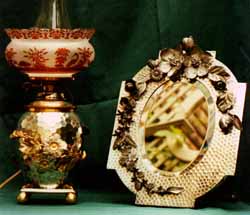 American Aesthetic period ( 1880's ) white metal and silver plated decorative objects as shown above: kerosene table lamps, mirrors,etc. Original finish preferred.
---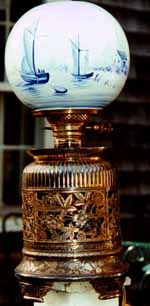 American Silver Plate kerosene table lamps from the aesthetic era ( 1880's). Condition important.
---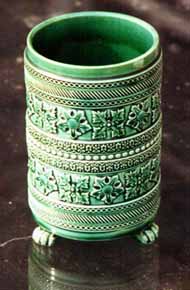 American Aesthetic pottery in this style: about 6" tall ( size can vary). usually unmarked.
---

Glazed American pottery in this form or design. Usually about 6" to 10" tall. Colors: olive green to turquoise. Usually unmarked.
---
Imperial Breast Stars and Badges from European Countries: Austria, Hungary, Germany, Italy, Serbia,etc.
---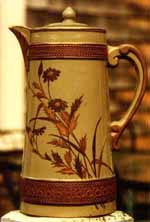 American Pottery covered "coffee" pots. The ground is usually putty color with dull gilt decorations. Usually unmarked and comes with various leaf and flower decorations.
---
The list of links below take you to individual pages within our online gallery of fine antiques for sale.
ZSOLNAY // FURNITURE // GLASS // PORCELAIN // POTTERY // METAL
LIGHTING // PAINTINGS // EPHEMERA // TEXTILES // GOTHIC // MISCELLANEOUS
THE DRAWING ROOM OF NEWPORT AND THE ZSOLNAY STORE HOME PAGE
The Drawing Room is located at 152-154 Spring Street, Newport, Rhode Island 02840.We are open daily from 11 am to 5 pm and by appointment. If you have an interest in an item listed in this document or wish to purchase an item, please call us at 1-401-841-5060 (cell: 401-261-3980). The Partnership of Gacher and Santi has been in business for over 50 years. We have been located in Newport since 1985.

Our Email address is: drawrm@hotmail.com