Antique Lighting from The Drawing Room
---
---
---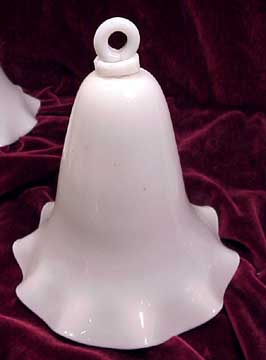 Shade 10.Offering a matched set of 6 shades. Smoke Bells. Opal or Milk Glass. Probably American Possibly Sandwich Glass. Size: 7" tall with a flare of 6" across. Condition: dirty: came out of a Newport Rhode Island Carriage House off Bellevue Avenue and were wrapped in Newspaper from the 1940's. Individual shades are available for $65.00 each.
---
Side View.
---
View of the six shades.
---
ZSOLNAY // FURNITURE // GLASS // PORCELAIN // POTTERY // METAL
LIGHTING // PAINTINGS // EPHEMERA // TEXTILES // GOTHIC // MISCELLANEOUS
THE DRAWING ROOM OF NEWPORT AND THE ZSOLNAY STORE HOME PAGE
The Drawing Room is located at 152-154 Spring Street, Newport, Rhode Island 02840.We are open daily from 11 am to 5 pm and by appointment. If you have an interest in an item listed in this document or wish to purchase an item, please call us at 1-401-841-5060 (cell: 401-261-3980). The Partnership of Gacher and Santi has been in business for over 30 years. We have been located in Newport since 1985. Our email address

is: drawrm@hotmail.com

Free counters provided by Honesty.com.

Visitors since 01-17-01