---
---
John & Rico's
Fine Antique Jewelry
The Drawing Room of Newport.
____________________________________________________
We can ship any item we list online anywhere in the world !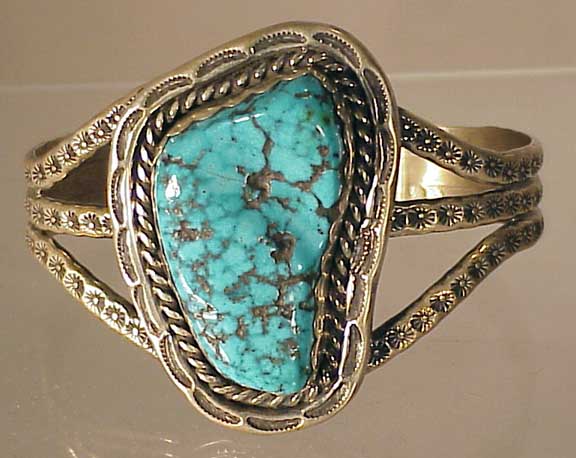 J2. A mid 20th century Navajo bracelet. Silver and Turquoise. A large single turquoise mounted with a rope banding and incised framing. The three band supports are incised with starburst decoration and join to create a very decorative band. Condition: slight wear consistent with use and age. Price: $500.00.
---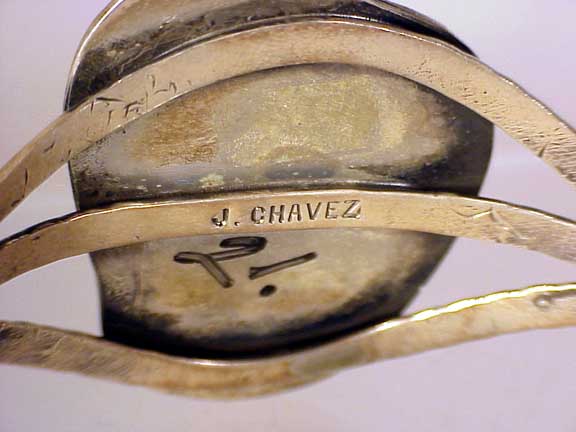 The signature "J.Chavez" incised into the silver.
---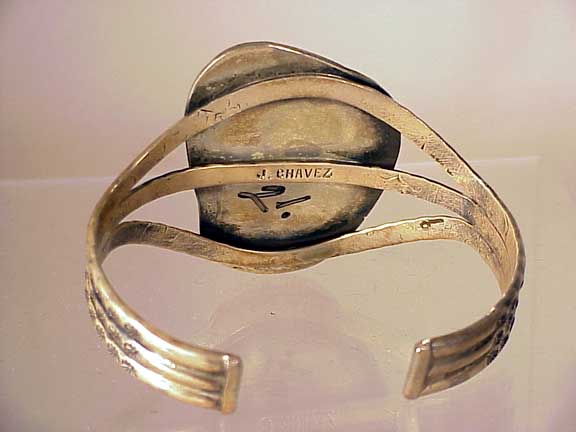 Over view of the inside showing the incised marks.
---
Side view of the bracelet showing the hammered star burst details.
---
Detail of the single large Turquoise Stone
---
---
ZSOLNAY // FURNITURE // GLASS // PORCELAIN // POTTERY // METAL
LIGHTING // PAINTINGS // EPHEMERA // TEXTILES // GOTHIC // MISCELLANEOUS
THE DRAWING ROOM OF NEWPORT AND THE ZSOLNAY STORE HOME PAGE
---
The Drawing Room is located at 152-154 Spring Street, Newport, Rhode Island 02840.We are open daily from 11 am to 5 pm and by appointment. If you have an interest in an item listed in this document or wish to purchase an item, please call us at 1-401-841-5060 (cell: 401-261-3980). The Partnership of Gacher and Santi has been in business for over 30 years. We have been located in Newport since 1985. All images copyright by F. Santi, 2004

Our Email address is: drawrm@hotmail.com

Free counters provided by Honesty.com.

Visitors since 01-17-01