John and Rico's Drawing Room Antiques
Located in Historic Newport Rhode Isalnd
Interior view of the Gallery
These images taken October 15, 2007
---
---
---
---
---
---
---
---
---
---
The images below were taken prior to October 15, 2007 and some of the items may have been sold.
---
---
---
---
---
---
---
---
---
---
We also inventory retro-1930's, 1940's and 1950's decorative arts, especially lighting designed by Jere among others.
---
The small console table is probably Austrian and is carved wood, the pedestal on the left is Scagliola and dates from the mid-19th century and is probably Italian.
---
We do not have many oriental items. Pictured are a few items: lamps, chargers and vases.
---
The large white metal figure on the left is titled "El Cid" and dates from the 1880's.
---
The large religious panel on wood is after Giotto and is St. Francis receiving the stigmata, the surface is gold leaf on gesso and polychromed. There is a label from the Fogg Museum attached to the back. We believe that this picture dates from sometime in the 19th century.
---
Showing a wall of art (original drawings)on paper, most dating from the 20th century.
---
We always have many books about antiques in our gallery for sale.
---
The American Gothic table has an original Egyptian Marble top and dates from the mid-19th century.
---
A selection of Art Nouveau Zsolnay Ceramics: we offer the largest selecton of antique Zsolnay in the United States for sale at any one point in time.
---
---
---
---
---
---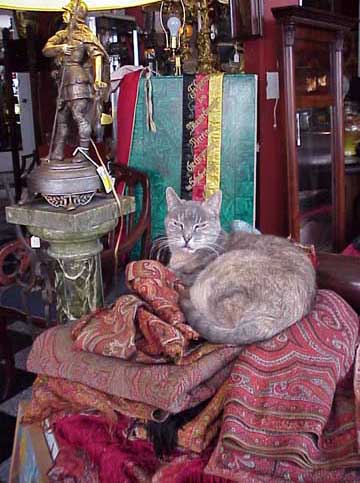 Kitty waits for the next 'customer' to pay attention to her!
---
---
---
---
---
---
To return to the Main Page for The Drawing Room of Newport
---
FINE ART: PAINTINGS, PRINTS, STATUARY
METAL, SILVER, GOLD, BRONZE, IRON
MISCELLANEOUS: MARBLE, CLOCKS, ETC.
LIGHTING: CHANDELIERS, WALL SCONCES, SOLAR, SINUMBRA, GAS, KEROSENE, GAS SHADES, ETC.
---
The Drawing Room is located at 152-154 Spring Street, Newport, Rhode Island 02840.We are open daily from 11 am to 5 pm and by appointment. If you have an interest in an item listed in this document or wish to purchase an item, please call us at 1-401-841-5060 (cell: 401-261-3980). The Partnership of Gacher and Santi has been in business for over 30 years. We have been located in Newport since 1985. All images copyright by F. Santi, 2004

Our Email address is: drawrm@hotmail.com

Free counters provided by Honesty.com.

Visitors since 01-17-01