Antique Metal Objects
from
The Drawing Room of Newport
located in
Historic Newport Rhode Island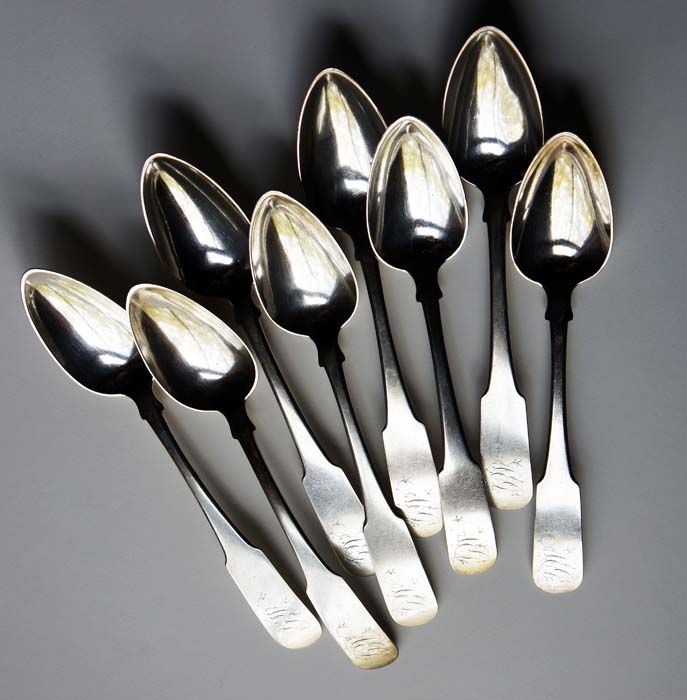 A special set of table spoons. American Silver with the hallmark for Matthew Petit - 1811 New York. Monograme for Archibald Gracie (AEG) Size: 9" long and each spoon weighs 2.5 with the set weighing 21 oz. Archibald Gracie (June 25, 1755-April 11, 1829) was a Scottish born shipping magnate and an early American businessman and merchant in New York City and Virginia who spacious home, Gracie Mansion, now serves as the residence of the Mayor of New York City. In 1789, Gracie purchase a large tract of land on Horn's Hook near the East River, where the following year he constructed a large two story wooden mansion on the crest of the hill. Used primarily as his country home, the mansion quickly became a hub of the New York social scene. Gracie's distinguished guests included future United States President John Quincy Adams and future French King Louis Phillippe. Gracie sold the estate in 1823 to pay off debts. Condition: scuffs and bowl dents consistent with use and age. This set of spoons is descended from the family. Inquiries.
---
---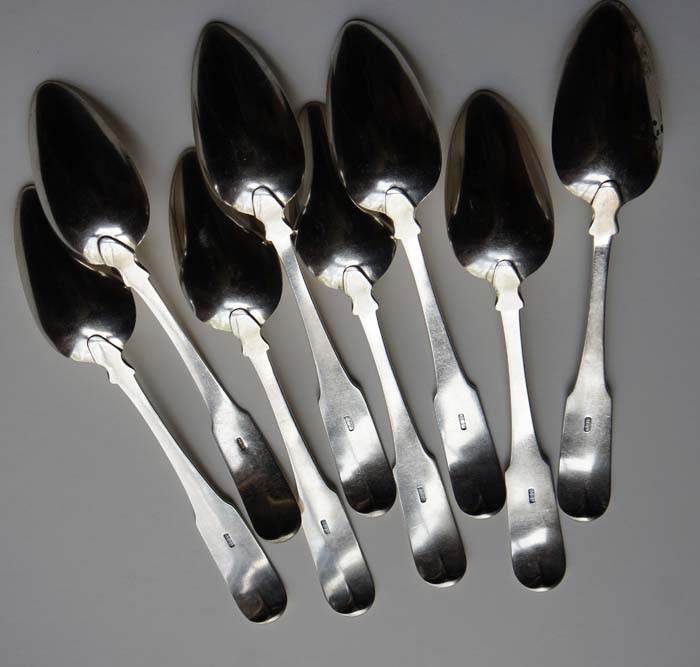 ---
---
HOME PAGE FOR THE DRAWING ROOM OF NEWPORT
ZSOLNAY // FURNITURE // GLASS // PORCELAIN // POTTERY // METAL
LIGHTING // PAINTINGS // EPHEMERA // TEXTILES // GOTHIC // MISCELLANEOUS
THE DRAWING ROOM OF NEWPORT AND THE ZSOLNAY STORE HOME PAGE
---
The Drawing Room is located at 152-154 Spring Street, Newport, Rhode Island 02840.We are open daily from 11 am to 5 pm and by appointment. If you have an interest in an item listed in this document or wish to purchase an item, please call us at 1-401-841-5060 (cell: 401-261-3980). The Partnership of Gacher and Santi has been in business for over 30 years. We have been located in Newport since 1985. Our email address

is: drawrm@hotmail.com

Free counters provided by Honesty.com.