---
---
John & Rico's
Fine Antique Ink wells, Inkstands and Writing Accoutrements
from
The Drawing Room of Newport.
____________________________________________________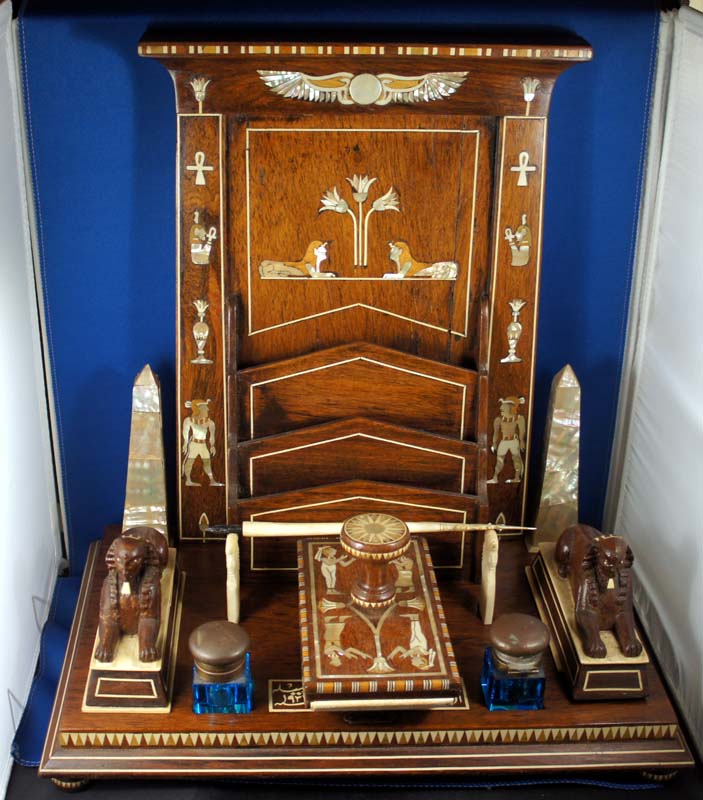 # 5430. An Egyptian letter holder and ink stand (including original ink pots, pen, and blotter). Circa 1920-30. Rosewood, bone, mother-of-pearl, and inlaid wood. From the Toukh Trade School in Cairo. Size: 24.5cm wide x 27 cm long and 38.5 cm tall. In inlaid bone Arabic script (translation): "From Mohamed Soliem to his colleague Mr. Khair El-deon Fnayet 1932" Condition: part of the bone platform under the right sphinx is missing; There is a vertical crack in the back right of the letter holder, probably cause by age; one of the mother-of-pearl obelisks has some plates missing; the back right corner of the platform has about 1.5" on the corner missing left and right. Price: $2,950.00
---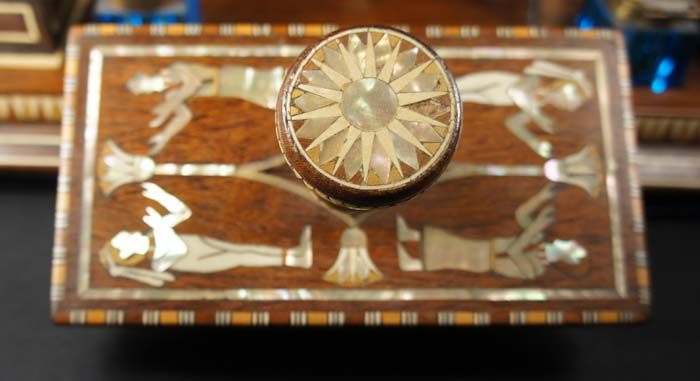 ---
---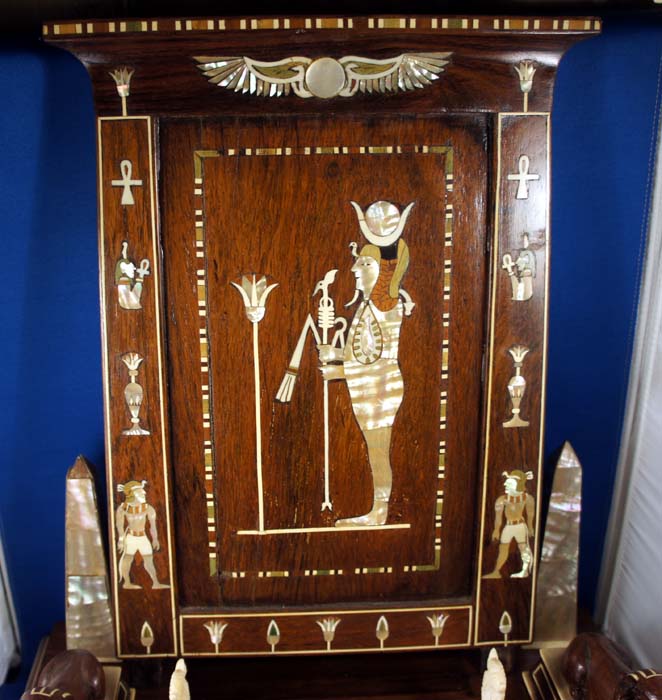 Showing the back side of the letter holder.
---
---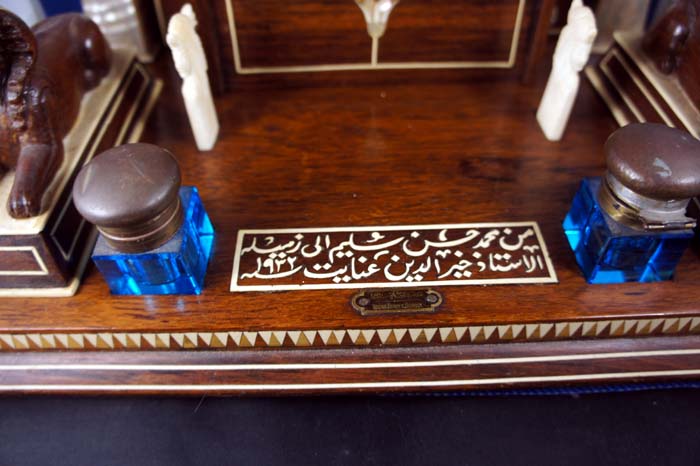 ---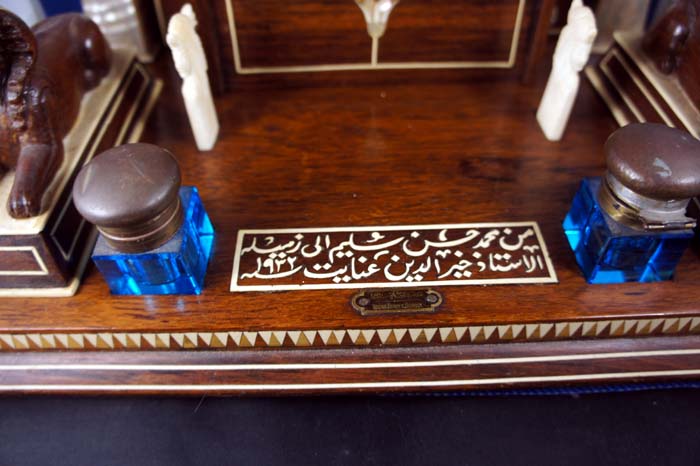 ---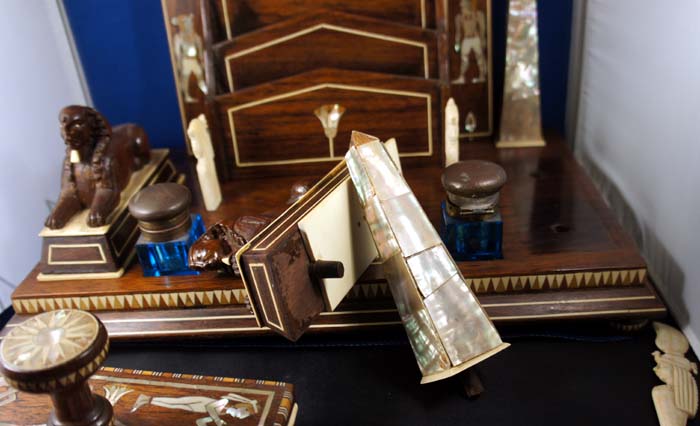 Showing the underside of the Sphinx with missing bone element and the obelisk with missing mother-of-pearl section.
---
---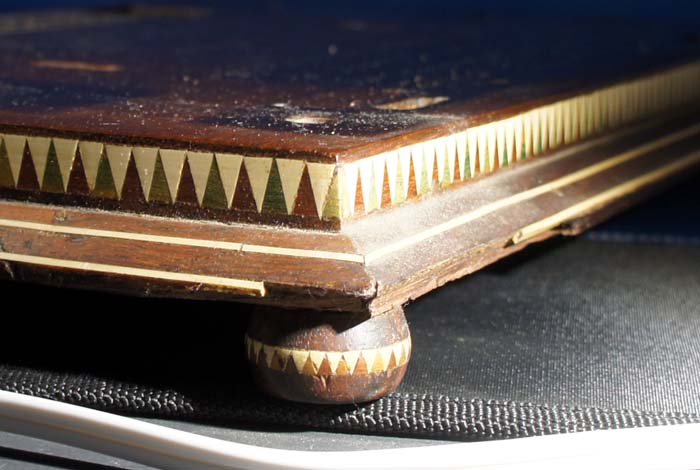 Showing the back right corner with missing section of bone and rosewood.
---
ZSOLNAY // FURNITURE // GLASS // PORCELAIN // POTTERY // METAL
LIGHTING // PAINTINGS // EPHEMERA // TEXTILES // GOTHIC // MISCELLANEOUS
THE DRAWING ROOM OF NEWPORT AND THE ZSOLNAY STORE HOME PAGE
---
The Drawing Room is located at 152-154 Spring Street, Newport, Rhode Island 02840.We are open daily from 11 am to 5 pm and by appointment. If you have an interest in an item listed in this document or wish to purchase an item, please call us at 1-401-841-5060 (cell: 401-261-3980). The Partnership of Gacher and Santi has been in business for over 40 years. We have been located in Newport since 1985. All images copyright by F. Santi, 2021

Our Email address is: drawrm@hotmail.com

Free counters provided by Honesty.com.

Visitors since 01-17-01