John & Rico's
American Art Pottery
from The Drawing Room of Newport.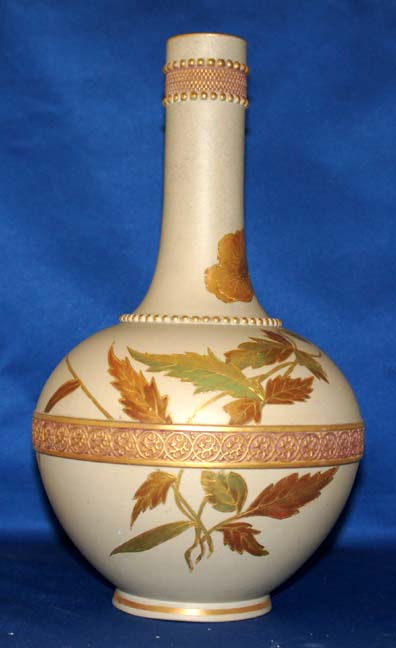 # 5388. A very rare antique American Aesthetic movement Severn Ware Ghooleh art pottery bottle from David Frances Haynes; the bottle is bulbous at the base with a slender cylindrical neck; it was hand thrown and lathe turned; it has an applied gilt trim strip with a repeated gilt arabesque pattern, applied beads circle the base of the neck, also gild and an applied grid pattern with bead bands at it edges, gilded overall; on the upper half of the globe form one side has applied gilt leaves, flowers and buds; on the reverse there is a gorgeous gilt butterfly. Materials: clays, gilt and vitreous glazes/paints. Dominant colors: olive grey-green / gold (the greyish color is not a glaze, it is the cured color of the soils used) Date made: c. 1881 - 1885. Made in Baltimore, Maryland . Designer: David Frances Haynes at Chesapeake Pottery Co. Mr. Haynes was from New Hampshire and worked in a foundry in Baltimore; he was sent south to establish a factory, and in the process became fascinated with qualities and characteristics of clays for molds. He returned to Baltimore and started his new enterprise, taking on partners after 1887. Mr. Haynes was committed to the "art for art's sake" thesis of the Aesthetic Movement, so he did not try to create exquisitely rare and beautiful pieces for the rich in the manner of Tiffany, but rather wanted useful and beautiful items made affordable by the masses. Condition: surface marks consistent with use and age. No cracks or repairs. P.O.R.
---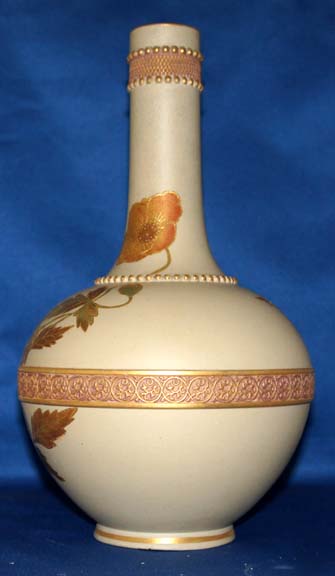 ---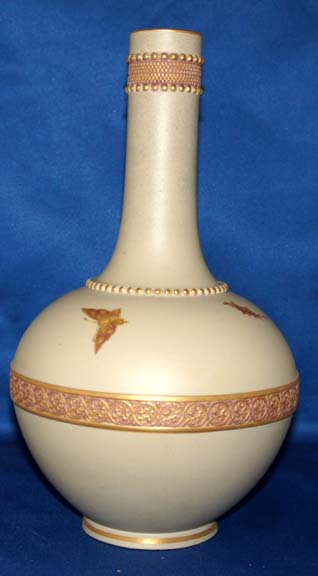 ---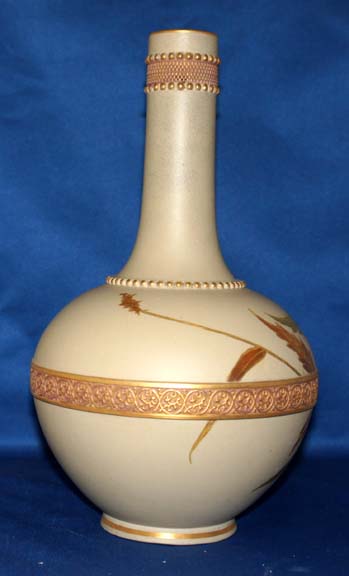 ---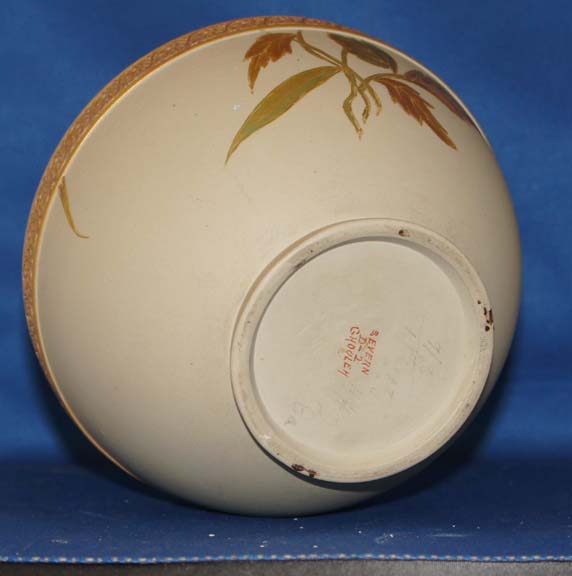 ---
---
---
---
---
Click on your return button to go back to the previous page or:
Enter here for the Art Pottery site of The Drawing Room of Newport
---
ZSOLNAY // FURNITURE // GLASS // PORCELAIN // POTTERY // METAL
LIGHTING // PAINTINGS // EPHEMERA // TEXTILES // GOTHIC // MISCELLANEOUS
THE DRAWING ROOM OF NEWPORT AND THE ZSOLNAY STORE HOME PAGE
The Drawing Room is located at 152-154 Spring Street, Newport, Rhode Island 02840.We are open daily from 11 am to 5 pm and by appointment. If you have an interest in an item listed in this document or wish to purchase an item, please call us at 1-401-841-5060. (cell phone: 401-261-3980)Our email

address is: drawrm@hotmail.com All images copyright by F. Santi, 2010

Free counters provided by Honesty.com.