Gothic Style Antiques
From
The Drawing Room of John & Rico
Gothic furnishings from Their Drawing Room of Newport including lighting, furniture, glass, porcelain, etc.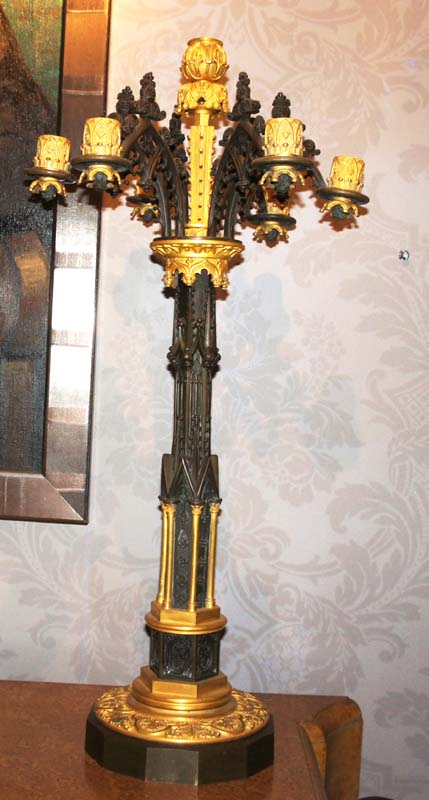 # 5316. A pair of French Gothic Style Candelabras. Charles X era: circa 1815-1820. Size: The base is 6" across, 27" tall and the candleholders are 13" across. Condtion: patina original and in excellent condition; missing all the candle bobeches (if there were any). A smiliar pair is pictured in a room in Schloss Rosenau. A letter on file with us from Dr. Matthias Memmel, curator of the Rosenau Museum, informed us that the pair in the museum were purchase by Duke Ernst I between 1807 and 1815. "But Rosenau was remodelled in the Neo-Gothic style by Duke Ernst I between 1808 and 1817. Many items of furniture were purchase in Vienna. But Duke Ernst I loved to buy in France, too." We are attributing the pair as French made. Price for the pair is: $15,000.00.
---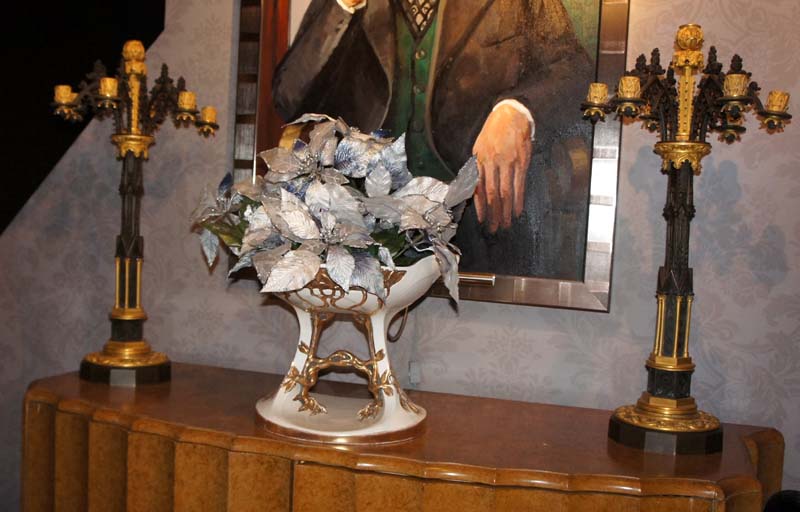 ---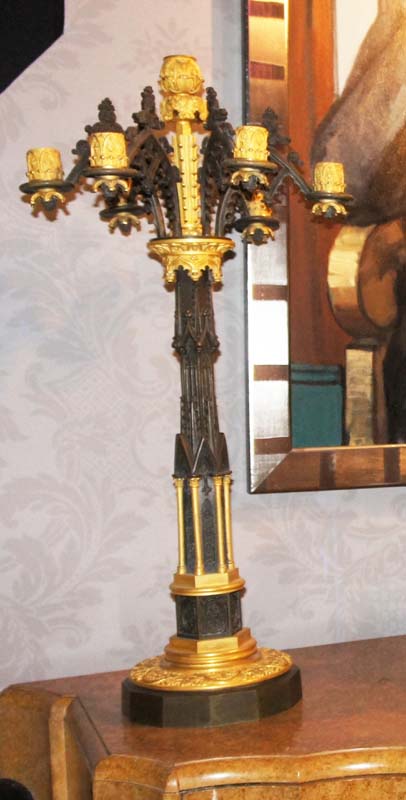 ---
---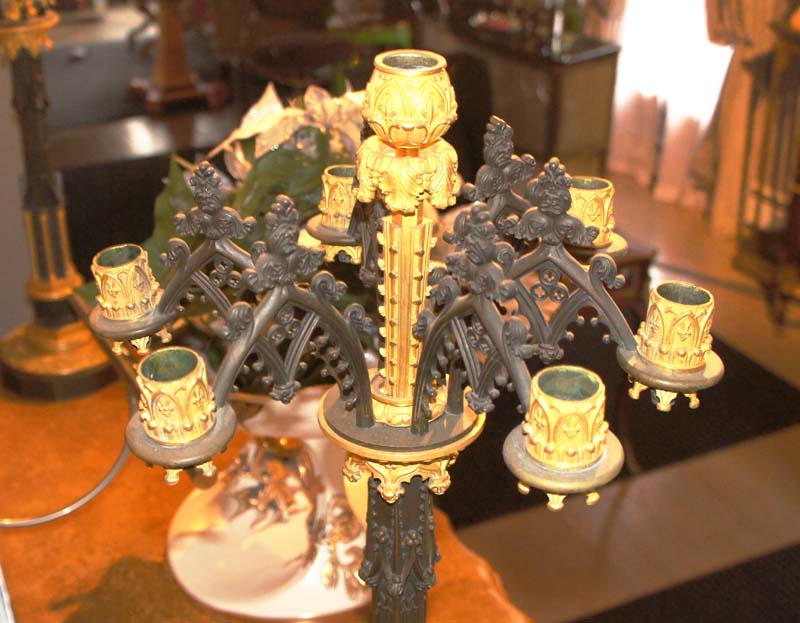 ---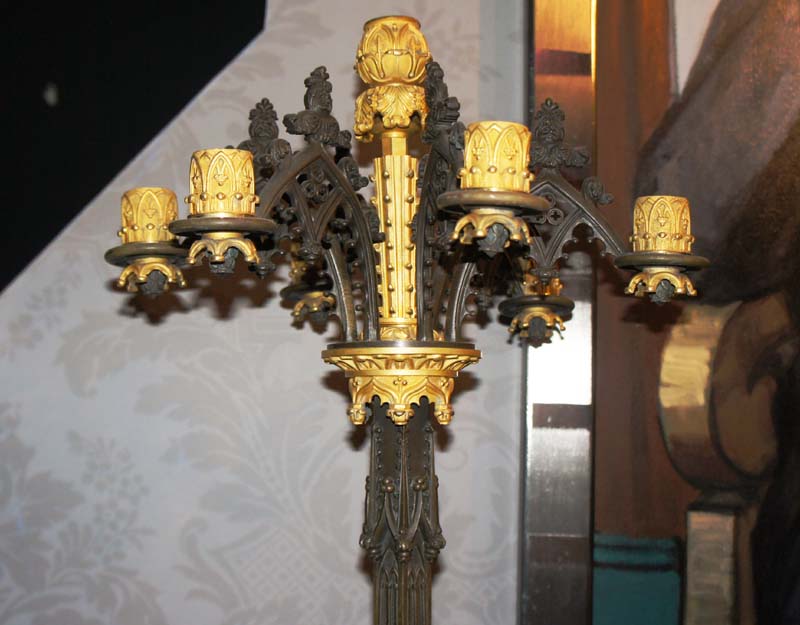 ---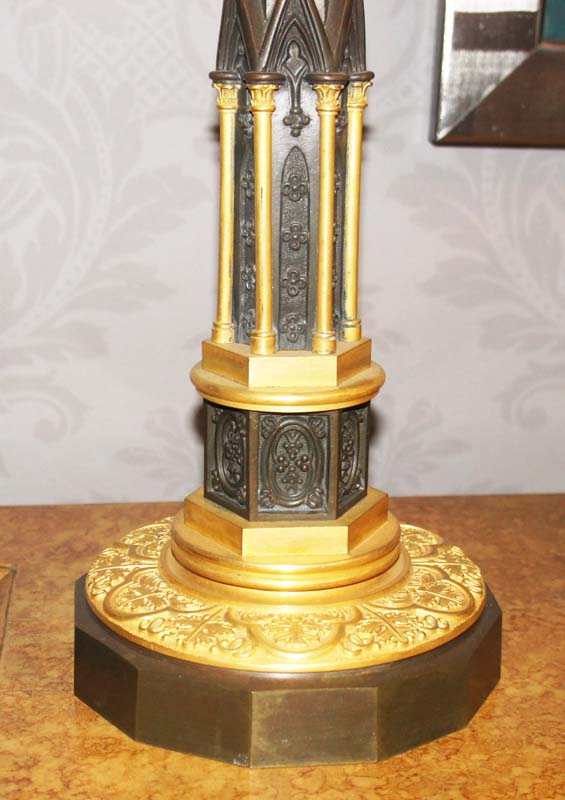 ---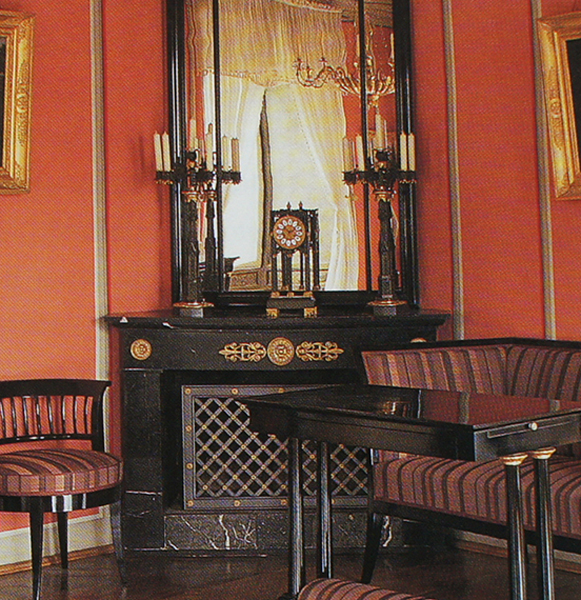 Photo from page 93 in "Biedermeier to Bauhaus" by Sigrid Sangl, showing the pair of Gothic candelabra on the mantle in Schloss Rosenau.
---
Click on your back button to return to the previous page.
---
HOME PAGE FOR THE DRAWING ROOM OF NEWPORT
ZSOLNAY // FURNITURE // GLASS // PORCELAIN // POTTERY // METAL
LIGHTING // PAINTINGS // EPHEMERA // TEXTILES // GOTHIC // MISCELLANEOUS
---
The Drawing Room is located at 152-154 Spring Street, Newport, Rhode Island 02840.We are open daily from 11 am to 5 pm and by appointment. If you have an interest in an item listed in this document or wish to purchase an item, please call us at 1-401-841-5060 (cell: 401-261-3980). We have been located in Newport since 1985. Our email address

is: drawrm@hotmail.com

Free counters provided by Honesty.com.