John & Rico's
The Zsolnay Store specializing in Art Nouveau Art Pottery
Part of The Drawing Room Antiques
located in
Historic Newport Rhode Island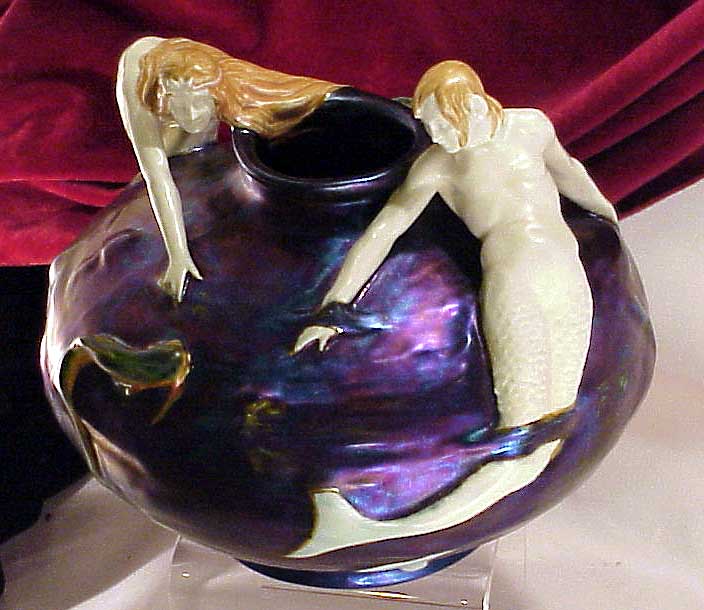 # 5065. A circa 1900 vase. Form number 6108. Size 8" tall. This vase appears from time to time with this glaze shown as good as it gets. A Mermaid and Merman hang onto to an outcropping of rock with a blue metallic Eosin sea swirling around them. Flashes of green Eosin swirl in the blue Eosin sea. A pair of sea creatures in relief also appear in the water. The figures are covered in white matt glaze while their hair is a yellow/ochr color, the two sea creatures in majolica glazes, one with a faint Eosin highlight; the sea or water is purple / blue metallic Eosin. Interesting that this representation of a mer/creature has fins for each leg. Condition: minor scuffs consistent with use and age. There is a white glazed raised area about 1/8" diameter at the foot which may or may not be a restoration. This form has been documented in books and literature about Zsolnay over the years. Price: $$$$$.
---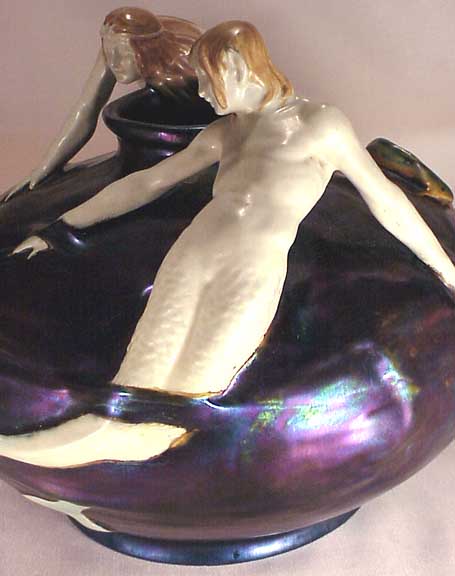 ---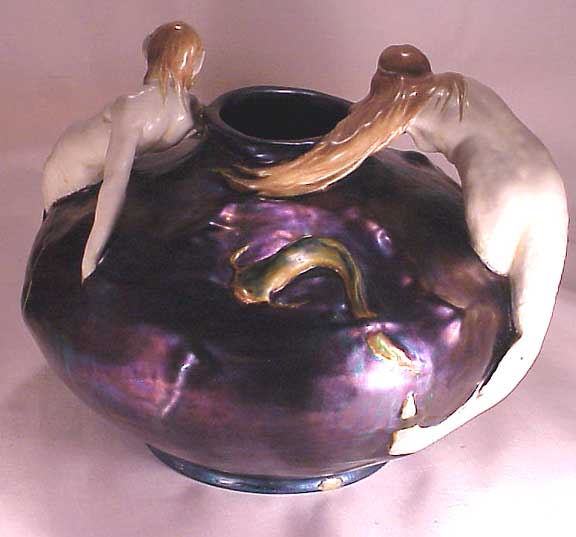 ---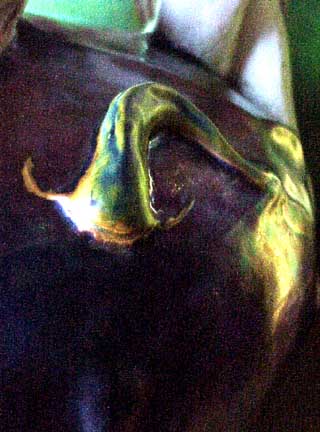 ---
Round raised Zsolnay Factory mark of the era: form number 6108.
---
---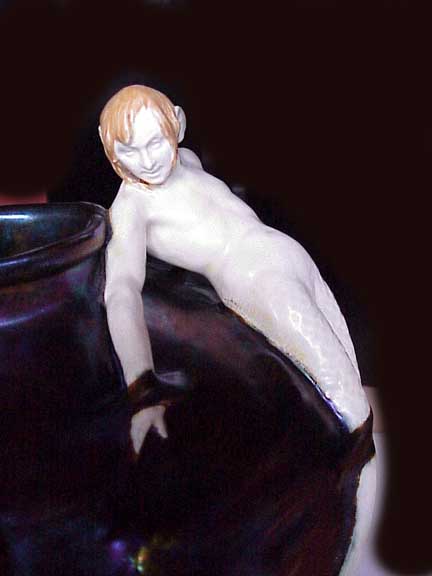 ---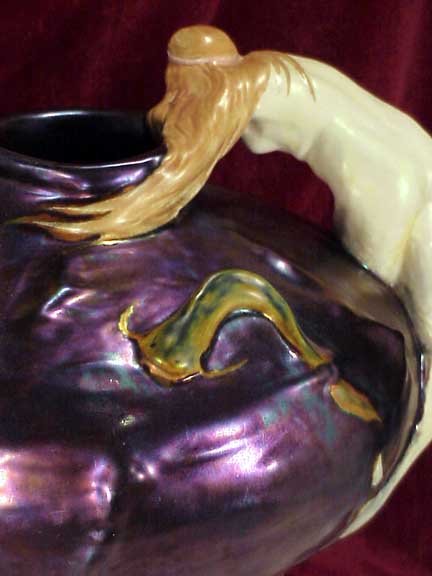 ---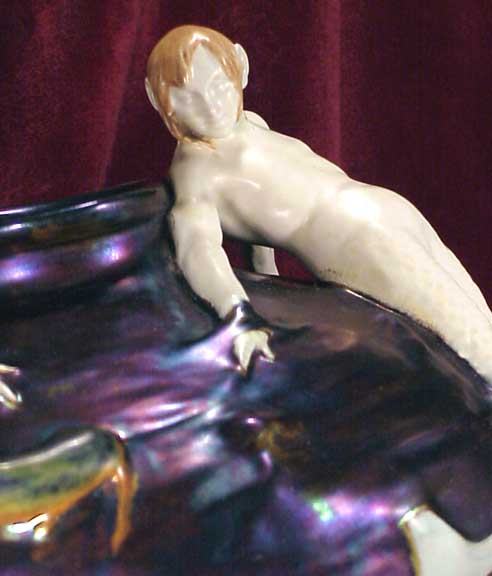 ---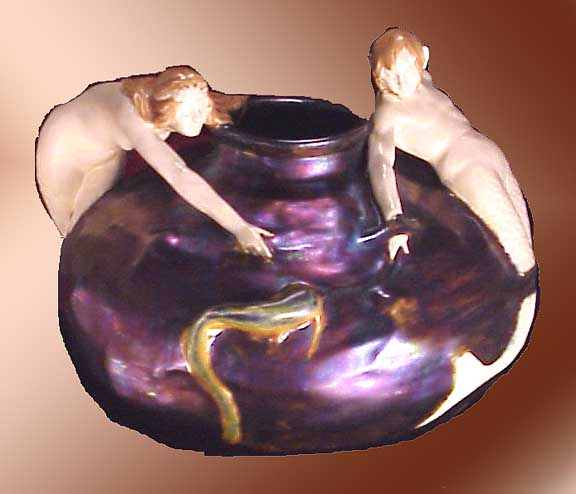 ---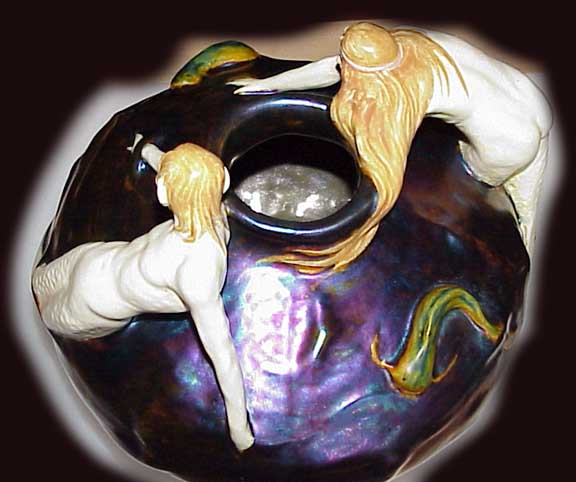 ---
---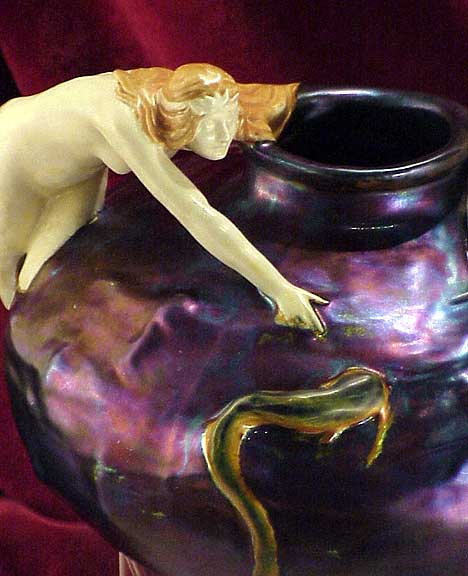 ---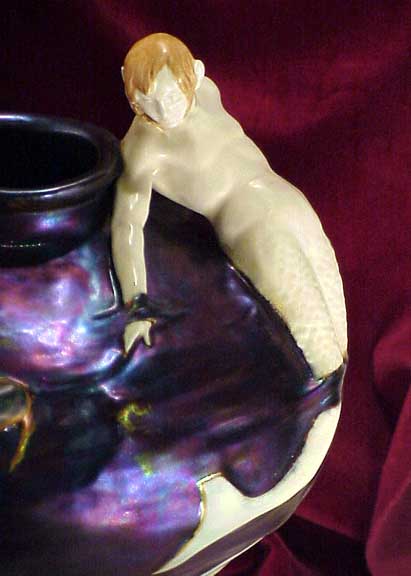 ---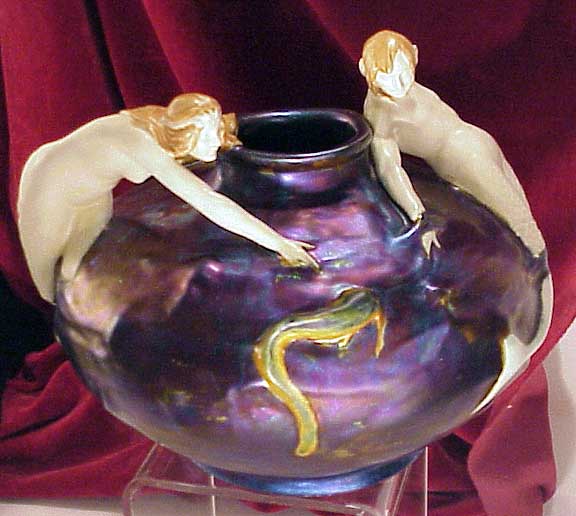 ---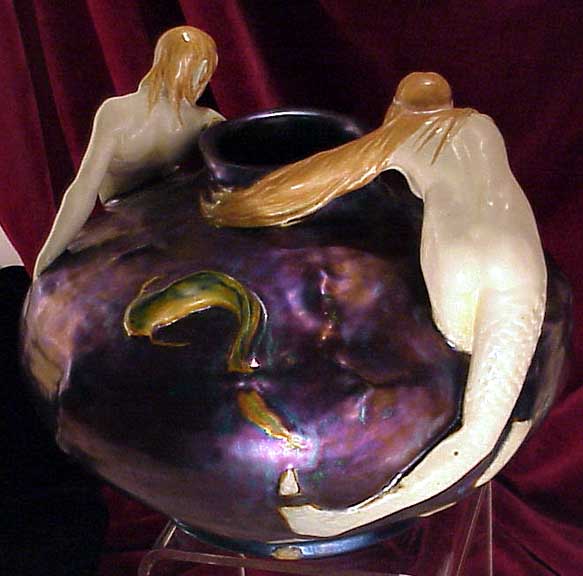 ---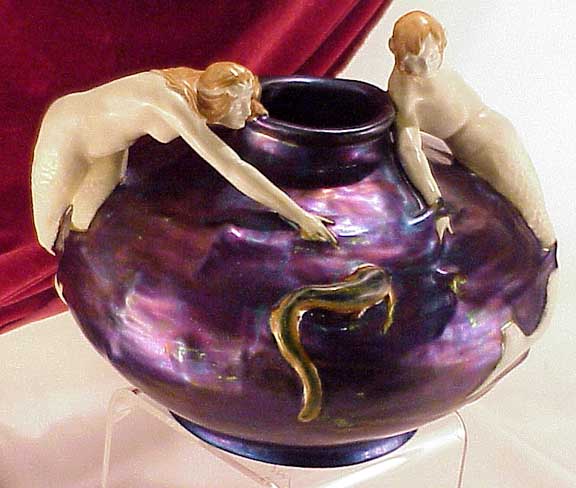 ---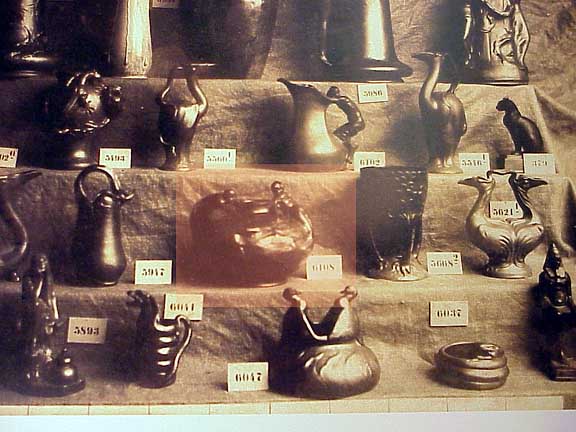 Above is a period photo showing Zsolnay factory production including the Mermaid / Merman vase shown on this site.
---
Click on you back button to return to the Zsolnay Store site or go through the links below.
---
---
The Drawing Room ( and The Zsolnay Store) is located at 152-154 Spring Street, Newport, Rhode Island 02840.We are open daily from 11 am to 5 pm and by appointment. If you have an interest in an item listed in this document or wish to purchase an item, please call us at 1-401-841-5060 / cell phone 401-261-3980. The Partnership of Gacher and Santi has been in business for over 30 years. We have been located in Newport since 1985. Email us at:drawrm@hotmail.com
---
ZSOLNAY // FURNITURE // GLASS // PORCELAIN // POTTERY // METAL
LIGHTING // PAINTINGS // EPHEMERA // TEXTILES // GOTHIC // MISCELLANEOUS
THE DRAWING ROOM OF NEWPORT AND THE ZSOLNAY STORE HOME PAGE
---

Free counters provided by Honesty.com.

Visitors since 01-17-01