John & Rico's
Antique Furniture from Their Drawing Room.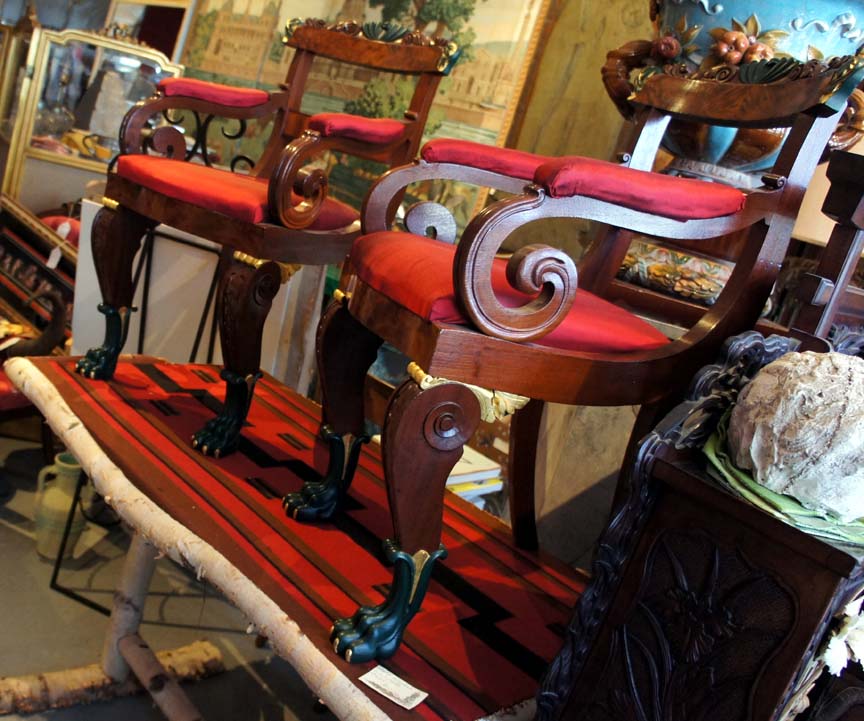 # 5056. Pictured is one of a pair (2) of an American Empire Arm Chairs (c. 1815-1835) From Trinity Episcopal Church in Newport Rhode Island. These chairs are Altarboy Chairs. Neither a child's chair (too large) nor an adult chair, but in between in size. This size, especially a pair, is seldom seen on the market. From an old guide read to visitors of Trinity before WWII: "Guide: Express welcome and have tourists follow you into aisle on south side-part way down asile, step into pew and face tourists (plan to have foot warmer in pew.) . . . (continuing down the script to be told to tourist) The small armchairs were gifts of Gilbert Stuart. Gilbert Stuart was a famous Rhode Island painter whose best known work is a portait of George Washington found on your dollar bill. The chairs are British Honduras mahogany." We believe that the chairs may have been given by Gilbert Stuarts's daughter Jane Stuart, in his memory. Mahogany and Oak and Mahogany veneer, painted and gilt surfaces. Size: 18" wide x 18" deep x 34.5" tall to the top of the back. The seat is 19.5" tall. $4,950.00 the pair.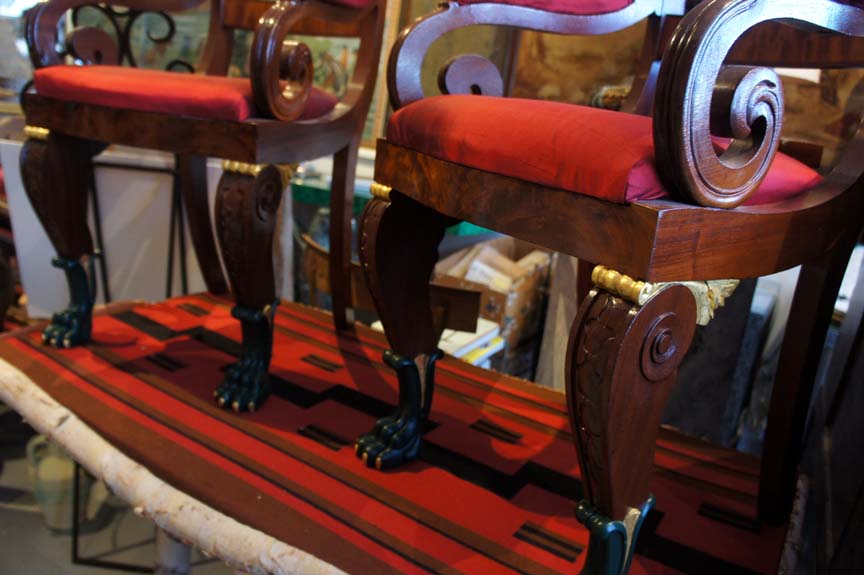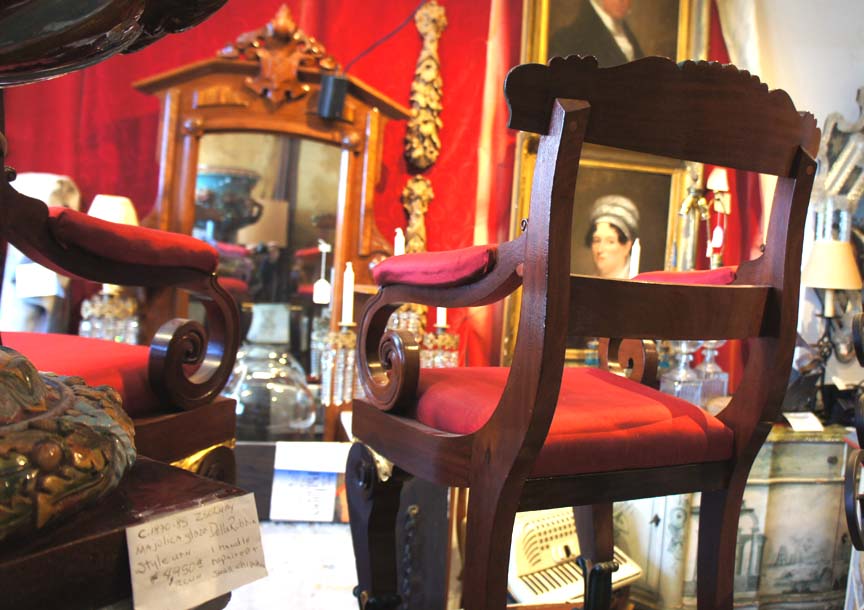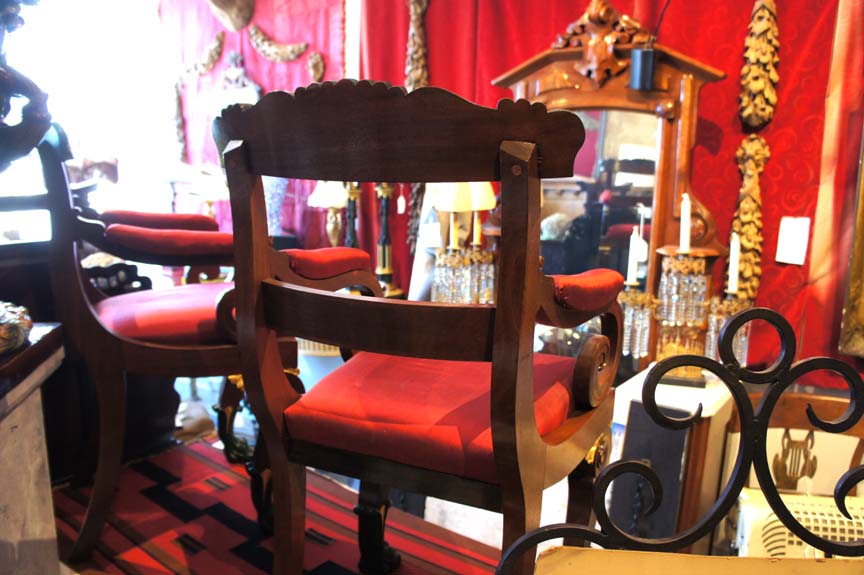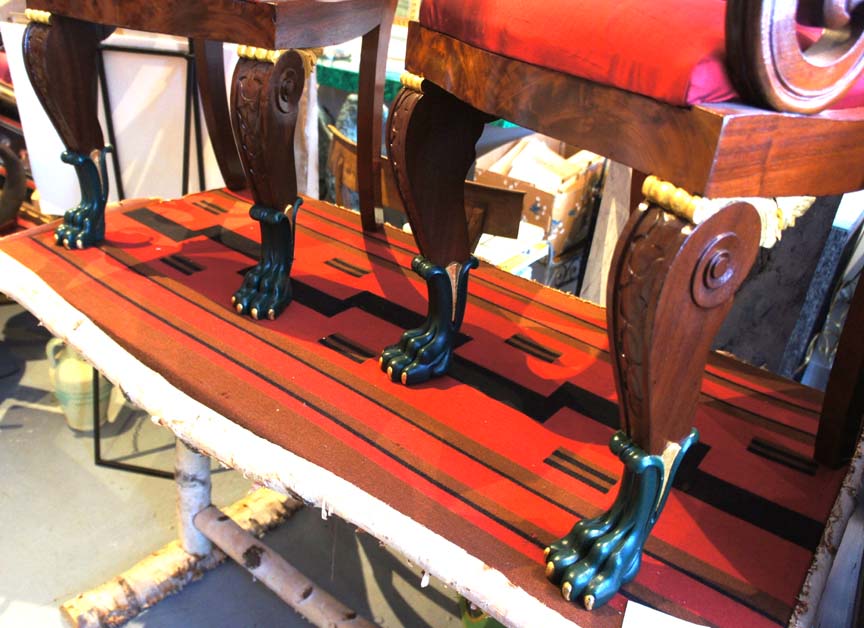 ---
HOME PAGE FOR THE DRAWING ROOM OF NEWPORT
ZSOLNAY // FURNITURE // GLASS // PORCELAIN // POTTERY // METAL
LIGHTING // PAINTINGS // EPHEMERA // TEXTILES // GOTHIC // MISCELLANEOUS
---
The Drawing Room is located at 152-154 Spring Street, Newport, Rhode Island 02840.We are open daily from 11 am to 5 pm and by appointment. If you have an interest in an item listed in this document or wish to purchase an item, please call us at 1-401-841-5060 (cell: 401-261-3980). The Partnership of Gacher and Santi has been in business for over 30 years. We have been located in Newport since 1985. Our email address

is: drawrm@hotmail.com

Free counters provided by Honesty.com.

Visitors since 01-17-01