John & Rico's
Antique Art Nouveau
Pottery from The Drawing Room of Newport.
# 4864. A Heliosine Ware pottery Art Nouveau Vase. Circa 1910. 21.5" tall and a 5.5" square base. Marked under the glaze: Heliosine Ware Austria with a crown. Incised Numbers "21039" and "3". We believe that the crown mark is for the firm of Ernst Wahliss. They were a retailer and maunfacturer, opening a shop in Vienna in 1836 with branches in London (1888) Berlin (1896); they were agents for Reissner, Stellmacher & Kessel and Zsolnay. The firm was renamed Alexander Porcelain Works Ernst Wahliss in 1905. This information is from Marks and Monograms of the Modern Movement by Malcolm Haslam which is an excellent reference book (ISBN 0 7188 2291 9) Condition: two very long cracks on oposite sides of the very tall vase from the top down about 8". Rubbing to the dull metallic glaze. A very large example of this most uncommon line of Art Nouveau Ceramics. Price: $950.00.
---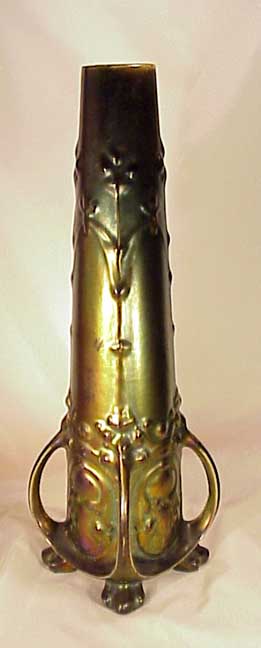 ---
Red Line denotes the crack line.
---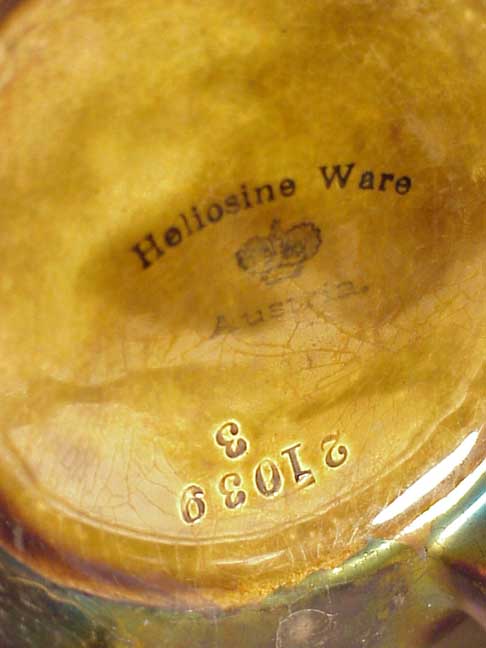 ---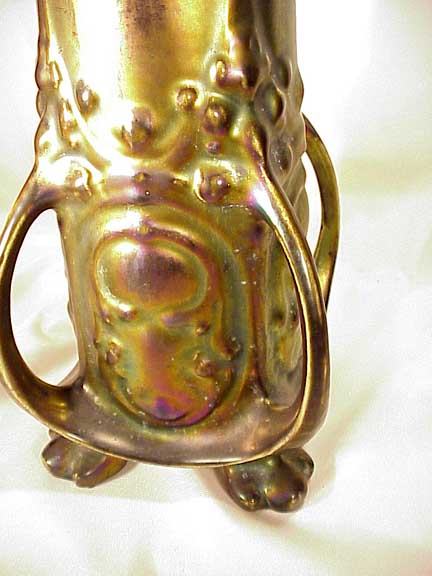 ---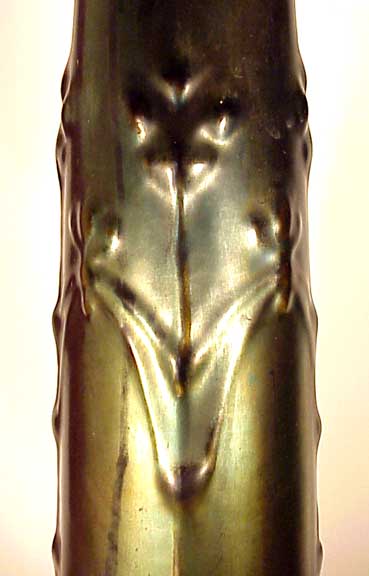 ---
---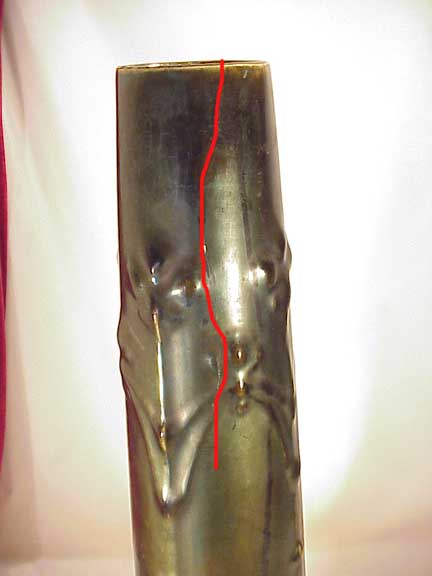 Red line denotes the crack line.
---
Click on your return button to go back to the previous page or:
Enter here for the Pottery site of The Drawing Room of Newport
---
ZSOLNAY // FURNITURE // GLASS // PORCELAIN // POTTERY // METAL
LIGHTING // PAINTINGS // EPHEMERA // TEXTILES // GOTHIC // MISCELLANEOUS
THE DRAWING ROOM OF NEWPORT AND THE ZSOLNAY STORE HOME PAGE
The Drawing Room is located at 152-154 Spring Street, Newport, Rhode Island 02840.We are open daily from 11 am to 5 pm and by appointment. If you have an interest in an item listed in this document or wish to purchase an item, please call us at 1-401-841-5060. (cell phone: 401-261-3980)Our email

address is: drawrm@hotmail.com All images copyright by F. Santi, 2007

Free counters provided by Honesty.com.