Fine Metal Ware from The Drawing Room of Newport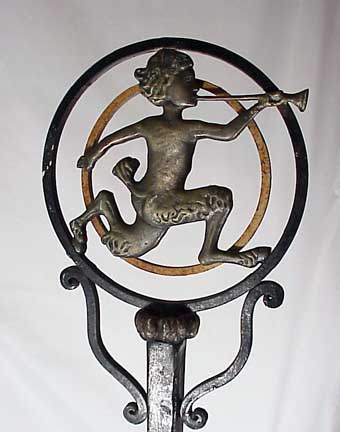 # 4380. A pair or wrought iron and nickel plated andirons. American Renaissance Style; late 19th early 20th century. Size: 30 5/8" tall; 21.5" deep and each is 15" wide at the footed base. Consistent with the designs of Oscar Bach. There is a documented console table with the identical figure of this pan as part of the decorative frieze. "Oscar Bach a metallurgist died at the age of 72. Creator of Plaques on R.C.A. Building Has Ornamented Bible Given to Leo XIII Oscar Bruno Bach, metallurgist and designer, whose work adorns the exteriors and interiors of many buildings in New York and other cities. Mr. Bach, who was known for metal sculpture in the Rockefeller Center area, maintained a studio in La Maison Francaise, 610 Fifth Avenue. His residence was at 962 Fifth Avenue. Beside huge plaques on the RCA Building, Mr. Bach's designs are on the Empire State Building, The Airlines Building, 80 East Forty-second Street, the Bank of the Manhattan Company (now Chase Manhattan) at 40 Wall Street and the New York Trust Company Building at 100 Broadway. Did Work for Ships His earlier work included metal designs for the United States Lines ships Washington and Manhattan. His interior designs are to be found in Riverside Church, Yale University, The Toledo (Ohio) Museum of Art and other museums. Mr. Bach's metal-designing also has a practical turn, which was developed through his association with Remington-Rand, Inc.; Manning, Bowman & Co.; the Edward Budd Manufacturing Company, Oneida, Ltd. the Baldwin Locomotive Works, the American Radiator Company and the Tappan Stove Company. He maintained his own laboratory and also was president of the Oscar B. Bach Studios, Inc. Born in Breslau, Germany, Mr. Bach studied at the Catholic Higher Gymnasium there from 1890 to 1898. He continued his studies at the Imperial Academy of Art in Berlin until 1902. At the age of 20 he began his career as a designer of metallic architecture and sculpture in Berlin, mostly for the German, British and Italian Governments. Designed Bible for Pope One of his early commissions was to design an ornamental Bible for the British Government, for presentation to Pope Leo XIII. It has become one of the treasures of the Vatican Museum, with its metal binding encrusted with jewels and precious stones. Mr. Bach came to the United States in 1913 and became a citizen thirteen years later. One of the outstanding sculptures is the eleven foot bronze statue "The Spirit of Democracy" designed in 1939. It is on the seventh floor terrace of the building in which Mr. Bach's studio is located. Mr. Bach received the gold medal for native industrial design and craftsmanship from the Architectural League of New York." Not marked (that we know of). From a family who had a home in Newport Rhode Island and Block Island. Condition: One screw is missing that holds one of the pan figures in place; no losses; age use consistent with fire place equipment of this era. Well formed paw feet support a twisted iron shaft terminating with a silhouette of opposite figures of pan running and playing a horn. The pan figure has hairy legs and cloven hoofs and appears to be nickel plated; the ring behind each figure is painted white (possibly original paint). We do not have the resting bar that would have been held in place by the decorative iron lip below the twisted iron shaft. The various elements are screwed together: the paw feet element; the bar bracket; the rings and pan, etc. Price $1,200.00.
---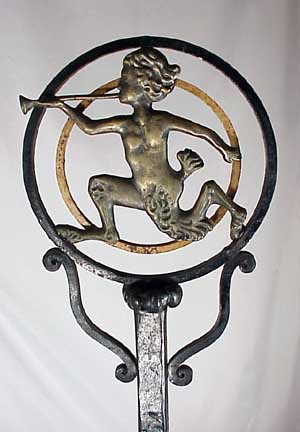 ---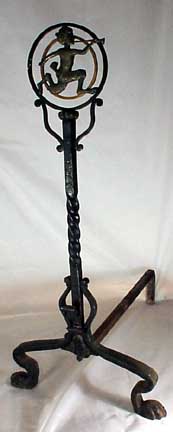 ---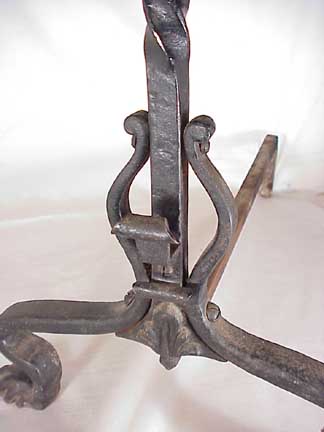 ---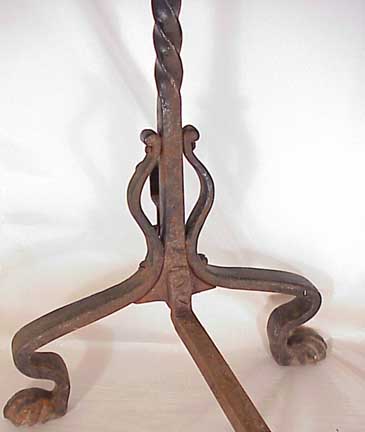 ---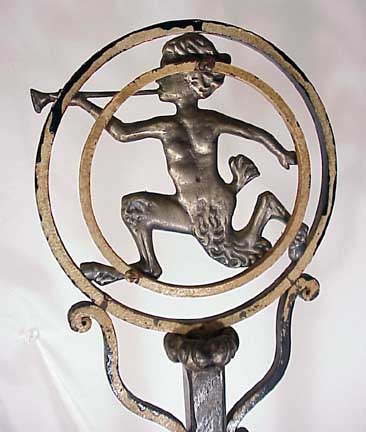 ---
Click on your back button to return to the previous page.
---
HOME PAGE FOR THE DRAWING ROOM OF NEWPORT
ZSOLNAY // FURNITURE // GLASS // PORCELAIN // POTTERY // METAL
LIGHTING // PAINTINGS // EPHEMERA // TEXTILES // GOTHIC // MISCELLANEOUS
---
The Drawing Room is located at 152-154 Spring Street, Newport, Rhode Island 02840.We are open daily from 11 am to 5 pm and by appointment. If you have an interest in an item listed in this document or wish to purchase an item, please call us at 1-401-841-5060 (cell: 401-261-3980). The Partnership of Gacher and Santi has been in business for over 30 years. We have been located in Newport since 1985. Our email address

is: drawrm@hotmail.com

Free counters provided by Honesty.com.