Antique Metal from The Drawing Room.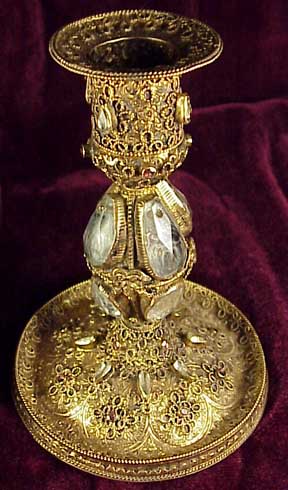 # 3774. A gilt silver single candlestick set with semi-precious jewels and rock crystals. Hall mark for Vienna Austria. Age: probably mid to late 19th century. The rock crystals are possibly earlier. Someone thought enough of the 'antique' rock crystals to have them set into this candlestick. This workman ship is quite extraordinary. It is hallmarked: Hard to make out, but it appears to be the head of a lady facing right. Size: app. 5" tall. Condition: very good. None of the stones are missing. The pale red stones are probably garnets. There are 12 garnets, 12 smaller rock crystals and 8 larger rock crystals. The larger rock crystals have holes drilled in the smaller side and we assume that they were some time before this item was made used in another lighting device. Very finely detailed and the workmanship is top notch! Price: $1,800.00.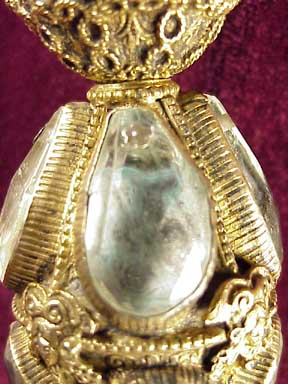 ---
---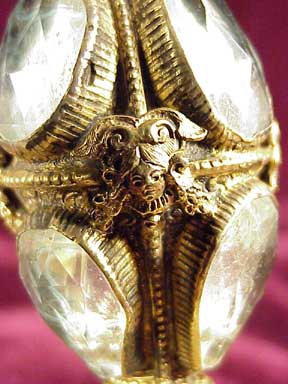 ---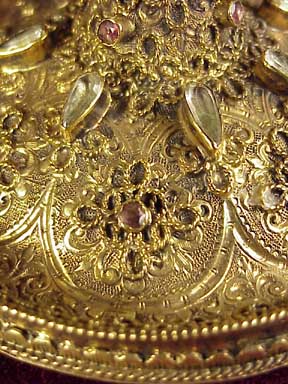 ---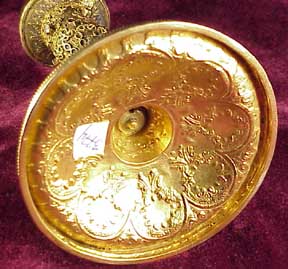 ---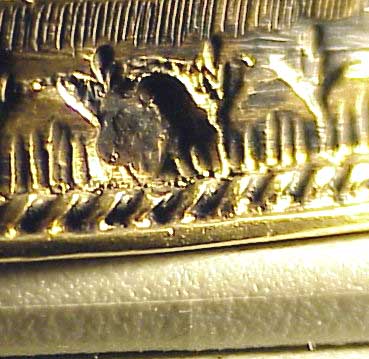 ---
---
Click on your back button to return to the previous page.
Offering a Luxury Bed and Breakfast Suite in the Heart of Newport
---
HOME PAGE FOR THE DRAWING ROOM OF NEWPORT
ZSOLNAY // FURNITURE // GLASS // PORCELAIN // POTTERY // METAL
LIGHTING // PAINTINGS // EPHEMERA // TEXTILES // GOTHIC // MISCELLANEOUS
---
The Drawing Room is located at 152-154 Spring Street, Newport, Rhode Island 02840.We are open daily from 11 am to 5 pm and by appointment. If you have an interest in an item listed in this document or wish to purchase an item, please call us at 1-401-841-5060 (cell: 401-261-3980). The Partnership of Gacher and Santi has been in business for over 30 years. We have been located in Newport since 1985. Our email address

is: drawrm@hotmail.com

Free counters provided by Honesty.com.