John & Rico's Antique Lighting
from
The Drawing Room of Newport.
This site lists Antique Mechanical Lighting
Click here to view our main lighting pages
Carcel, Moderator, Column lighting
____________________________________________________________________
_________________________________________________________
---
---
---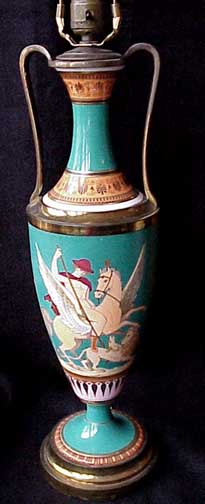 # 3081. A Single Carcel Lamp. Paris Porcelain with fire-gilt bronze metalwork. Fitted for electricity (mechanical innerworkings removed and burner/shade holder removed). Style: Neo-Grec. Fitted as a lamp before 1870. We attribute the porcelain vase to the firm of Denuelle, circa 1834. Copied in the Etruscan style. In 1834 Denuelle exhibited some of these Etruscan vases. Vases showing the same influence were reproduced by Stephane Flachat's work on French industry, along with the porcelain of Jacob Petit and Clauss. A similar styled vase was given by Mme Denuelle to the Musee Adrien Doubouche. Condition: the lower porcelain section has an apparent crack from the upper edge to the intermediate gold band. Minor surface wear consistent with use and age. This is a rare lamp depicting Greek figures, four in all. The predominant ground colors are turquoise, terra-cotta with black and gold tracery. There are three separate porcelain section joined with fire gilt bronze elements. Unmarked. The main image depicts a soldier / warrior atop a winged horse / Pegasus / killing a mythological monster. This high quality lamp would have been used in a room of furnishings consistent with cabinet makers such as Pottier and Stymus, Leon Marcotte, Herter Brothers and Alexander Roux. Size: 20" tall to the bottom of the modern electrical socket and the base has a 6" footprint. Price: $3,500.00.
---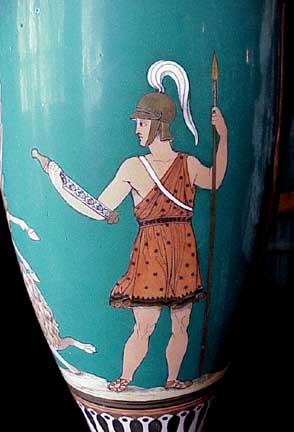 ---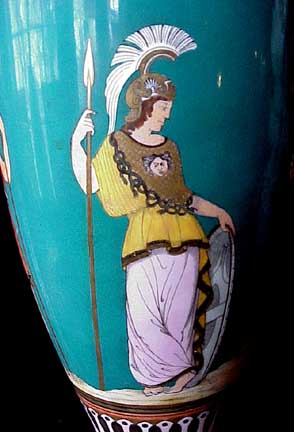 ---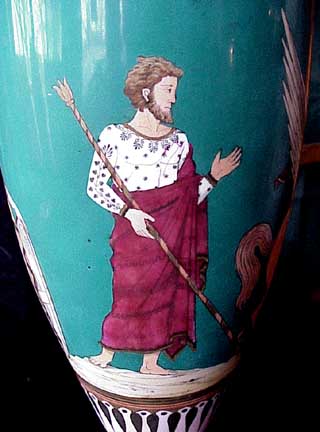 ---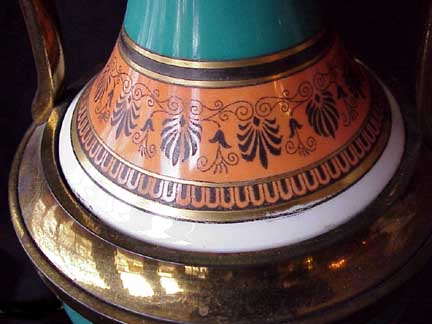 ---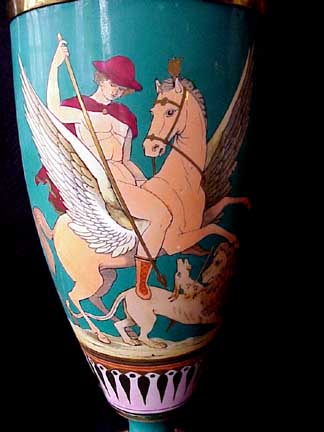 ---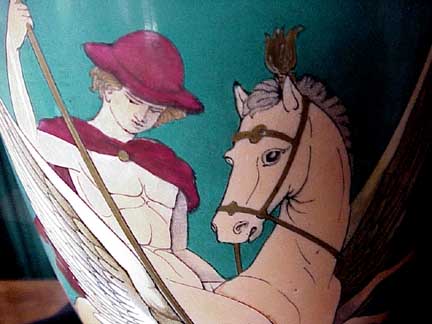 ---
---
---
---
---
---
ZSOLNAY // FURNITURE // GLASS // PORCELAIN // POTTERY // METAL
LIGHTING // PAINTINGS // EPHEMERA // TEXTILES // GOTHIC // MISCELLANEOUS
THE DRAWING ROOM OF NEWPORT AND THE ZSOLNAY STORE HOME PAGE
The Drawing Room is located at 152-154 Spring Street, Newport, Rhode Island 02840.We are open daily from 11 am to 5 pm and by appointment. If you have an interest in an item listed in this document or wish to purchase an item, please call us at 1-401-841-5060 (cell: 401-261-3980). The Partnership of Gacher and Santi has been in business for over 30 years. We have been located in Newport since 1985. Our email address

is: drawrm@hotmail.com

Free counters provided by Honesty.com.

Visitors since 01-17-01