Antique Lighting from The Drawing Room
---
---
---
# 2149. A Rare Charles X Column Lamp. Fitted for Electricity. 25.5" tall to the base of the electrical fitting. Retains its burner collar and shade ring. Good original patina with dark bronze and fire gilt surfaces. Probably French. Unmarked. The Column Lamp is a very elegant form of lighting, usually fitted with a mellon or ball glass shade. Price: $1,250.00.
---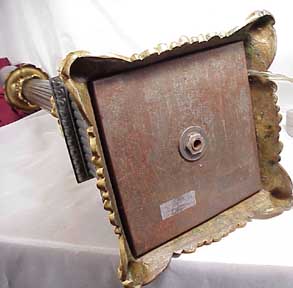 Showing the underside of the lamp
---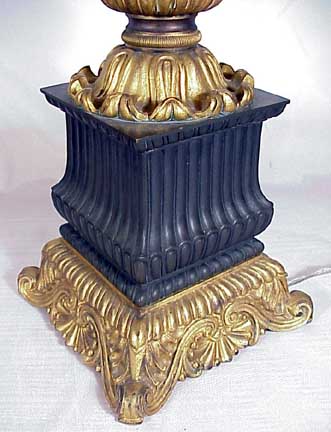 The Lower Section of the Lamp
---
The upper section.
---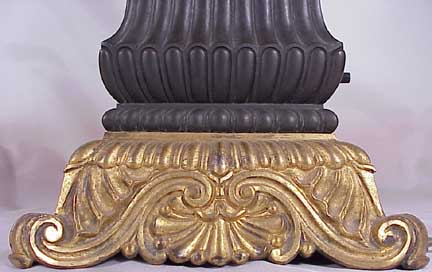 The base of the Column Lamp
---
ZSOLNAY // FURNITURE // GLASS // PORCELAIN // POTTERY // METAL
LIGHTING // PAINTINGS // EPHEMERA // TEXTILES // GOTHIC // MISCELLANEOUS
THE DRAWING ROOM OF NEWPORT AND THE ZSOLNAY STORE HOME PAGE
The Drawing Room is located at 152-154 Spring Street, Newport, Rhode Island 02840.We are open daily from 11 am to 5 pm and by appointment. If you have an interest in an item listed in this document or wish to purchase an item, please call us at 1-401-841-5060 (cell: 401-261-3980). The Partnership of Gacher and Santi has been in business for over 30 years. We have been located in Newport since 1985. Our email address

is: drawrm@hotmail.com

Free counters provided by Honesty.com.

Visitors since 01-17-01