---
---
Erotic Art: the Art of Men
from
The Drawing Room of Newport Erotic Art Pages
Please click on the above link to take you to our Main Erotic Art Catalogue
---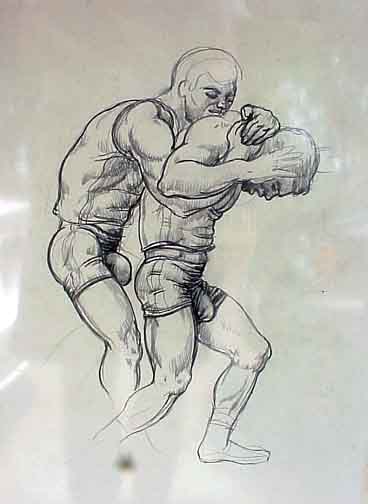 Item # rb6. A pencil drawing of two young men wrestling. Unsigned. Overall size: is 14" x 17" and the image size is 7" x 12". Age: between 1945 and 1950. A students study with obvious homo erotic overtones. Condition: under shrink wrap (cause of reflection of image) on foam core; torn from an artists sketch book with perforations at the left, scuffs condsistent with use and age. An interesting gay / erotic collectible. This item has been sold.
---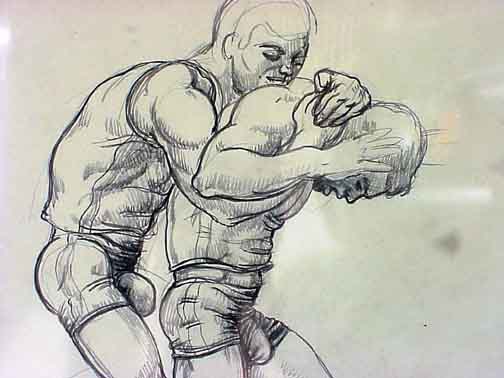 ---
---
---
---
If you have Erotic Art that you wish to sell, we are always interested in purchasing such items: paintings, bronzes, carvings, prints, etc. Complete discretion assured.
---
Home Page for The Drawing Room of Newport
---
If you have a question about any of the items in this gallery please drop us a line or Email us. Email us at: drawrm@hotmail.com. Our gallery The Drawing Room Antiques is located at 152-154 Spring Street, Newport, Rhode Island 02840 and our phone number there is 1-401-841-5060 / cell 1-401-261-3980.

Free counters provided by Honesty.com.

Visitors since 01-17-01