The Drawing Room Antiques
Antique Zsolnay Gallery
Art Nouveau Pottery
1895-1920
152 Spring Street Newport RI 02840 {USA}
---
Nabis Landscape Cachepot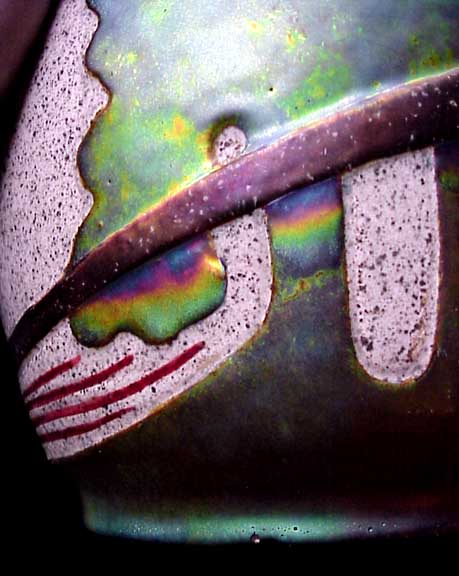 # 259. Form # 7144. Circa 1903. Gres with raised Eosin Acid Etched Decoration of a landscape. Colors: vibrant metallic green trees; red lines and copperesque shaft of stylized clouds. Nabis style decoration. Unusual rainbow glaze colorations on the front landscape view below the trees. The incised lines are very red in color. Size: 5.5" tall and 7.5" diameter. Condition: Minor bottom edge rim chips. Price $12,500.00.
---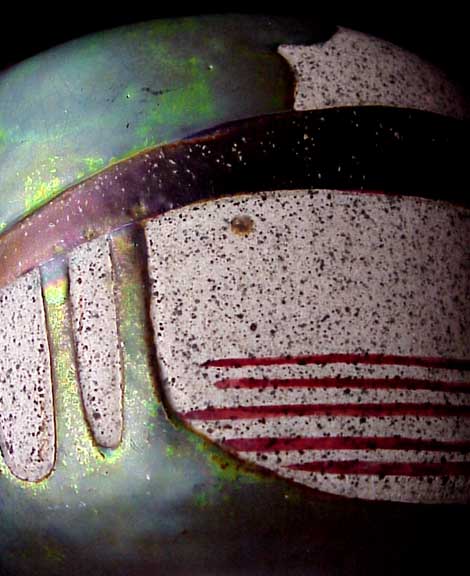 ---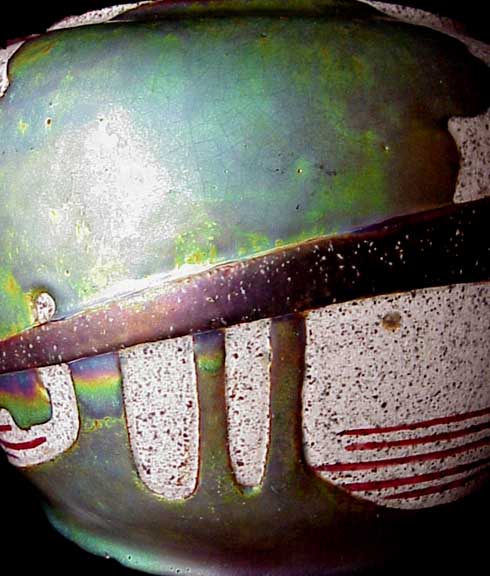 ---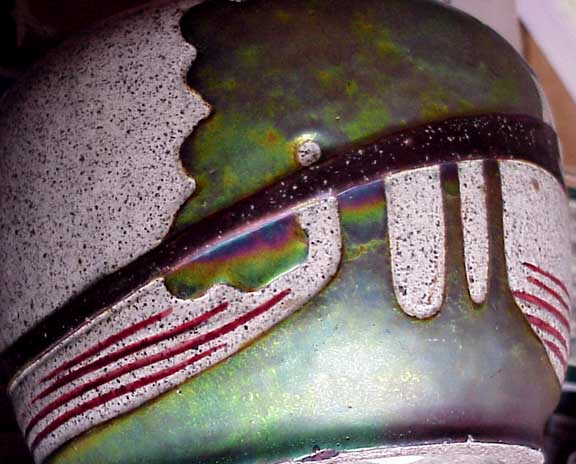 ---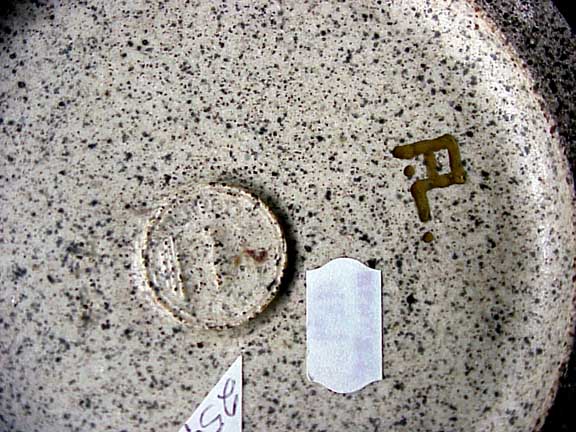 ---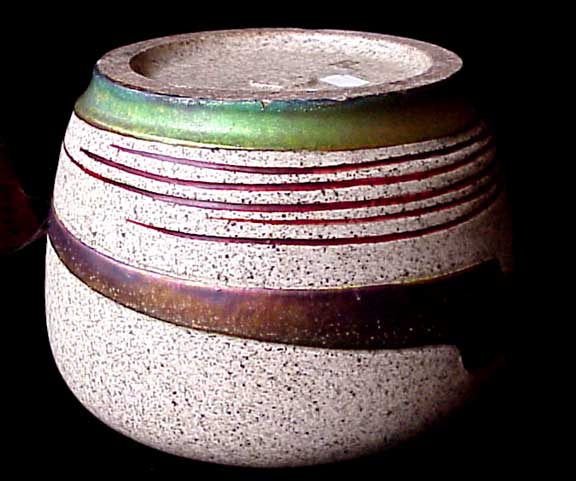 ---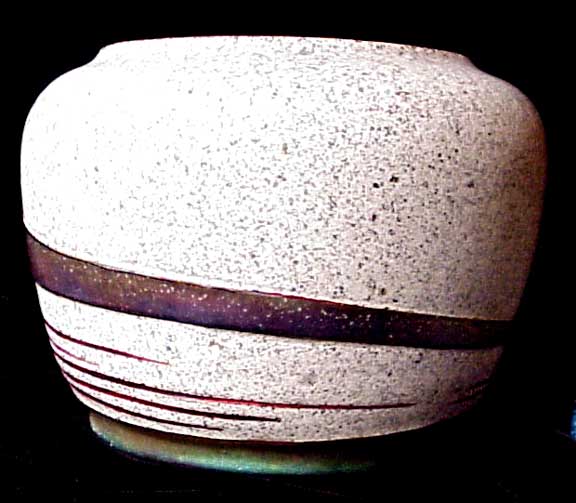 ---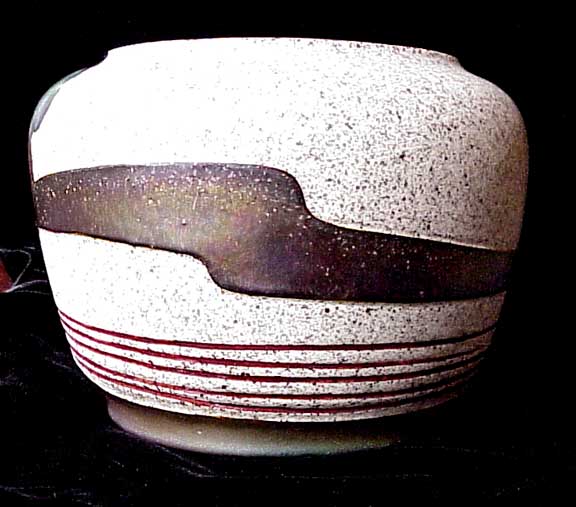 ---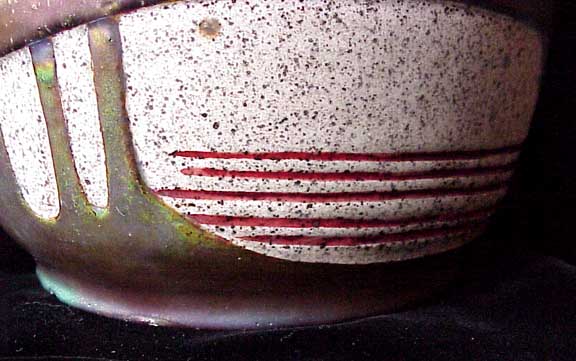 ---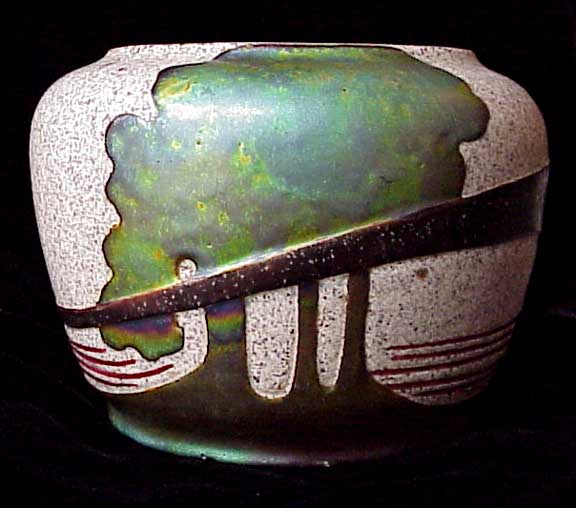 ---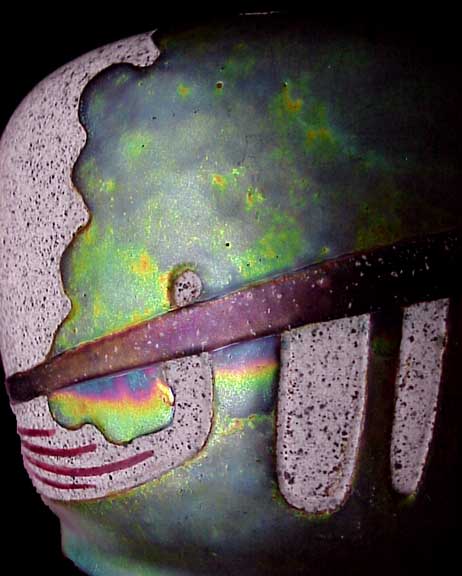 ---
Click on you back button to return to the previous page
---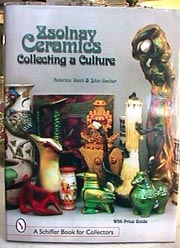 "Zsolnay Ceramics Collecting a Culture" with price guide: "This beautifully illustrated guide to Zsolnay ceramics, featuring over 400 color photographs, covers the three main periods of Zsolnay production, including 1868 to 1897-Folklorism, Historicism & Victorian Eclecticism; 1897 to 1920-Art Nouveau (Secession in Central European terms) and Art Deco (Second Secession); 1920 to the present-Modernism. An entire chapter; fully illustrated is also dedicated to Zsolnay marks to help collectors identity their pieces." This book is 191 pages and is a large format hard cover. The over 400 color photos detail Zsolnay by size, form number, date of production and current market value. Price: $49.95 + shipping.
---
The Drawing Room and The Zsolnay Store is located at 152-154 Spring Street, Newport, Rhode Island 02840.We are open daily from 11 am to 5 pm and by appointment. If you have an interest in an item listed in this document or wish to purchase an item, please call us at 1-401-841-5060 ( cell 401-261-3980). We have been located in Newport since 1985.
---
Email us at drawrm@hotmail.com

If you have an interest in knowing more about Zsolnay, check our Ephemera Link: we stock two excellent publications on the subject of Zsolnay. If you wish an evaluation about a Zsolnay item in your collection, just send us a photo with notations of size, condition and marks along with a self addressed stamped envelope and we would be glad to help you. And . . . of course we are always interested in purchasing fine examples of Zsolnay ceramics.
---