V.I.S.T.A.
Volunteers in Service to America: a Personal Journey
---
"VISTA Redux: 1969 A Year in the Life of a Volunteer" by Photographer Federico Santi.
This book has been created because of events that happened almost 50 years ago. A nation at war, a youth culture in revolution, a young photographer trying to find his path in life—all collided at a point in time called V.I.S.T.A. Volunteers in Service to America was created as part of the war against poverty by allowing volunteers to serve in a community where they could effect change for a neighborhood, as well as effect change in the way they looked at themselves. We came from all walks of life and different parts of the country: New York, Massachusetts, California, North Dakota, New Jersey; we were a melting pot of mostly college kids in our early twenties. As volunteers, we established how we would fulfill our year of service, and then followed a daily routine, working as teachers, mentors, assistants, daycare workers, etc. 333 Pages.
Available from AMAZON: ISBN: 9781535435925
---
Chapter 1. The Volunteers
In this site we will show images taken between 1968 and 1969 of the V.I.S.T.A. Volunteers in my group that were headquartered out of Broward County Florida. Joining VISTA, I came from Florida State University with the talent of a photo-journalist and used those skills while in VISTA.
News Release - Newport, RI - "Photography by Federico Santi of Newport will be exhibited the week of May 10th in the Russell Rotunda at the Dirkson Senate Office Building in Washington, DC., in celebration of the 45th anniversary of VISTA, Volunteers in Service to America. The exhibit, along with a reception on May 12th, will honor members of Congress for their commitment to VISTA. The photo exhibit, "VISTA-REDUX: 1969," which docuemnts Santi's service with VISTA in South Florida in the late 1960's was shown at Newport Art Museum last fall."
To View images of the May 12th Reception: click here.
---
---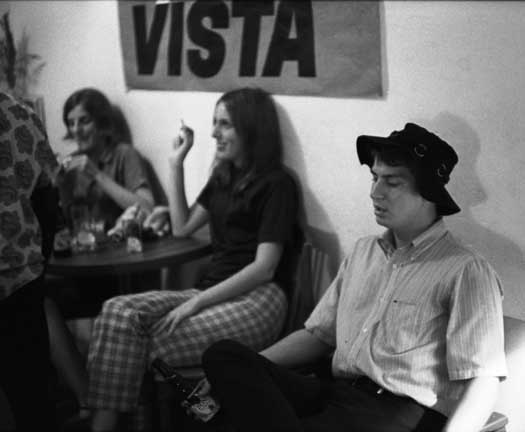 In our office from left to right are Jayne Hoyme, Kathy Kramer and William (Bill) Millhouser .
---
I believe that this is Louise Lymann (?).
---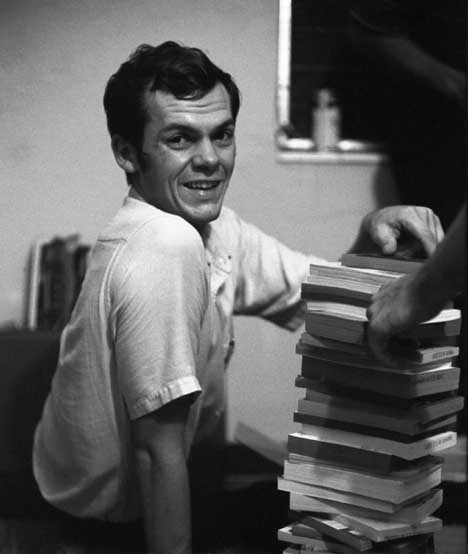 Gary Maske was the leader of our VISTA group: our 'boss'.
---
Frances (Fran) Eaton
---
Cielle Hosler (husband was Gene)
---
Bill, (I believe) Ginny Doying,
Helen Souza, and Jane Hoyme in one of the endless meetings the Volunteers had to attend.
---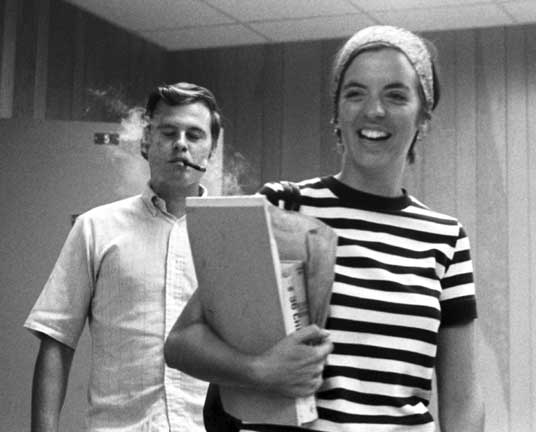 Robert Kambak and Fran Eaton.
---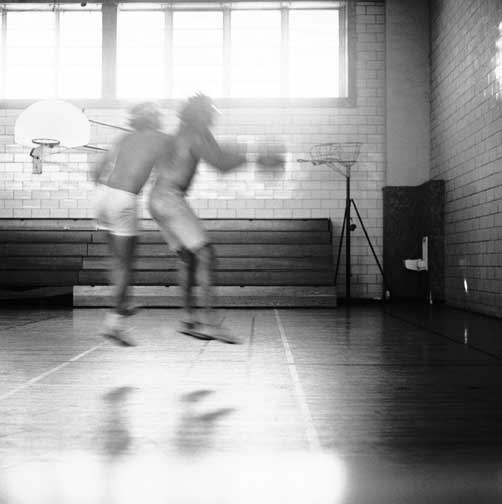 Many of the Volunteers played basketball which was a good way to interact with kids. Here are Steve Ciano and Dana Brownstein in one-on-one.
---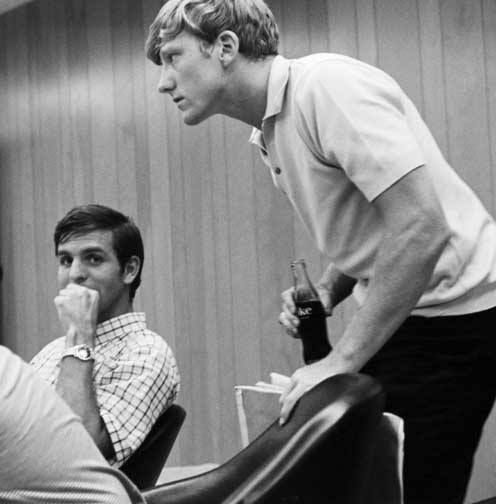 Dan and Larry
---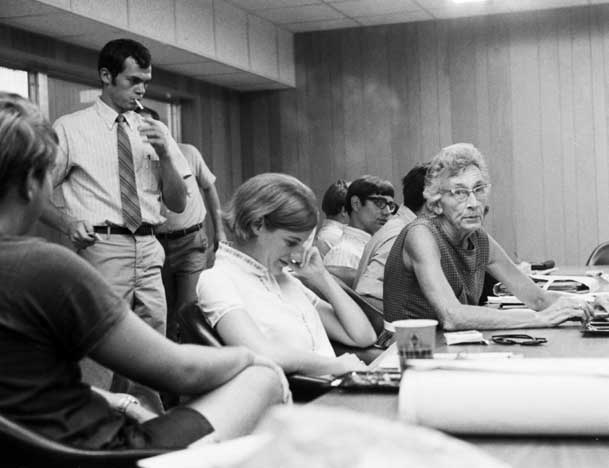 It seemed that most volunteers smoked cigarettes; some smoked cigars. Helen was the oldest volunteer in our group and was I believe around 70 years old.
---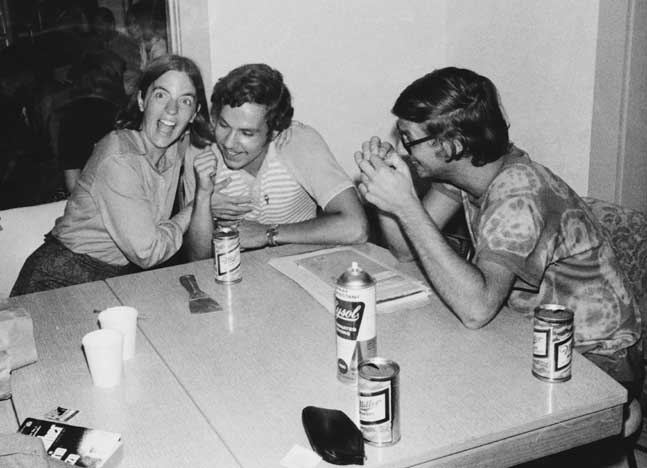 Fran, Pat Russoniello (I believe that he was from New Jersey) and Steve Ciano (Steve was from Brooklyn)
---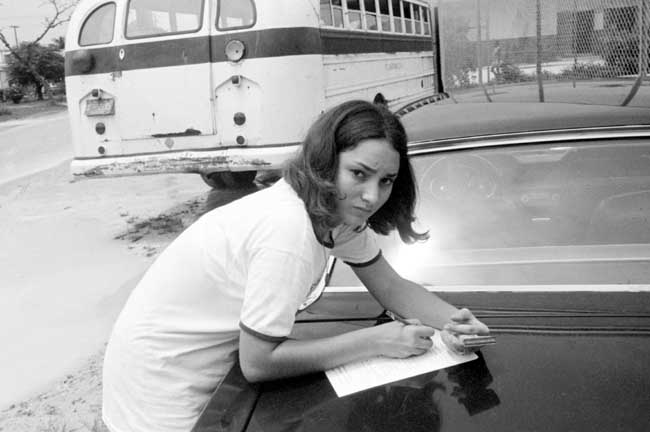 I don't remember this volunteer's name.
---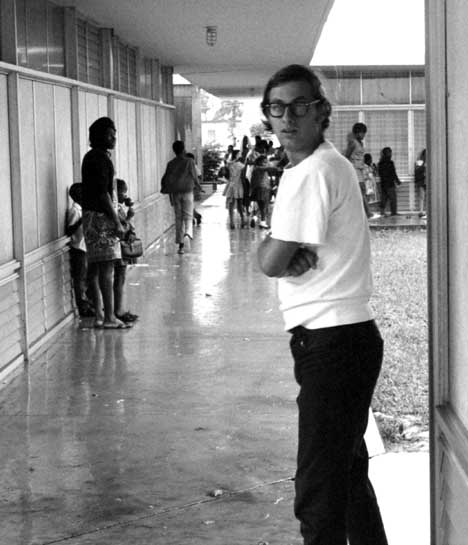 Steve Ciano at one of the schools.
---
Larry
---
---
Go on to V.I.S.T.A. Volunteers at work
There are several chapters to follow this web page, each chronographs, through photographs by Federico Santi, the lives and times of this particular V.I.S.T.A. Volunteer group. Please feel free to email if you wish to make corrections, add comments or help with this photo history.
Our email address: drawrm@hotmail.com
Pages installed May 21, 2008
---
Web site for Photographer Federico Santi
---
This collection of photographs is located at 152-154 Spring Street, Newport, Rhode Island 02840. If you have an interest in using a specific photograph or wish to discuss publishing in either book or exhibition form please call Federico Santi at 401-261-3980. All images copyright by F. Santi and copying or used without the express permission of the photographer is forbidden.
VISTA: A time for beginning and a time for change.
WHERE ARE THE VOLUNTEERS TODAY ?
The following is a list of names from an address book that I used while in V.I.S.T.A. in Broward County Florida in 1969-70: Dana Brownstein, Mark Buckbinder, Steve Ciano, Agnes Donegan, Ginny Doying, Frances Eaton, Steve Fulton, Steve Garcia, Jane Hoyme, Dave Henderson, Terry Jacobs, Rudi Juarez, Jim Kennedy, Kathy Kramer, Rob Kambak, Margo Karlek-Hildreth, Louise Lyman, Gary Maske, Paul McDonough, William Murphy, Gerald Neyman, John Riccio, Pat Russoniello, George Segal, Helen Souza, Beverly Wolfram. These people were either part of my group or I was involved with them through V.I.S.T.A. in some way.
---