The Drawing Room Antiques
located in
Historic Newport Rhode Island
In a series of photos we offer a fine and rare portrait bust of Miklos Zsolnay (1857-1922). This portrait bust depicts Mr. Zsolnay in his finest Hungarian Noblemans Regalia. It stands 19.5" tall and has a foot print of app. 7" square. The title states: "ZSOLNAY M". Miklos, was the son of Vilmos Zsolnay. He took over the management of the Zsolnay firm after his fathers sudden death in 1900. He was a member of the Upper House of the Hungarian Parliment. Under his direction, the factory reached its peak of internation success. Artist signed: "NagyM 1909" the signature is hand scribed into the clay. Mihaly Kaplas Nagy (1864?-1943) was an artist, craftsman, sculptor. He studied at the Budapest School of Appied Arts. I suspect that it was a privilege to be chosen to sculpt a bust for Miklos Zsolnay. Condition: please see the photos below. This is a highly rare zsolnay item. Price: $950.00.
---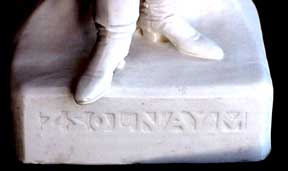 The title: "M. Zsolnay"
---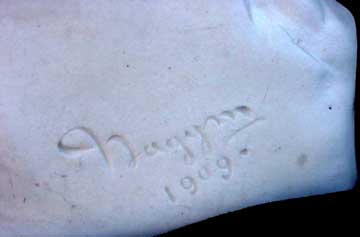 The signature and date on the back of the statue.
---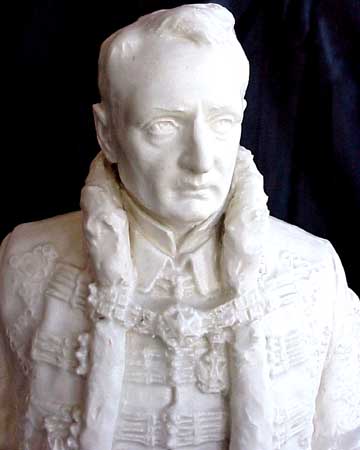 ---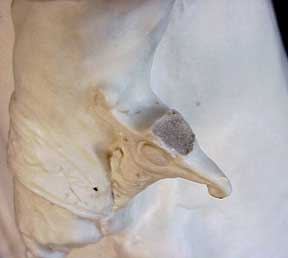 The loss to the sword hilt
---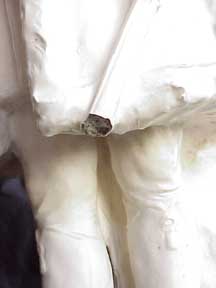 Loss to the tip of the sword.
---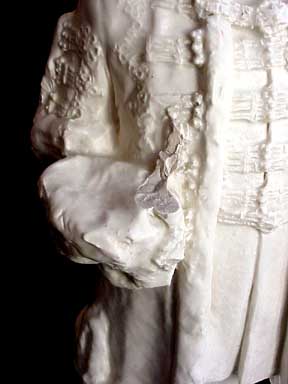 Loss to the plume of the hat.
---
Click on you back button to return to the Zsolnay Gallery site or go through the links below.
---
---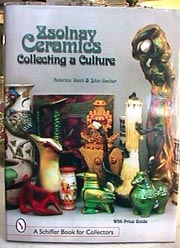 "Zsolnay Ceramics Collecting a Culture" with price guide: "This beautifully illustrated guide to Zsolnay ceramics, featuring over 400 color photographs, covers the three main periods of Zsolnay production, including 1868 to 1897-Folklorism, Historicism & Victorian Eclecticism; 1897 to 1920-Art Nouveau (Secession in Central European terms) and Art Deco (Second Secession); 1920 to the present-Modernism. An entire chapter; fully illustrated is also dedicated to Zsolnay marks to help collectors identity their pieces." This book is 191 pages and is a large format hard cover. The over 400 color photos detail Zsolnay by size, form number, date of production and current market value. Price: $49.95 + shipping.
---
The Drawing Room and The Zsolnay Store is located at 152-154 Spring Street, Newport, Rhode Island 02840.We are open daily from 11 am to 5 pm and by appointment. If you have an interest in an item listed in this document or wish to purchase an item, please call us at 1-401-841-5060. We have been located in Newport since 1985.
---
Email us at drawrm@hotmail.com

---