John & Rico's
"The Zsolnay Store"
of
The Drawing Room Antiques
Antique Secession Gallery
Art Nouveau Pottery
1895-1920
Offering some of the finest example of Zsolnay in the market today.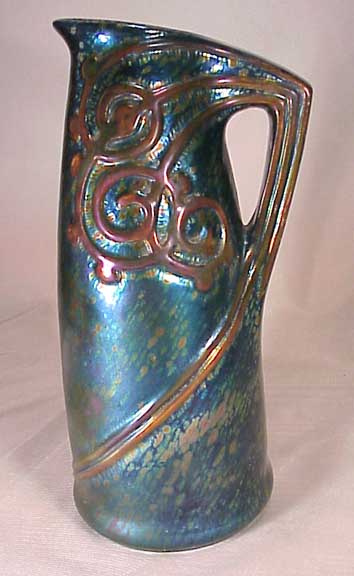 Item # 227. A Zsolnay Pitcher. Late Secession era. Size: 9.5" tall. Condition: minor areas where the glaze did not adhere to the body of the pitcher. No restorations, chips. Marks: round raised factory mark of the era and incised initials: "S F". There is no form number however the form number for this pitcher is 8925. C. 1918. This is late production for the factory. The glaze is reminiscent of a glass box vase pictured on page 7 of Waltraud Neuwirth's "Bluhender Jugendstil" Band 1; described as a "Vase; Joh. Lotz Witwe, Klostermuhle". Glaze in the style of Loetz Papillon glass. The images pictures a silver spotted decoration against a darker silver blue ground. Concerning the incised " S F", we can find no artist who worked at the factory with those initials. The main decoration is a oil spotted metallic eosin silver over a blue metallic eosin background, the raised ribbon decorations are lilac / copper eosin. The glaze on this small pitcher is about as fine as was produced at the Zsolnay factory.
---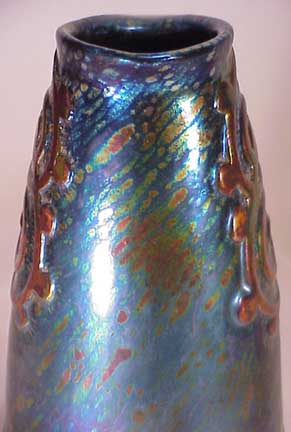 ---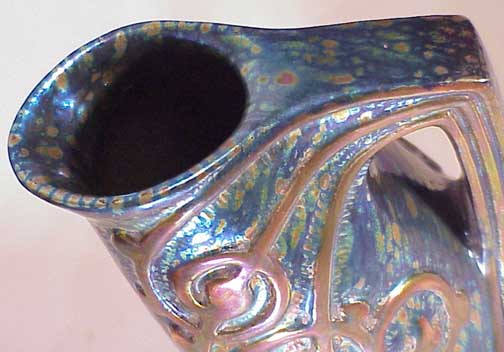 ---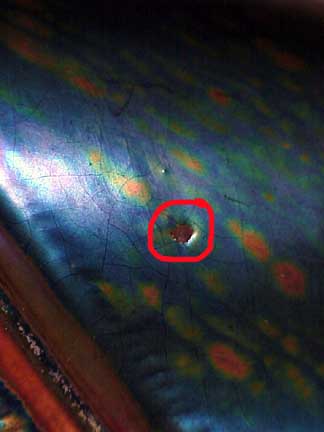 The spot is an tiny area where the glaze did not adhear to the body.
---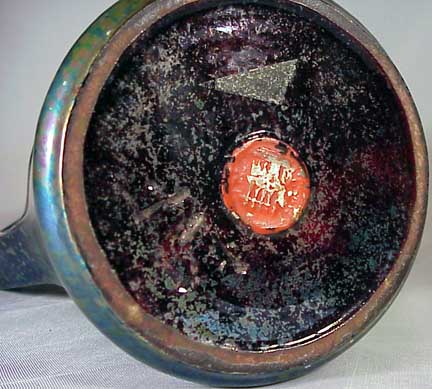 ---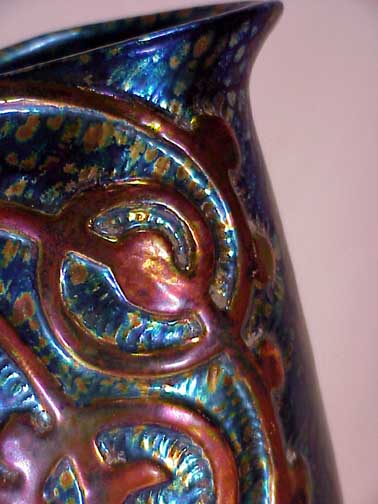 ---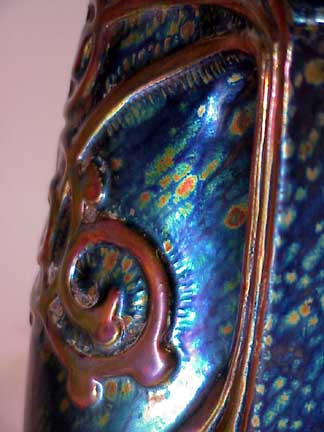 ---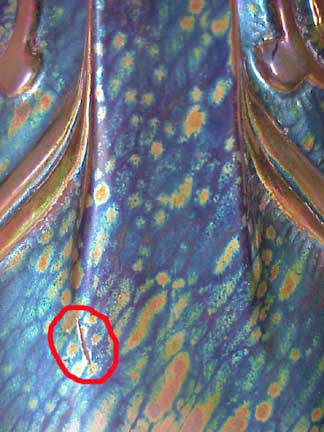 The small line is at the base of the handle and is a firing stress area.
---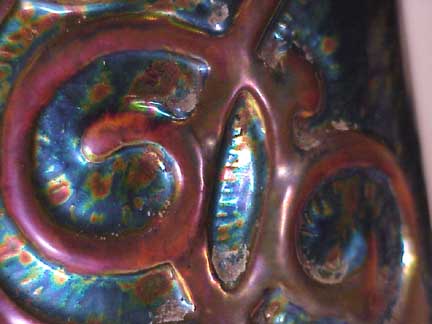 ---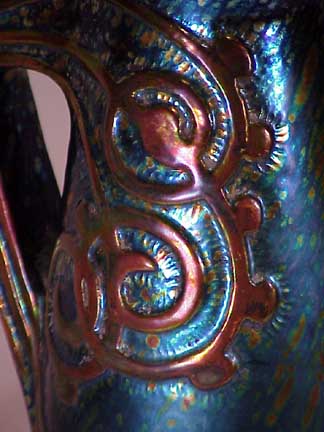 ---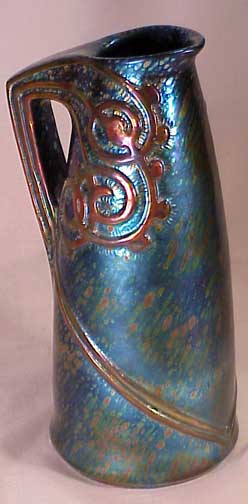 ---
---
The "S F" incised signature.
---
Click on you back button to return to the Zsolnay Store site or go through the links below.
---
---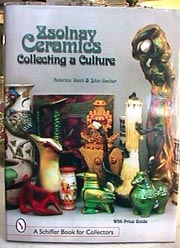 "Zsolnay Ceramics Collecting a Culture" with price guide: "This beautifully illustrated guide to Zsolnay ceramics, featuring over 400 color photographs, covers the three main periods of Zsolnay production, including 1868 to 1897-Folklorism, Historicism & Victorian Eclecticism; 1897 to 1920-Art Nouveau (Secession in Central European terms) and Art Deco (Second Secession); 1920 to the present-Modernism. An entire chapter; fully illustrated is also dedicated to Zsolnay marks to help collectors identity their pieces." This book is 191 pages and is a large format hard cover. The over 400 color photos detail Zsolnay by size, form number, date of production and current market value. Price: $49.95 + shipping.
---
The Drawing Room ( and The Zsolnay Store) is located at 152-154 Spring Street, Newport, Rhode Island 02840.We are open daily from 11 am to 5 pm and by appointment. If you have an interest in an item listed in this document or wish to purchase an item, please call us at 1-401-841-5060 / cell phone 401-261-3980. We have been located in Newport since 1985. Email us at:drawrm@hotmail.com
The Drawing Room of Newport and The Zsolnay Store home page

Free counters provided by Honesty.com.

Visitors since 01-17-01