The Zsolnay Gallery
Our Personal Journey
How we became interested in Zsolnay Art Pottery
John and I have been buying and selling antiques since about 1972 and it has been our only source of income since 1983. Moving to Newport Rhode Island in 1985 and formally establishing ourselves in the antiques business allowed us the opportunity to begin traveling overseas to learn more about antiques and to buy antiques. One of our first overseas journeys took us to Hungary where we spent a month first in Budapest and then driving all over the Hungarian countryside. This was in 1985. We knew about Zsolnay, but were unaware of the extraordinary range of artistic merit that was produced by the factory in Pécs. Our Hungarian travels took us to Pécs where we visited the Zsolnay Museum and toured the Zsolnay factory. The Curator, Orsolya Kovacs, was kind enough to give us a personal tour through the Museum storage areas and we were amazed and the variety and extremely high quality of the items we saw. Our visit also brought us on a tour of the Zsolnay Factory where we visited old family buildings such as the Mausoleum. We also viewed production areas in the factory witnessing actual moulding, decorating and firing of current production. We came away from our visit to Hungary with a newly found appreciation about Zsolnay that would create dealers and collectors of us for the rest of our lives.
In 1985, Hungary was still Communist, though less restrictive than most of the other Eastern Block Powers. Still, it was difficult to bring out or export Zsolnay art pottery. Zsolnay was considered a 'national treasure'. We would find wonderful Zsolnay items in the public 'BAV' shops, but then the permit process for export was so restrictive that it all but prevented items being purchased and taken abroad. But . . . we loved the country so much that we continued going back to Hungary every year usually linking our visit there to some other city of country: Austria, Germany, Italy, etc. Our continued visits allowed us to establish contacts with museum curators, dealers and private collectors of Zsolnay; even Zsolnay family members ! We have traveled to date about 20 times to Hungary over the years. As export regulations were relaxed we started to purchase Zsolnay and export them to our gallery here in Newport. A few years ago as our knowledge about Zsolnay increased and our Zsolnay contacts also became more numerous, we approached a major antiques book published about writing a book about Zsolnay. Schiffer published our book in 1998 titled : "Zsolnay Ceramics: Collecting a Culture".
Zsolnay has taken us on an extraordinary journey visiting foreign lands and meeting people from all walks of life. We have exhibited in several museums, lectured on the subject and loaned photos to pottery clubs and authors of other books about ceramics. Our mark in the Zsolnay world will continue to be felt for generations to come.
Federico Santi & John Gacher
Below, we would like to share some photos of our Zsolnay travels.
BUDAPEST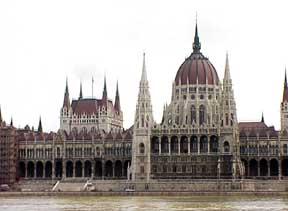 The Parliment from the Buda Side.
---
The View from our room at the Marriott. Most of the time, this is where we stay, it is centrally located and the views are wonderful (the food is also excellent).
---
Art is everywhere in Budapest even on the sides of buildings.
---
A new Zsolnay fountain in a restaurant in Budapest.
---
The facade of the the Train Station in Central Budapest.
---
Music with lunch: John is not quite as bored as he looks.
---
From our Marriott room: a lightning strorm approaches.
---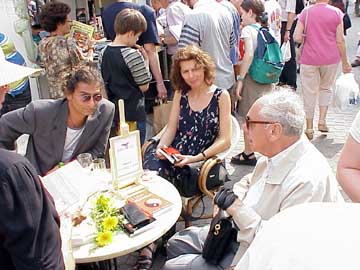 The Budapest Book Fair.
---
PECS
The Church in Pecs
---
In The Pecs City Hall is this wonderful Zsolnay Clock.
---
A street view outside our hotel in Pecs; we always stay at the Palitinus.
---
Once a private villa in Pecs, much of the facade, statuary and interior decoration was made at the Zsolnay Factory.
---
This Zsolnay Griffon guards the enterance to the Villa.
---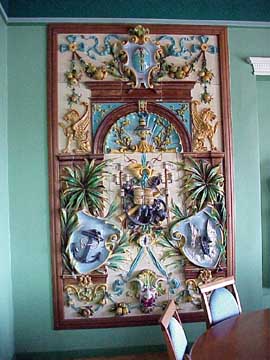 Very large Majolica Zsolnay friezes were used to decorate walls inside the villa.
---
A Zsolnay fountain in the City Square in Pecs.
---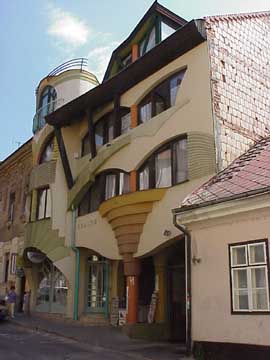 Wonderful architecture, the Hungarian spirit flourishes.
---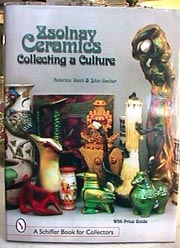 "Zsolnay Ceramics Collecting a Culture" with price guide: "This beautifully illustrated guide to Zsolnay ceramics featuring over 400 color photographs covers the three main periods of Zsolnay production, including 1868 to 1897-Folklorism, Historicism &Victorian Eclecticism; 1897 to 1920-Art Nouveau (Secession in Central European terms) and Art Deco (Second Secession); 1920 to the present-Modernism. An entire chapter; fully illustrated is also dedicated to Zsolnay marks to help collectors identity their pieces." This book is 191 pages and is a large format hard cover. The over 400 color photos detail Zsolnay by size, form number, date of production and current market value. Price: $49.95 + shipping.
---
To return to Gallery I of The Zsolnay pages Enter Here
---
ZSOLNAY // FURNITURE // GLASS // PORCELAIN // POTTERY // METAL
LIGHTING // PAINTINGS // EPHEMERA // TEXTILES // GOTHIC // MISCELLANEOUS//CLOCKS
---
THE DRAWING ROOM ANTIQUES HOME PAGE
---
The Drawing Room is located at 152-154 Spring Street, Newport, Rhode Island 02840.We are open daily from 11 am to 5 pm and by appointment. If you have an interest in an item listed in this document or wish to purchase an item, please call us at 1-401-841-5060. Our email address is: drawrm@hotmail.com