John & Rico's
Retro Lighting and Furnishings and Art
from Their Drawing Room Antiques
Chrome and Lucite Chandeliers and Table Lamps
and other
Decorative Arts from 1920 - 1970
Newport's finest selection of Retro Decorative Arts
(If you want to know more about Retro read: Elizabeth E. Guffey's Book titled "Retro The Cultural of Revival" published in 2006 by Realktion Books Ltd. 33 Great Sutton Street London EC1V ODX, UK. ISBN-13: 9 781 86189 290 4 or ISBN-10: 1 86189 290 X - You won't be disappointed !
If you wish to be added to our email newsletter - just sign up below:
---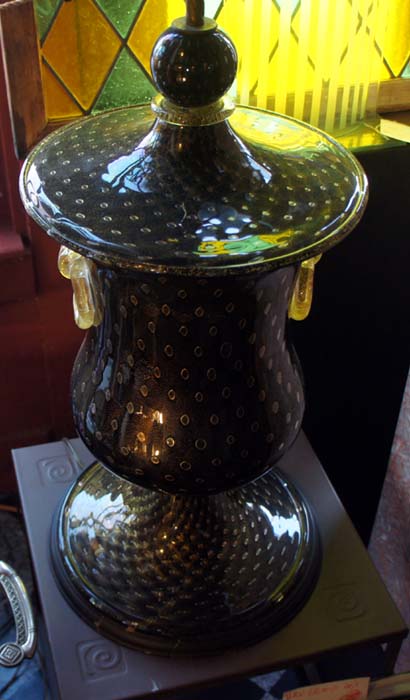 Item # 4112. An Italian Art Glass lamp. Murano: from the workshop of Archimede Seguso. The pattern is Bullicante. Size: the glass section is 25" tall with the lamp to the top of the shade holder being 38" tall; the base is 12" across. Mounted on a wood base. Condition: no fractures, breaks or losses to the glass; the wood base has two line fractures on the edge. This lamp weighs approximately 26 lbs. We have not taken the lamp apart, we suspect that it comes apart in two or three sections. From a Newport Rhode Island Bellevue Avenue home. The last image shows a photo from the Leslie Pina book about Archimede Seguso: page 71 describing an adventurine and bullicante pattern vase with seed-shaped air bubbles. The size and weight of this lamp prohibits us from packing and shipping this item; however we can deliver this lamp to a reputable local packer shipper where our responsibility from its packing and shipping stops and then it is your responsibiliy to enter into a contract with the shipper\and of course, you may pick up this lamp in person from our gallery . Price $5,500.00.
---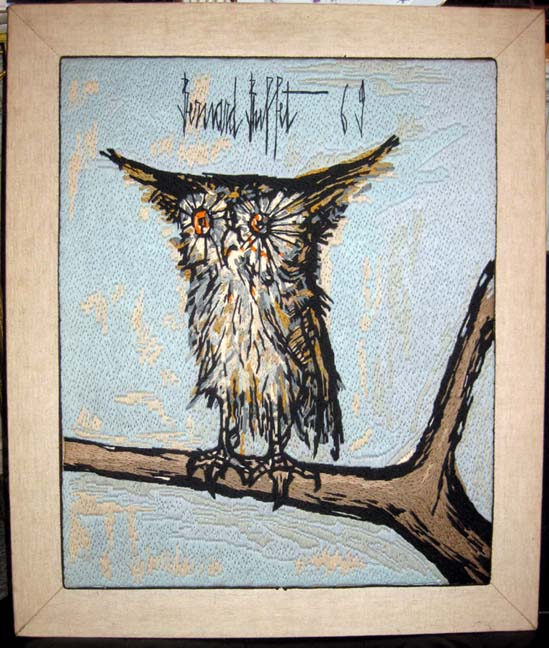 # 4632. A needle work rendering of an owl of which the original was executed by Bernard Buffet in 1969. Of the era. Frame size: 26.5" x 31". Needle work size 21" x 25.5". Condition: bright, no losses, framed with a period canvas wrapped frame. The needle work is hand wrought as shown on the detailed reverse side of the art. Price: $850.00.
---
# 4799. A decorated chest. Circa 1935-40. Painted with classical Italian landscapes / marbelized wood top. Size: 72" long / 18.5" deep and 34.5" tall. Two top drawers / two center doors opening to storage space and two shallow doors (one on either side). The doors lock. Condition: scuffing and chipping to the marbled surface consistent with use and age. Price: $2,750.00.
---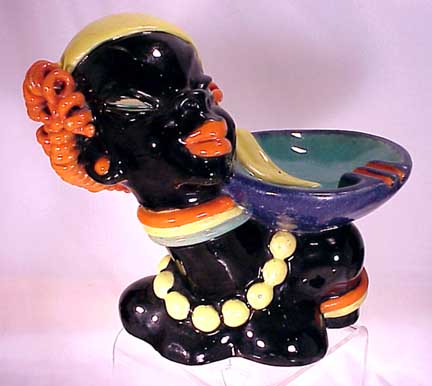 # 5155. A Majolica Glazed Terra-cotta figural ashtray. 1920's. The image could have been designed to represent a caricature of Josephine Baker. Size: 10" wide x 8.5" tall. The bowl is about 5.5" diameter. The colors are Black, Orange, Yellow and Turquoise; all very Art Deco colors. Though it does not show distinctly, the large beads around the neck of the figure are bright yellow. Marked in the underside (which is unglazed) Komlos Made in Hungary. We have had this figure a couple of times in the past, but they are getting more difficult to find. Condition: a base edge flake about the size of a thumbnail in the front which has been glued back on. Price: $1,250.00.
---
# 5026. We have a matched set of four (4) Art Deco chandeliers. Size: 33" tall and 16" wide at the widest. The glass shades are app. 10" across and 17" tall. Country of origin: unknown. Age: circa 1935. Material: nickel plated iron and glass. Condition: minor rust to the metalwork: with careful attention, the metal can be restored / the glass shades are in excellent condition with no cracks. These chandeliers probably had a commercial application in either a movie palace a restaurant or department building. It is unusual to be able to offer four identical examples. These fixtures have been rewired using the original light sockets. Price for each light is: $850.00. Sold as a collection or separately.There is only one of these lights available now
---
Item # 304. A single "Candle holder". Size: 7.5" tall. Very heavy cast / probably solid ceramic. This unmarked modernist form is att to the Zsolnay Factory (there are very faint factory appearing marks in the recessed area on the underside) and was purchase from a private home in Budapest several years ago. Circa: 1960. The form is att. to Anatal Gazder. A rough finish underglaze has an ancient rough stone surface which is covered with a green Eosin Glaze with gold Eosin highlights. The high relief decorations are repeated on opposite sides. The relief is app. 1/3" thick. There is a recessed round area in the top to support a candle. The form is so strong that it stands on its own as a sculpture. We know of no other example. Condition: without problems. Price: $1,500.00
---
---
ZSOLNAY // FURNITURE // GLASS // PORCELAIN // POTTERY // METAL
LIGHTING // PAINTINGS // EPHEMERA // TEXTILES // GOTHIC // MISCELLANEOUS//CLOCKS
THE DRAWING ROOM OF NEWPORT AND THE ZSOLNAY STORE HOME PAGE
The Drawing Room is located at 152-154 Spring Street, Newport, Rhode Island 02840.We are open daily from 11 am to 5 pm and by appointment. If you have an interest in an item listed in this document or wish to purchase an item, please call us at 1-401-841-5060 (cell: 401-261-3980). The Partnership of Gacher and Santi has been in business for over 30 years. We have been located in Newport since 1985. Our email address is: drawrm@hotmail.com


Free counters provided by Honesty.com.

Visitors since 01-17-01