---
The New Gallery
Art After 1900
---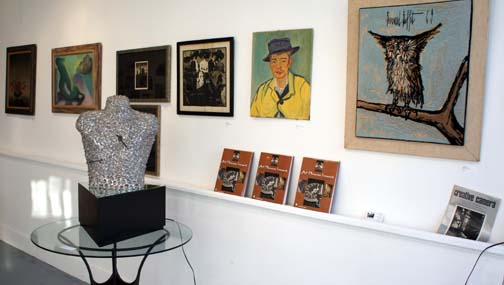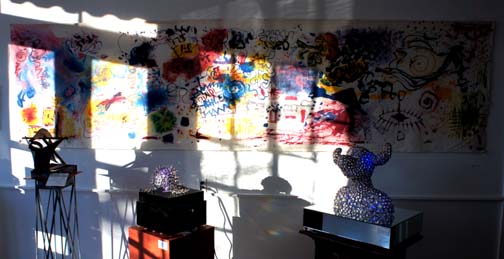 Located at 160 Spring Street, Newport, RI 02840
1-401-841-5060
---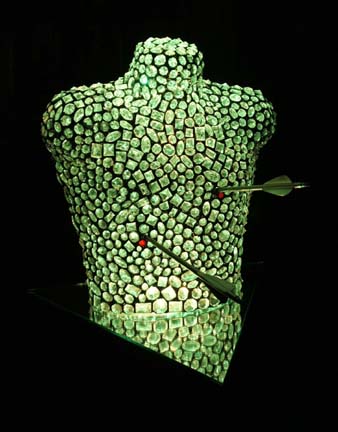 # 5439. Saint Sebastian . . . has been represented in art since around 550 CE. - my Sebastian is a torso which is 20.5" tall and 19" across. The pedestal is 10.25" tall and is an equilateral triangle - 21" on each side. The figure sits on a mirrored top. Two arrows pierce the torso. Composed of hundreds of clear 19th century crystals with two red crystals under the insertion point of the two arrows. The arrows pierce through the figure. A light source mounted inside the pedestal is an LED programmable light which has the ability of changing to 15 different colors and is operated by a remote control. In a dark room, this figure is mesmerizing. Price: $5,000.00.
---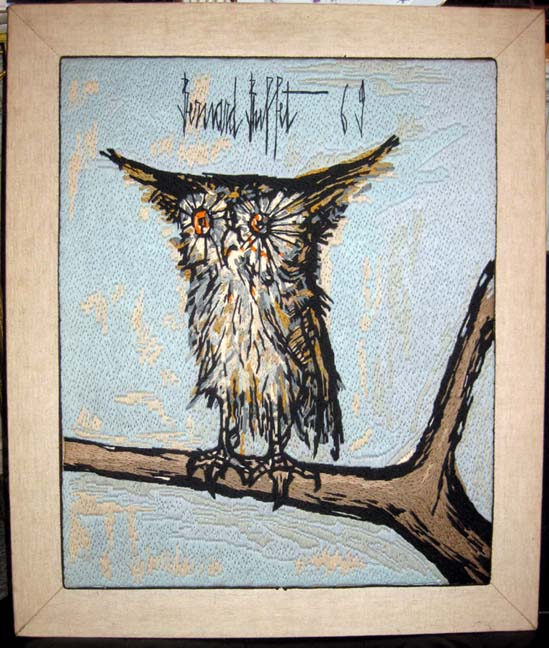 # 4632. A needle work rendering of an owl of which the original was executed by Bernard Buffet in 1969. Of the era. Frame size: 26.5" x 31". Needle work size 21" x 25.5". Condition: bright, no losses, framed with a period canvas wrapped frame. The needle work is hand wrought as shown on the detailed reverse side of the art. Price: $850.00.
---
# 5434. Crystal Urchin. Sculpture - wood, metal, crystal, electronic light source. This leaded crystal sculpture sits on top of a wood box. The Urchin body is supported on three crystal pads. The entire form is covered with silver colored needles. An led light inside the box slowly cycles through a variety of colors. A programmable remote control can alter the speed and color of the lights. Size of the box is 13" x 13" x 10" and the crystal urchin is 11" x 12" x 7" tall. Sold.
---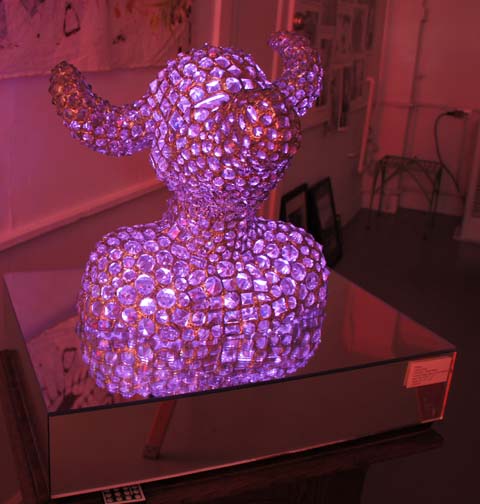 # 5440. Crystal Minotaur. In Greek mythology, the Minotaur was a creature with the head of a bull on the body of a man or, as described by Roman poet Ovid, "part man and part bull". Sculpture - wood, glass mirror, crystal, electronic light source. This leaded crystal sculpture sits on top of a mirror covered wood platform. A series of 4 led lights are mounted inside the sculpture and slowly cycle through a variety of colors. A programmable remote control can alter the speed and color of the lights. Size of the mirrored box is 18.5" x 24.5" x 5.5" and the crystal Minotaur figure is 16" x 13" x16" tall. Price: $3,500.00.
---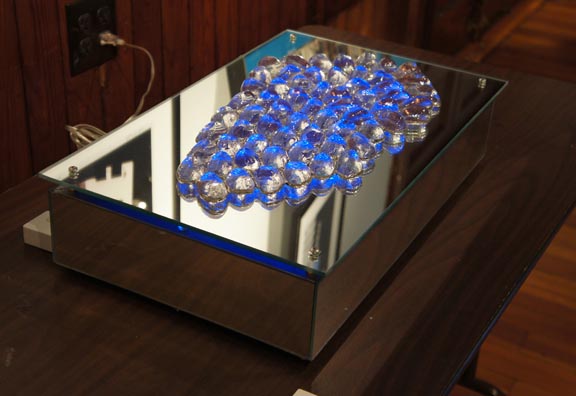 # 5436. Crystal Sculpture: River Stones . A mirror plateau showcases a soldered grouping (app. 75) of clear glass 'stones.' Size: 13" x 21" x 5". Material: wood, mirror, Blue LED lights inside the mirror box. Scintillating blue LED lights illuminate through the glass mirror top with the mirror surface removed to allow the light to show through the soldered glass stones. This sculpture runs on 110 V. A variable control and on and off switch is attached to the back of the plateau. This plateau sits on crystal feet and the upper mirror plate is raised on crystal feet to allow scintillating blue light to show between it and the mirror body. The electronic control allows different patterns of blue light. Shown at the Spring Portsmouth Art Guild Members Show. Price: $750.00.
---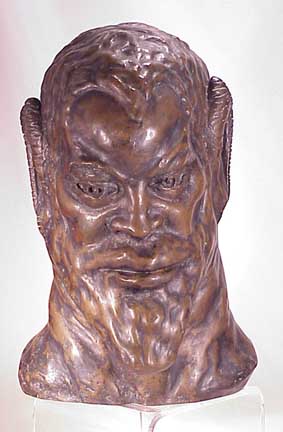 # 4865. A bronze head of "Pan". Signed N. Dimitrieff and dated 1937. Size: 11" tall. Very heavy cast bronze weighing 14lbs. Marked: Roman Bronze Works. (The following is the only other reference we can find about this artist: Dimitrieff, N. V., sculptor. Bedi-Rassy Art Foundry, founder. Title: Alexander Pushkin (1799-1837), (sculpture). Dates: 1941. Dedicated 1949. Medium: Statue: bronze, painted black; Base: granite. Dimensions: Statue: approx. 4 x 3 x 3 ft.; Base: approx. 6 x 5 x 5 ft. Inscription: N. V. Dimitrieff/1941 BEDI-RASSY FOUNDRY N.Y.C. (On front of base, raised:) PUSHKIN/1799 - 1837 signed Founder's mark appears. Description: A waist-length portrait of Alexander Sergeevich Pushkin, wearing long sideburns and dressed in traditional 19th century gentleman's clothes, including a cape which hangs over his proper right shoulder and flows around his back to his proper left side. He holds a scrolled paper with text inscribed into it in his proper left hand. His proper right hand is raised up to his chest. The portrait is painted black and is installed on top of a tapered stone base. Scroll Object Type: Outdoor Sculpture -- New Jersey -- Cassville Sculpture Owner: Administered by Jackson Township, Department of Public Works, Jackson Township, New Jersey 08527 Located Pushkin Park, Rova Farm, Intersection of Route 571 & Perrineville Road, Cassville, New Jersey Remarks: Alexander Sergeevich Pushkin, 1799-1837, a poet and dramatist, introduced Romanticism into Russian literature. The monument was erected on the 150th anniversary of Pushkin's birth. Repository: Inventories of American Painting and Sculpture, Smithsonian American Art Museum, P.O. Box 37012, MRC 970, Washington, D.C. 20013-7012 Control Number: IAS NJ000261) Price $9,500.00.
---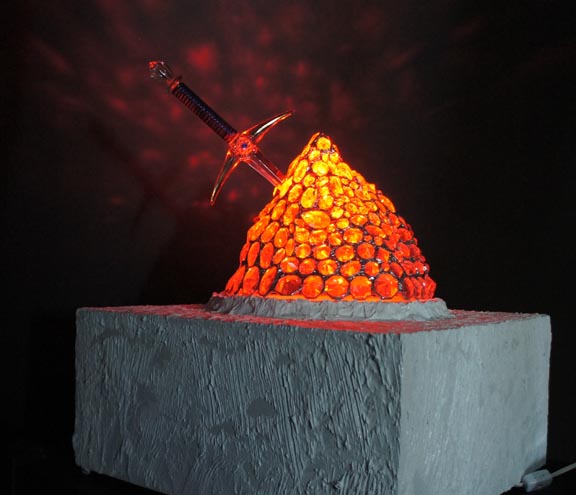 # 5438. Sculpture: Magic Mountain. Sitting atop a white glazed surface is a mountain of crystals. Size of the base: 17.5" x 16" x 8.25"; including the crystal mountain the sculpture is 16.5" tall. The crystal mountain is 10" x 9" tall. Material: wood, soldered crystals and a LED Lamp. The surface of the pedestal box is textured. This sculpture has a LED variable light source located in the box under the mountain that can emit 15 different colors. This sculpture comes with an extra bulb and extra remote control. The colors are vibrant changing from blue to purple to violet to aqua to green to yellow to orange to red, etc. . The chosen setting is a gradual shift from one color to the other. This sculpture runs from a standard 110 V outlet. The light source uses little electricity. This is a one of a kind sculpture. Price: $750.00.
---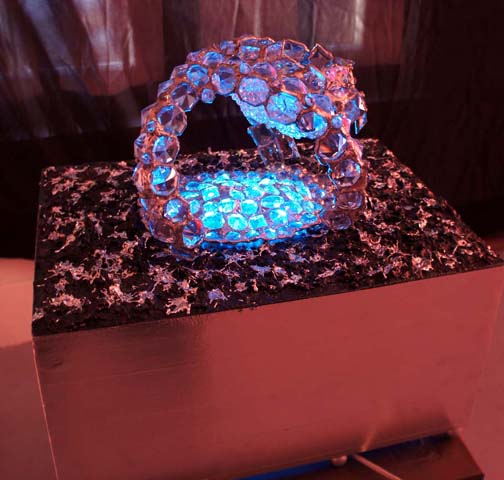 # 5437. Crystal Alien. A four legged crystal creature stands on a black pitted surface speckled with bright lead. The Alien is spawning standing over a crystal color changing light show. The base size is 16" x 11.5" x 9" tall. The Alien is 7" x 8" x 6" tall. Materials: wood, foil, leaded crystals and LED light with remote control. Price: $750.00.
---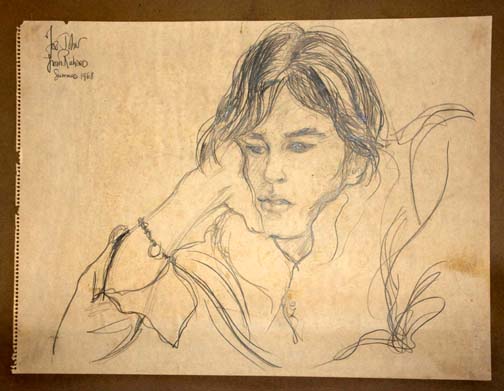 RB-57. Pencil on paper. Portrait titled: "For John From Richard 1968" Size 18" x 24". Richard Banks lived in Newport, New York City and Palm Beach. His works hang in private collections and museums. Price: $400.00.
---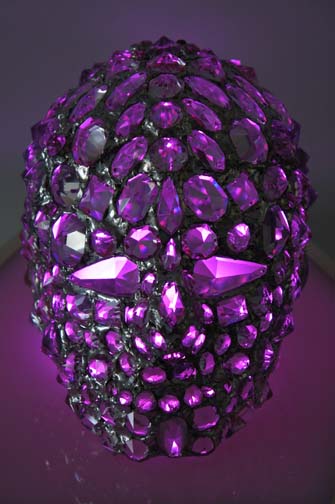 # 5435. The Crystal Mask. Base size: 11" x 14" x 36". Mask size: 9" x 7" x 7". A full formed head made of lead crystals sits on top of a white plastic panel on top of a white pedestal. A LED light inside under the white plastic top changes colors lighting the top and the mask. SOLD
---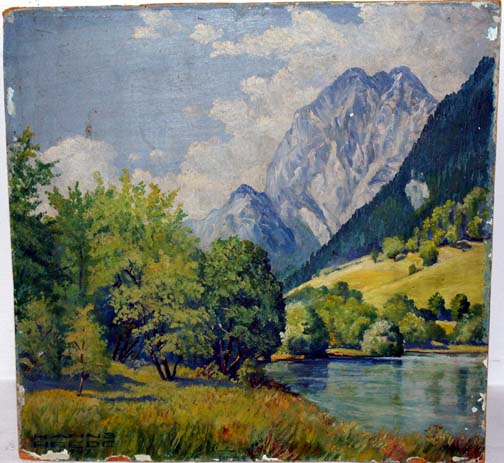 # 3976. An oil on board. Signed Hans Heede and dated 1947. Labeled on the back: "Hintersee Mit Muhlsturzhorn". Size: 13" x 12.5". Condition: edge flaking. Price: $350.00.
---
Still Life. Signed Peter Stebbing. Size of frame: 24" x 27". Condition: faint mars to the lower edge of the canvas. This picture represents his style. Not sure when it was painted, but probably before 1960. Price: $1,200.00.
---
All images within this gallery are © by Federico Santi
---
Federico Santi is a partner in The Drawing Room of Newport and The Zsolnay Store located in Newport, Rhode Island. He studied photography under Evon Streetman at the School of Art at FSU. He has exhibited his photography in Newport, RI; New York City; Washington, D.C. and Fort Lauderdale, Fl. His sculpture has been exhibited at The Newport Art Museum in Newport, RI.
---
Click on your back button to return to the previous page
---
HOME PAGE FOR THE DRAWING ROOM OF NEWPORT
If you have a question about any of the items in this gallery please drop us a line or Email us at: drawrm@hotmail.com. The New Gallery is located at 160 Spring Street, Newport, Rhode Island 02840 and our phone number there is 1-401-841-5060 / cell 1-401-261-3980.

Free counters provided by Honesty.com.

Visitors since 01-17-01