PIETRAMALA
Hotel Montebeni
Lamazzetta
Images from the first quarter of the 20th century.
(First a little bit about the Santi Family)
Francesco Santi: Father of Federico and Alfredo Santi; born in Piancaldoli, Italy - May 10th 1848; died in Rome, Italy - May 4th 1913.
Maria Chiarina Santi: nee Macchiavelli; Mother of Federico and Alfredo Santi; born in Pian del Voglio, Italy Tuscany ; died in Florence, Italy - August 23rd, 1896.
Alfredo Santi: Son of Francesco and Maria Chiarina Santi and brother of Federico Santi; born in Florence Italy - June 30th 1884; died in Rome, Italy - December 28, 1904.
Other members of Santi Family thru second marriage of Francesco Santi:
Maria Santi nee Raspanti; widow of Francesco Santi and step-mother of Federico Santi; born in La-Mazzetta Presso Pietramala Prov Frienze Italy. From this second marriage a son was born:
Alfredo Santi; born in Rome, Italy March 15, 1905; " Alfredo Santi is therefore a full legal brother of Federico Santi to all terms of Italian Laws sharing in equal part with Federico Santi to all property left by the late Francesco Santi, their father" written in hand by Federico Santi.
---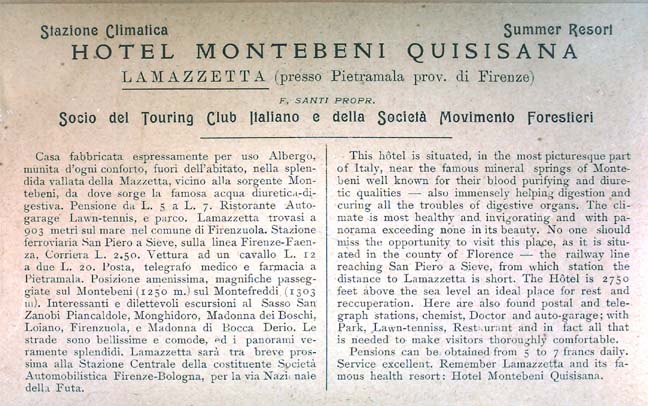 No. 9. This is the back of a post card advertizing Hotel Monteveni Quisisana. The text is in Italian and English. The English Text reads: "This hotel is situated, in the most picturesque part of Italy, near the famous mineral springs of Montebeni well known for their blook purfiying and diuretic qualities - also immensely helping digestion and curing all the troubles of digestive organs. The climate is most healthy and invigorating and with panaorama exceeding none in it beauty. No one should miss the opportunity to visit this place, as it is situated in the county of Florence - the railway line reaching San Piero a Sieve, from which station the distance to Lamazzetta is short. The Hotel is 2750 feet above sea level an ideal place for rest and reccuperation. Here are also found postal and telegraph stations, chemist, Doctor and aut0-garage; with Park, Lawn-tenniss, Restaurant and in fact all that is needed to make visitors thoroughly comfortable. Pensions can be abratined from 3 to 7 francs daily. Service excellent. Remember Lamazzetta and it famous health resort: Hotel Montebeni Quisiana. The Proirietors were my father's (Francesco) Grandmother (M. Santi) and Grandfather (Francesco Santi).
---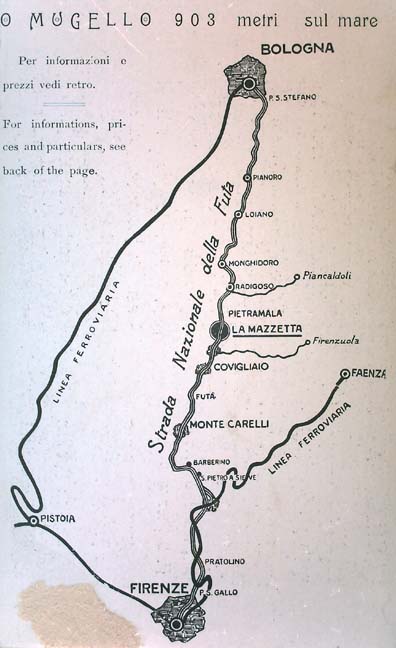 No. 7 . Back of an advertizing post card showing the location of La Mazzetta situated between Firence and Bologna.
---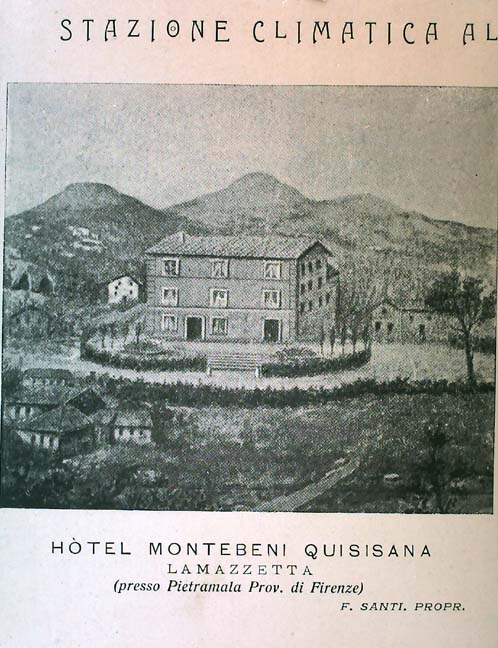 No. 6. Front of an advertizing post card for Hotel Montebeni Quisisana - LaMazzetta F. Santi. Propr.
---
No. 8. Part of a three panel post card, circa 1920 showing Hotel Quisisana in LaMazzetta with the Panorama.
---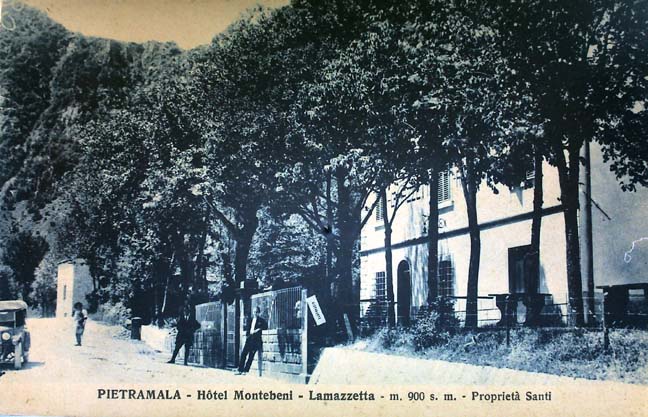 No. 1. Post card: Pietramala - Hotel Montebeni - Lamazzetta Proprieta Santi.There is a young man leaning against the stone and wood fence: I could be Francesco (Francis) Santi as a young man.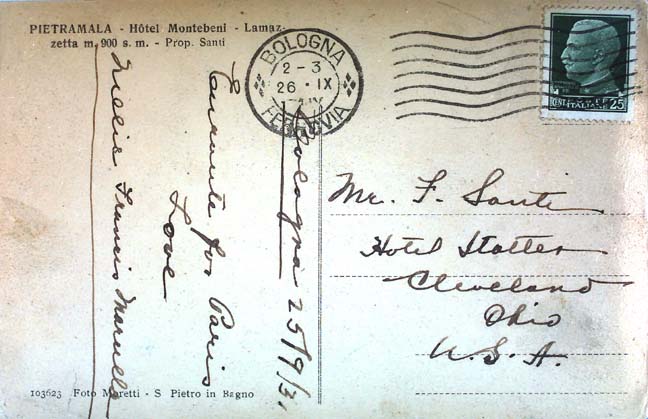 This is the reverse of No. 1. Postmarked Bologna ~September 25, 1931. Sent to Mr. F. (Federico) Santi Hotel Statler, Cleveland, Ohio USA. " . . . for Paris Love Nellie (wife of Federico) Francis, Marcella" ( Francis (Francesco) and Marcella were the son and daughter of Nellie (Helen) and Federico.
---
No. 2. Post Card: "Dintorni di Pietramala - Albergo Montebeni alla Mazzetta"
---
No. 2 A. The is the back of the above post card. Written to Mr. Federico Santi, Room 240 Hotel Statler, Cleveland Ohis USA. Written 2-4-28. The note reads: "Dear Papa: Yesterday Miss Smith gave me a big surprise and came up here to stay with me for about ten days. It is very nice up here and I am enjoying myself very much. When you receive this card mother will have already sailed. I will stay up here until the seventeeth, then I will go down that morning to meet mother. Love and kisses from me and good wishes from all. Francis" Post marked Firence Feb. 7, 1928.
---
No. 3. Advertizing Post Card: Albergo Monteveni, alt 878.m. Piccola case fabbricata per uso albergo. Interment mobiliata a nouvo. Prezzi modicissimi, Pensione F. Santi, propr.
---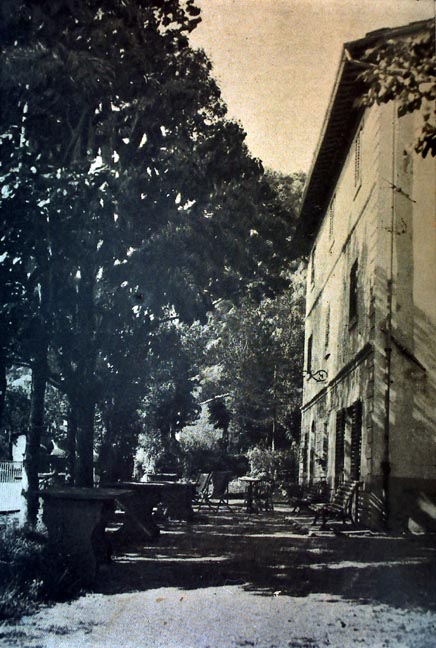 No. 4. Advertizing Post Card: on the reverse is stated: "La Mazzetta (Pietramala) m. 910 s.l.m. Albergo Pensione Monte Beni (Prop. Santi)
---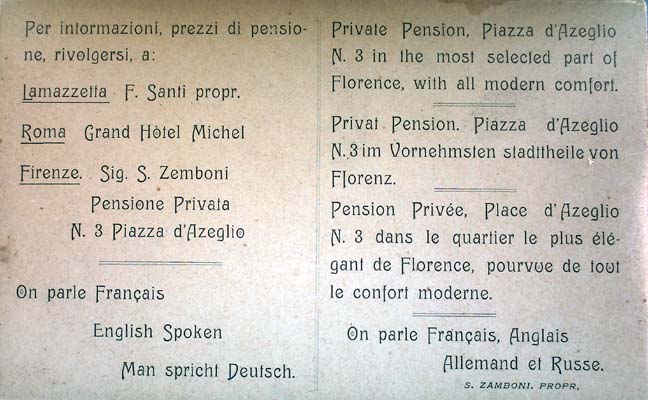 No. 5. Back of an advertizing Post Card for LaMazzetta with notations for other guest facilities.
---
# 10. Advertizing Post Card: "Mazzetta Altipiano di Pietramala Albergo Montebeni Quisisana. Strada Bolgna-Firenze Via Radicosa."
---
And on the reverse of # 10. Dated May 3, 1907. Sent to: F. Santi Hotel Royal Bad Kreurnach Germany.
---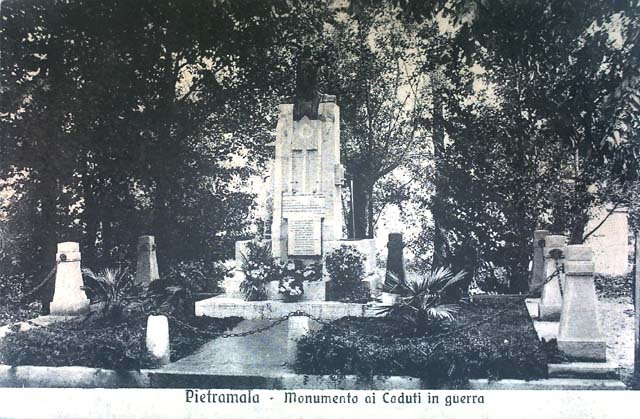 No. 11. Pietramala ~ Monumento ai Caduti in guerra.
---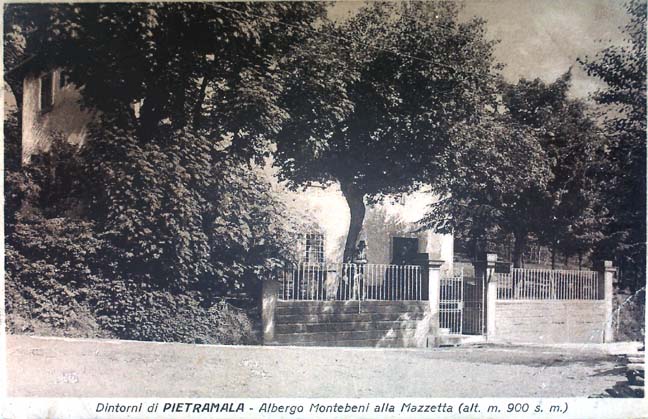 No. 12. Dintorni di PIETRAMALA - Albergo Monteveni alla Mazzetta (alt 900 s.m.)
---
No. 13. Cartolina Postale Italiana: on the reverse: " La Mazzetta (Pietramala) m. 910 s.l.m. Albergo Pensione Monte Beni (Prop. Santi) Sport Invernali.
---
No. 14. Cartolina Postale Italiana: on the reverse: " La Mazzetta (Pietramala) m. 910 s.l.m. Albergo Pensione Monte Beni (Prop. Santi) Sport Invernali.
---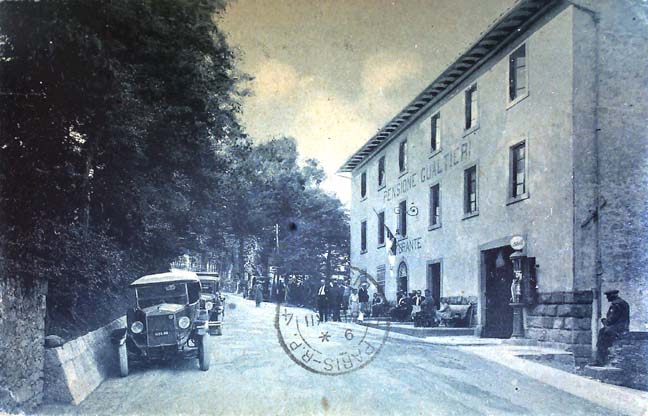 No. 16. Postmarked Paris on the front and Pietramala on the back. 1932.
---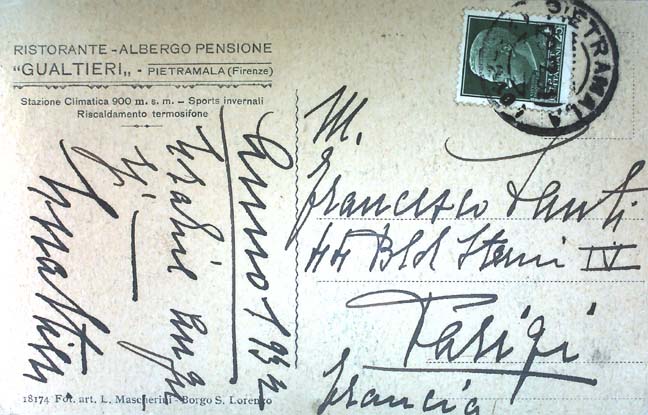 No. 16A. The reverse of the previous card: "Ristorante - Albergo pensione 'Gualtieri' Pietramala (Frienze) This card was sent to Francesco Santi while he was in Paris. Francesco had finished his study at The Hotel School in Lauzanne and was an intern in Paris at The Hotel Continental, 3 Rue de Castiglione. Francesco interned there from November 10, 1930 to June 24, 1931.
---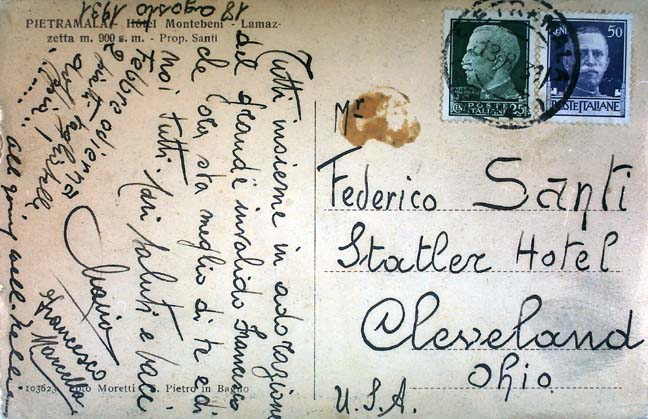 No. 17. Back of post card similar to No. 1. Dated August 18, 1931. Sent to Mr. Federico Santi Statler Hotel Cleveland Ohio USA. Francesco and Marcella wrote in Italian and Nellie writes in English: "All going well ~ Nellie"
To be continued (and corrected as needed)
---
Data on my ( Federico Santi )Citizen Papers: United States of America; Certificate of Naturalization No. 98693; Petition Volume 116; no. 28944. Issued in Philadelphia on March 25, 1919 under signature of S. S. Daule, Deputy Clerk of District Court, United States Eastern District of Pennsylvania.
---
The Drawing Room is located at 152-154 Spring Street, Newport, Rhode Island 02840.We are open daily from 11 am to 5 pm and by appointment. If you have an interest in an item listed in this document or wish to purchase an item, please call us at 1-401-841-5060. Our email address is: drawrm@hotmail.com All images copyright by F. Santi, 2004