John & Rico's Antique Lighting
from
The Drawing Room of Newport.
This site lists Antique Mechanical Lighting
Click here to view our main lighting pages
Carcel, Moderator, Column lighting
---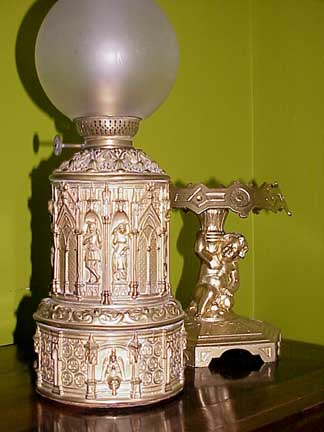 # 5116. Pictured is one of a pair of 19th century Carcel Lamps in the Gothic Style. Mid 19th century. Size: 6" across; 16" tall to the top of the burner and app. 24" tall to the top of the chimney. The footed figural base is gold painted pot metal. The lamp is stamped brass. These lamps may have had mechanical interior works; they now function as kerosene lamps with a kerosene burner. We believe that they have been kerosene lamps for a long time. The matching glass ball shades appear to be period. The footed bases probably date from around 1870 while the lamps themselves date 20 years earlier. The lamps have tin fitted base covers while the rest is stamped brass. This is a very rare decor for a Carcel lamp. Country of origin, probably France. Price $3,500.00 the pair.
---

# 2149. A Rare Charles X Column Lamp. Fitted for Electricity. 25.5" tall to the base of the electrical fitting. Retains its burner collar and shade ring. Good original patina with dark bronze and fire gilt surfaces. Probably French. Unmarked. The Column Lamp is a very elegant form of lighting, usually fitted with a mellon or ball glass shade. Price: $1,250.00.
---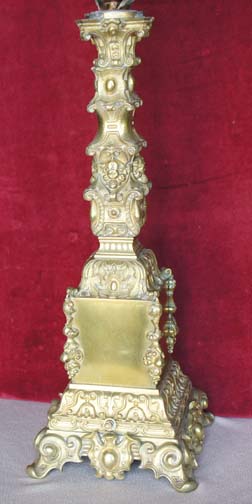 # 2084. A Charles X Rococo designed Carcel, Column, Oil Lamp. Condition: fitted for electricity and the burner element and shade ring is missing as is the inner clockwork mechanism and inner tin lining. The material is bronze: patina loss and minor corrosion. Size: 19.25" to the base of the electrical socket. These lamps are rare and when they were produced were costly: Thomas Jefferson had a pair of Column Lamps on his parlor mantel. They were rare and prized possessions for the most prominent families at the time. Price: $850.00.
---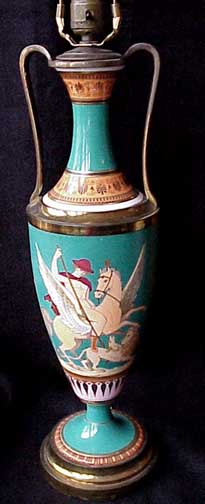 # 3081. A Single Carcel Lamp. Paris Porcelain with fire-gilt bronze metalwork. Fitted for electricity (mechanical innerworkings removed and burner/shade holder removed). Style: Neo-Grec. Fitted as a lamp before 1870. We attribute the porcelain vase to the firm of Denuelle, circa 1834. Copied in the Etruscan style. In 1834 Denuelle exhibited some of these Etruscan vases. Vases showing the same influence were reproduced by Stephane Flachat's work on French industry, along with the porcelain of Jacob Petit and Clauss. A similar styled vase was given by Mme Denuelle to the Musee Adrien Doubouche. Condition: the lower porcelain section has an apparent crack from the upper edge to the intermediate gold band. Minor surface wear consistent with use and age. This is a rare lamp depicting Greek figures, four in all. The predominant ground colors are turquoise, terra-cotta with black and gold tracery. There are three separate porcelain section joined with fire gilt bronze elements. Unmarked. The main image depicts a soldier / warrior atop a winged horse / Pegasus / killing a mythological monster. This high quality lamp would have been used in a room of furnishings consistent with cabinet makers such as Pottier and Stymus, Leon Marcotte, Herter Brothers and Alexander Roux. Size: 20" tall to the bottom of the modern electrical socket and the base has a 6" footprint. Price: $3,500.00.
---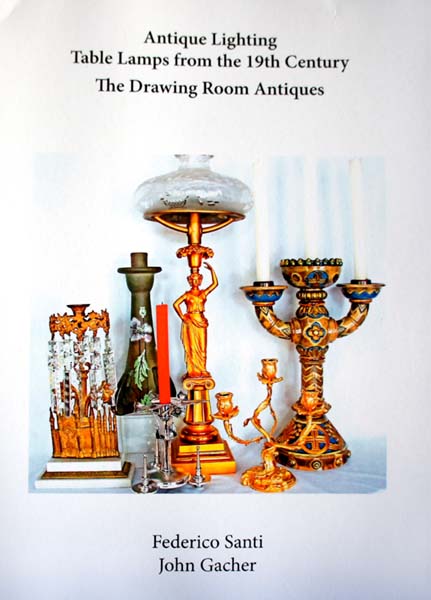 ---
"Antique Lighting
Table Lamps from the 19th Century"
The Drawing Room Antiques
Written by Federico Santi and John Gacher
All the lamps in this book are for sale and are priced.
"Antique Lighting: Table Lamps from the 19th century" showcases candelabras, Argand, Sinumbra, Solar, Carcel, Moderator, gas and kerosene fixtures. The Drawing Room Antiques in Newport, RI presents dozens of examples currently in inventory with descriptions including materials, sizes, and prices. This book can also be used as a reference book for beginning collectors of 19th century table lamps. Historic interiors commonly use period lighting to enhance the authentic style being created. Rare examples are often viewed in historic homes across America starting with the White House in Washington. Room settings in museums depicting 19th century decorating styles feature period table lamps because they were critical to families to provide light for evening activities. The range of innovative lighting mechanisms during the 19th century is showcased in this volume
Available from Amazon: ISBN: 9781070164403
---
Enter here to view a History of Lighting Sold from The Drawing Room Antiques
---
ZSOLNAY // FURNITURE // GLASS // PORCELAIN // POTTERY // METAL
LIGHTING // PAINTINGS // EPHEMERA // TEXTILES // GOTHIC // MISCELLANEOUS//CLOCKS
---
THE DRAWING ROOM ANTIQUES HOME PAGE
---
The Drawing Room is located at 152-154 Spring Street, Newport, Rhode Island 02840.We are open daily from 11 am to 5 pm and by appointment. If you have an interest in an item listed in this document or wish to purchase an item, please call us at 1-401-841-5060. Our email address is: drawrm@hotmail.com