Gothic Style Antiques
From
The Drawing Room of John & Rico
Gothic furnishings from Their Drawing Room of Newport including lighting, furniture, glass, porcelain, etc.

_______________________________________
__________________________________________________
As with all our category pages: click on the image to take you to a page of detail images.
---
An Exhibition Catalogue titled: The Gothic Revival Style in America, 1830-1870. Written by Katherine. S. Howe and David B. Warren with an introduction by Jane. B. Davies for the Museum of Fine Arts in Houston. April 1 through June 6, 1976. 101 pages; first (and only) edition limited to 2500 copies. app. 195 photos with full descriptions as displayed in the Museum. A few are in color, most are black and white. As a reference book, this is very helpful to the dealer in American Decorative Arts and to a Gothic Collector, it is invaluable. Condition: excellent with no mark, marks, torn or folded or missing pages. Embossed interior page with the name of a private library emboss: "Library of John Stephen Hullaney" . Price: $250.00 including shipping in the Continental U.S.A.
---
---
---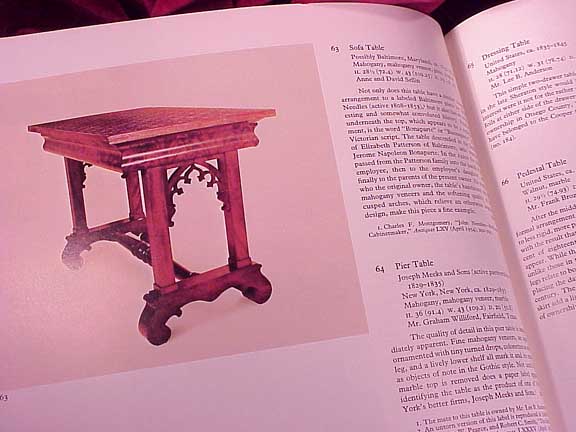 ---
ZSOLNAY // FURNITURE // GLASS // PORCELAIN // POTTERY // METAL
LIGHTING // PAINTINGS // EPHEMERA // TEXTILES // GOTHIC // MISCELLANEOUS
THE DRAWING ROOM OF NEWPORT AND THE ZSOLNAY STORE HOME PAGE

Free counters provided by Honesty.com.

---
---
The Drawing Room is located at 152-154 Spring Street, Newport, Rhode Island 02840.We are open daily from 11 am to 5 pm and by appointment. If you have an interest in an item listed in this document or wish to purchase an item, please call us at 1-401-841-5060 (cell 401-261-3980). The Partnership of John Gacher and Federico Santi has been in business for over 30 years. We have been located in Newport since 1985. Our email address is: drawrm@hotmail.com