Erotic Art from The Drawing Room Antiques located in Historic Newport, Rhode Island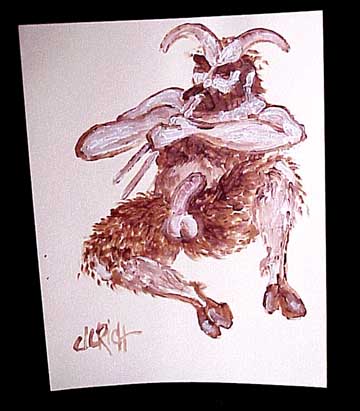 E5. Acrylic on paper. Size: 8.5" X 11". A rather horny pan plays his pipe. Signed in the lower left: " Jurich" Probably from the 1960's. Condition: good. Price: $100.00. Includes shipping and insurance.
---
We are always interested in purchasing Erotic Fine Art: paintings, prints, photographs, bronzes and sculptures., etc. Please contact us if you wish to sell your item (1-401-841-5060).
---
ZSOLNAY // FURNITURE // GLASS // PORCELAIN // POTTERY // METAL
LIGHTING // PAINTINGS // EPHEMERA // TEXTILES // GOTHIC // MISCELLANEOUS
THE DRAWING ROOM OF NEWPORT AND THE ZSOLNAY STORE HOME PAGE
---
If you have a question about any of the items in this gallery please drop us a line or Email us. Email us at: drawrm@hotmail.com. Our gallery The Drawing Room Antiques is located at 152-154 Spring Street, Newport, Rhode Island 02840 and our phone number there is 1-401-841-5060 / cell 1-401-261-3980.

Free counters provided by Honesty.com.

Visitors since 01-17-01