Erotic Art from The Drawing Room Antiques located in Historic Newport, Rhode Island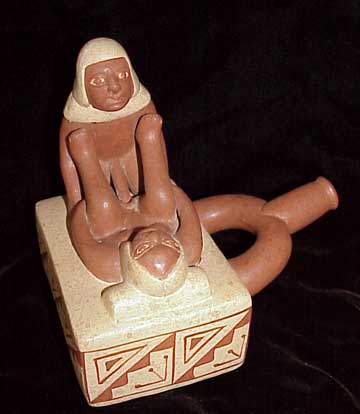 E1. Pre-Colombian Peruvian Pottery. (Reproduction) This replica of Moche and Chimu ceramics gives a descriptive look at life during the height of these ancient cultures, which preceded the Inca Empire. This Moche pot illustrates with remarkable explicitness, the sexual practices of this particular Peruvian culture. The material is painted terra-cotta. Size: app. 6" tall. Price: $125.00 which includes shipping and insurance within the continental United States.
---
We are always interested in purchasing Erotic Fine Art: paintings, prints, photographs, bronzes and sculptures., etc. Please contact us if you wish to sell your item (1-401-841-5060).
---
ZSOLNAY // FURNITURE // GLASS // PORCELAIN // POTTERY // METAL
LIGHTING // PAINTINGS // EPHEMERA // TEXTILES // GOTHIC // MISCELLANEOUS
THE DRAWING ROOM OF NEWPORT AND THE ZSOLNAY STORE HOME PAGE
---
If you have a question about any of the items in this gallery please drop us a line or Email us. Email us at: drawrm@hotmail.com. Our gallery The Drawing Room Antiques is located at 152-154 Spring Street, Newport, Rhode Island 02840 and our phone number there is 1-401-841-5060 / cell 1-401-261-3980.

Free counters provided by Honesty.com.

Visitors since 01-17-01