The Hungarian Dining Room
148-160 Spring Street
Newport Rhode Island
---
---
Photos on these pages are of the Dining Room in the Newport Rhode Island Home of John Gacher and Federico (Rico) Santi
Shown are photo of our Dining Room which is about 13' across by 20' long. There are two windows overlooking the Park at Trinity Church. There is a doorway to the Music Room, the kitchen, the Living Room and a staircase leading past a pair of columns to the top story of our home. The decor which includes paint colors, floor (which is terra-cotta tiles), lighting and decorations thematically reflect Hungarian Medieval Style. The Gothic dining furniture is from Paris. Most of the ceramics are from Hungary as is the chandelier. This was a bare room when we purchased the building in 1999. We designed and created the arches, added the columns, flooring, lighting, etc.
---
---
---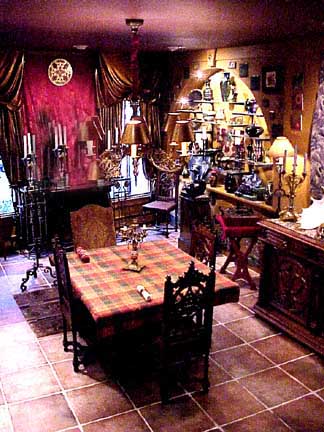 The table extends to seat 8. This view is from the staircase looking toward the windows.
---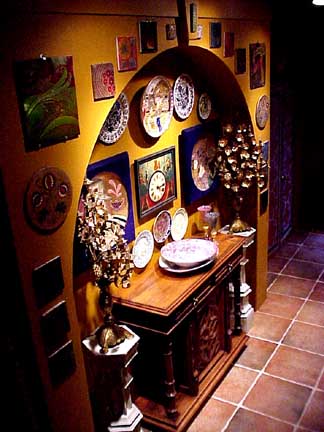 Looking down on the inset archway. The Art Nouveau Tiles are from the Zsolnay Factory located in Pecs Hungary.
---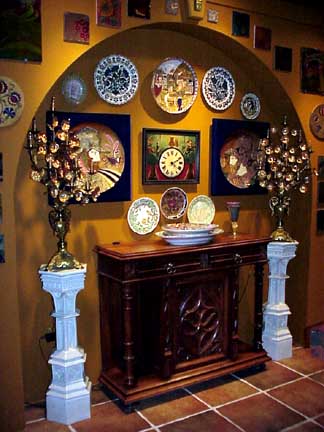 The archway is decorated with Zsolnay Historical / Persian Chargers surrounded with Art Nouveau Zsolnay Tiles. The Candelabras are French, 19th century church pieces fitted for electricity. The Gothic Pedestals are modern reproductions from Toscano.
---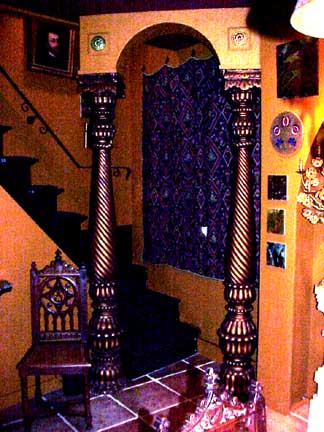 The columns define the entrance to the stairway. They are gilt plaster from a movie house outside of Boston though they are in the style of decorations used in the New York Cafe in Budapest.
---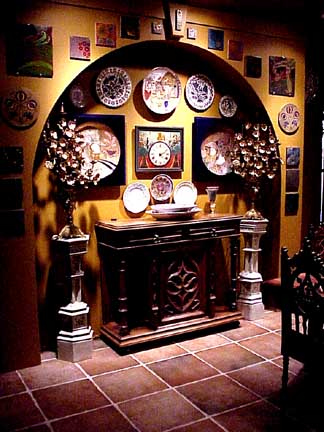 A ground level view of the inset archway. Spotlights in the ceiling directed on the wall illuminate the area.
---
Shown is the table closed to its smallest size. The brass chandelier decorated with angels originally used candles and dates from the early 19th century.
---
The sideboard holds tableware, napkins, etc. It is part of the French gothic dining set.
---
A small console table sits at the end of the room next to the stairway. The table is 18th century Italian and depicts a satyr supporting a heavy marble shelf. We purchased it from Richard Buck of Boston's South End about 30 years ago. We lived in a Brownstone at 28 Union Park owned by the Buck Brothers.
---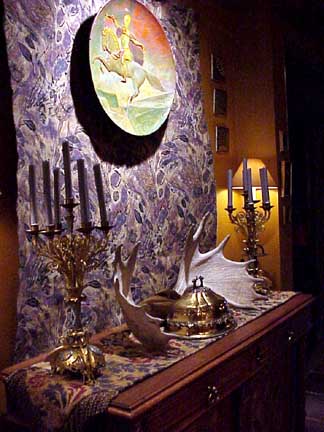 The sideboard: the candelabras are French Modern Gothic, a large Zsolnay Art Nouveau Charger decorates the wall, moose horns embrace a silver meat cover.
---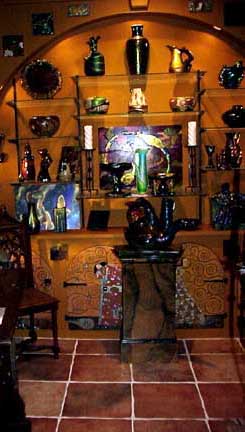 A wall of Zsolnay mostly from the Art Nouveau era decorate an inset archway. Recessed lighting plus directed ceiling lights created the atmosphere. The doors to the cabinet below are hand decorated in the style of Gustave Klimt and were painted by Brian Tuck of Newport.
---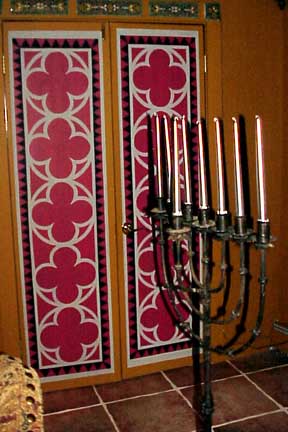 This doorway leads to the Music Room. They were decorated by a local artisan Brian Tuck who also created the Klimt style doors for us.
---
This window which is on the right side of the room is decorated with copper lamé draperies lined with black velvet.
---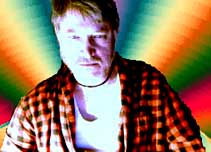 Self Portrait
---
All images within this gallery are © by Federico Santi
Federico Santi is a partner in The Drawing Room of Newport and The Zsolnay Store located in Newport, Rhode Island. He studied photography with Evon Streetman in the School of Art at Florida State University.
---
---
---
HOME PAGE FOR THE DRAWING ROOM OF NEWPORT
The Drawing Room is located at 152-154 Spring Street, Newport, Rhode Island 02840.We are open daily from 11 am to 5 pm and by appointment. Our phone number in Newport is 1-401-841-5060 cell 401-261-3980.Our email address is: drawrm@hotmail.com All images copyright by F. Santi, 2004