The Green Room
The Green Room was the large front parlor on the right as you came into the home. The room was approximately 25 feet square and opened to the hall with double pocket doors. There are four windows: two in the front going to the floor and two on the side facing Rock Street. We called it the Green Room because we painted the walls green and installed wall to wall green carpet. Three large palm trees and an assortment of period furnishings decorated the room. A large 6 arm bronze gas chandelier hung from the ceiling. The Mirror over the mantle came from Ben Gerbers Antiques shop in West Bridgewater Ma.
---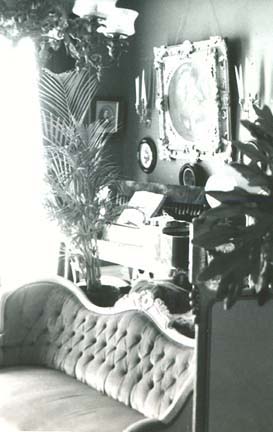 On the right as you entered the room was a Victorian Square Grand Piano. We traded it for a gas chandelier from a couple who lived in the South End of Boston. Though we had it restored, it never really played very well but it was a gread decoration. We sold it to Elanor Krebs and her husband, Harold, who lived in Fall River and owned a Queen Anne Style home.
---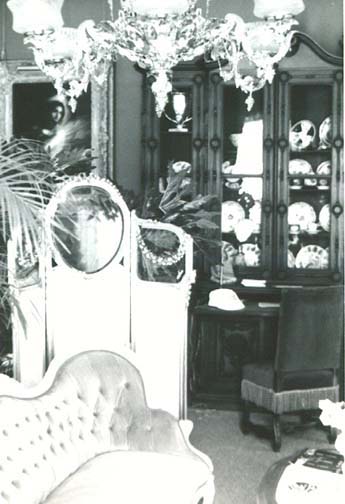 This black and white image was taken before we installed the green carpet or painted the walls green. We still have the chair in front of the desk, after all these years. All else in this room (with the exception of my grandfathers portrait) is gone.
---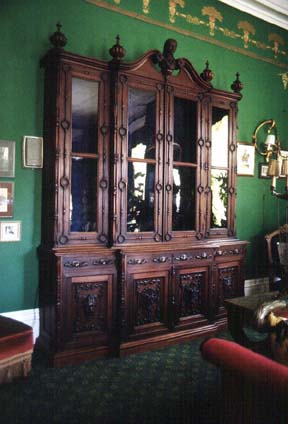 Green walls and green carpet. Everything look wonderful against that color. The library cabinet came with the house and dated from about 1860. The ceiling height is about 11.5' tall.
---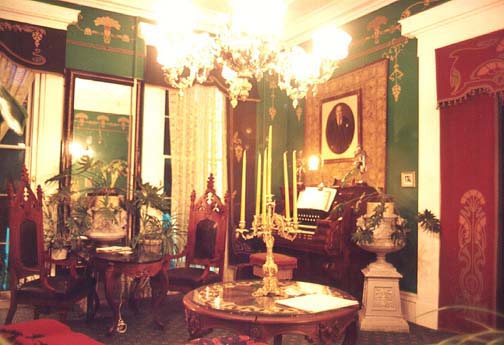 The square piano is gone, replaced with a double parlor pump organ. We purchased it from an antiques dealer in Taunton on Route 44. We paid $375.00 for it and it played very nicely; loud and in tune. The pietra dura center table came with the house. The draperies came from two guys who owned a brownstone on Union Park. They are high style Art Nouveau. The windows in this image face the front of the porch and went to the floor. We were on a very tight budget, basically no money, and were luckey to discover the Quincy Bargin Center in Quincy Ma were we were able to purchase lace curtain material for .50 a yard! With over a dozen 9' tall windows on the first floor alone, we needed lots of lace for the window.
---
To go back to the main Carr-Osborn Page
---
---
---
---
The Drawing Room of Newport Antiques Site
FINE ART: PAINTINGS, PRINTS, STATUARY
METAL, SILVER, GOLD, BRONZE, IRON
MISCELLANEOUS: MARBLE, CLOCKS, ETC.
LIGHTING: CHANDELIERS, WALL SCONCES, SOLAR, SINUMBRA, GAS, KEROSENE, GAS SHADES, ETC.
---
Email

us.
---