The American
Dance Card Museum
________________________________________________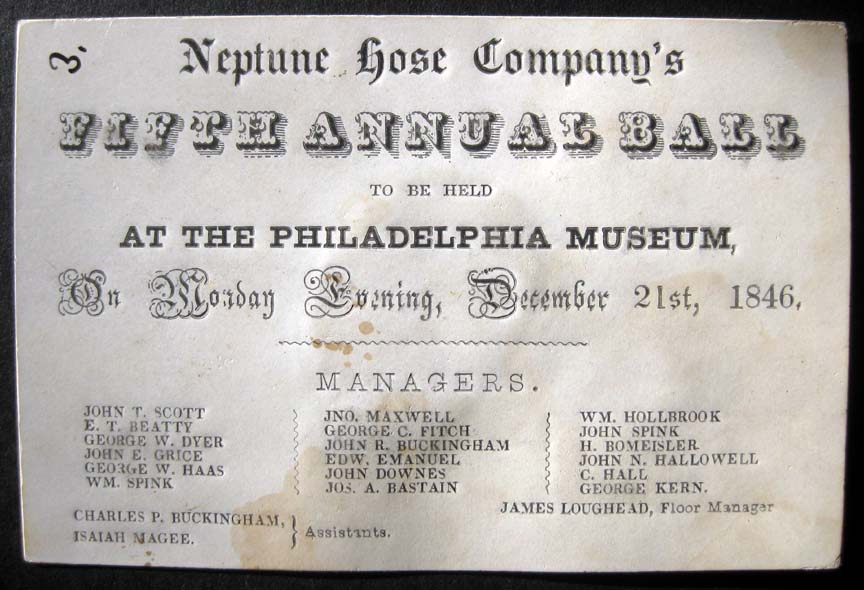 ADC12. This is a very rare set of dance related ephemera; perhaps some of the earliest surviving examples on the market today. From Philadelphia, dating 1846, 1847, 1848, 1949. There are 7 cards in this collection. The earliest is dated 1846: "Neptune Hose Company's Fifth Annual Ball to be held at the Philadelphia Museum on Monday Evening, December 21, 1846" The managers are listed. The considerable list of "managers" should appear as a who's who of Philadelphia society at that time. Titles of other cards are The Fairmont Fire Company's Annual Citizens' Dress Ball- 1847; Northern Liberty Hose Company's Grand Citizens' Dress Ball of 1848; The Friends of the Shipler Hose Company at the Musical Fund Hall of 1849; The First Grand Citizens Dress Ball of the Ringgold Hose Company of 1849. One card lists the dance program with 19 dances including: Grand March, Cirquetto, Bayadere, Souvenir, Bohemian Girl, Polka, Princess of Grenade, Knickerbocker, Huzzar de la Garde, Provincial, Enchantress, Lucia de Lammermoor, National, Ethopian, Norma, and Fille du Regiment. The price for this remarkable collection is: $1,250.00.
---
---
---
---
---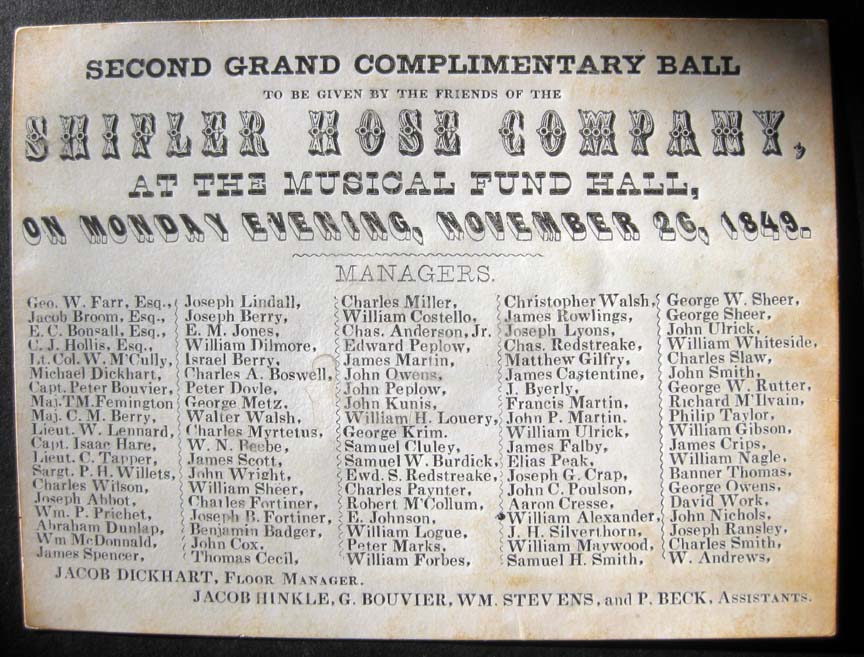 ---
To Go Back To the Dance Card Pages
---
The Drawing Room is located at 152-154 Spring Street, Newport, Rhode Island 02840.We are open daily from 11 am to 5 pm and by appointment. If you have an interest in an item listed in this document or wish to purchase an item, please call us at 1-401-841-5060 (cell: 401-261-3980). The Partnership of Gacher and Santi has been in business for over 30 years. We have been located in Newport since 1985. All images copyright by F. Santi, 2010

Our Email address is: drawrm@hotmail.com

Free counters provided by Honesty.com.

Visitors since 01-17-01