Antique Furniture from The Drawing Room.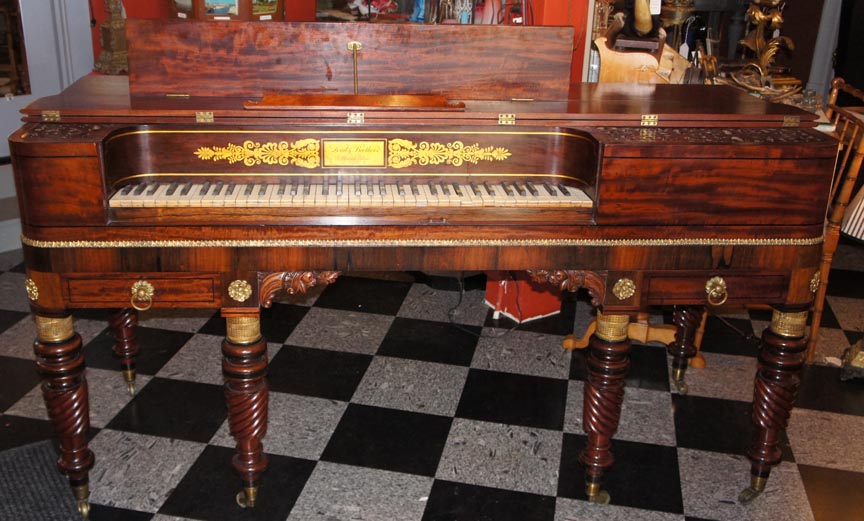 # 5631. A fine and rare American Federal Era Piano-Forte, manufactured by Loud Brothers* of Philadelphia. Size: 26" deep, 36" tall and 68" long. 73 keys. Completed November 12, 1830. Rosewood and Mahogany with stamped and cast brass fittings, gold gilt stenciling. Condition: the case was restored a number of years ago. The action needs attention, two strikers are unattached, the sound board has 4 cracks, one string is missing and the piano needs tuning. Minor edge veneer loss. Small chip to one of the keys. This instrument is missing the sustaining pedal assembly. The outer music holder was cracked and repaired. Scratches to the top surface of the piano. The cabinet was made by David T. Moore and the keyboard maker was David Boggs. Loud Brothers instruments are in collections of The Metropolitan Museum of Art, and other Museums of note. * Loud Brothers was a very early piano manufacturing company based in Philadelphia, PA. Loud Brothers was established in 1822 by Brothers Thomas Loud, Philogus Loud, John Loud, & Joseph Loud. Their warerooms were located at 150 Chestnut Street, and they firm enjoyed very good success building piano-fortes, organs and melodeon. In the late 1830's Loud Brothers received a patent for an early form of the cast iron piano plate with compensating tubes. It has been suggested in research that the Loud Brothers of Philadelphia were the sons of Thomas Loud, the piano maker of New York which was operating at the same time. Loud Brothers went out of business in 1837 and their instruments are exceedingly rare and of museum caliber today. $7,500.00
---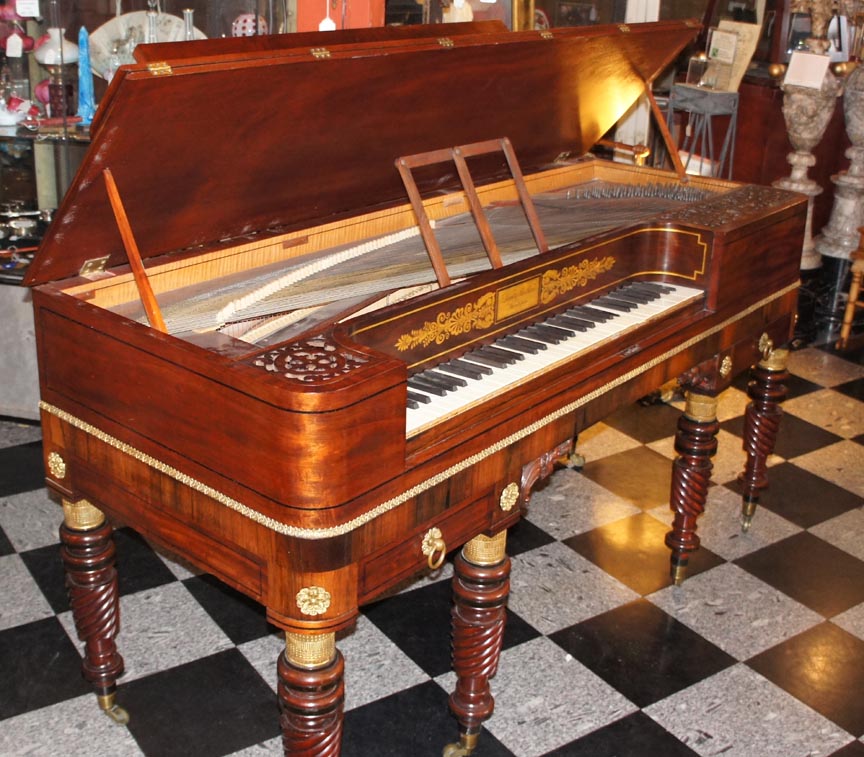 ---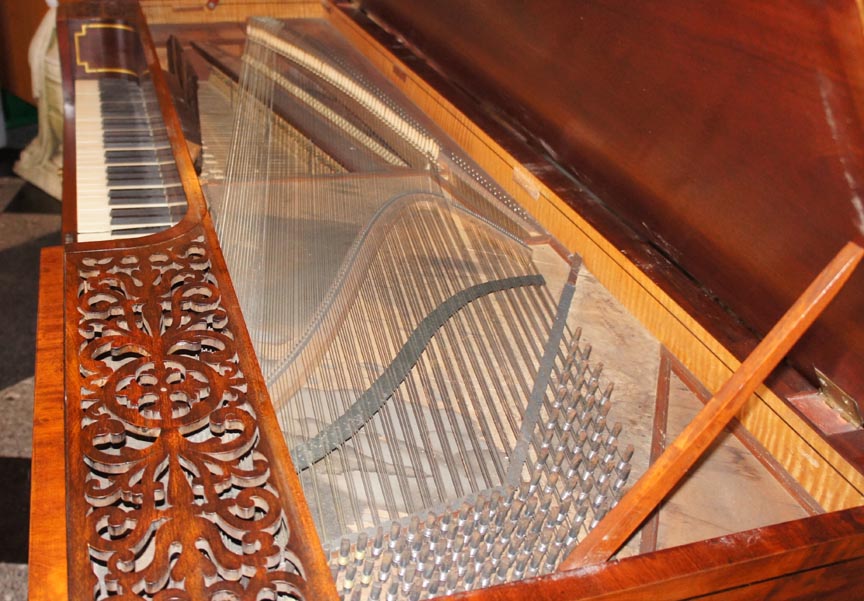 ---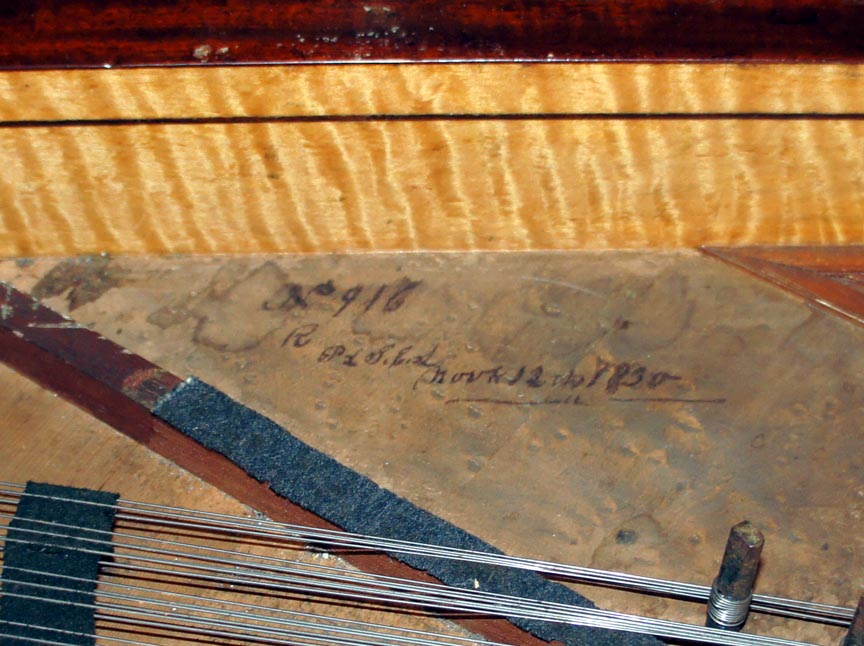 Numbered ( 916) and dated (Nov 12, 1830) we can not make out the name of the customer....
---
---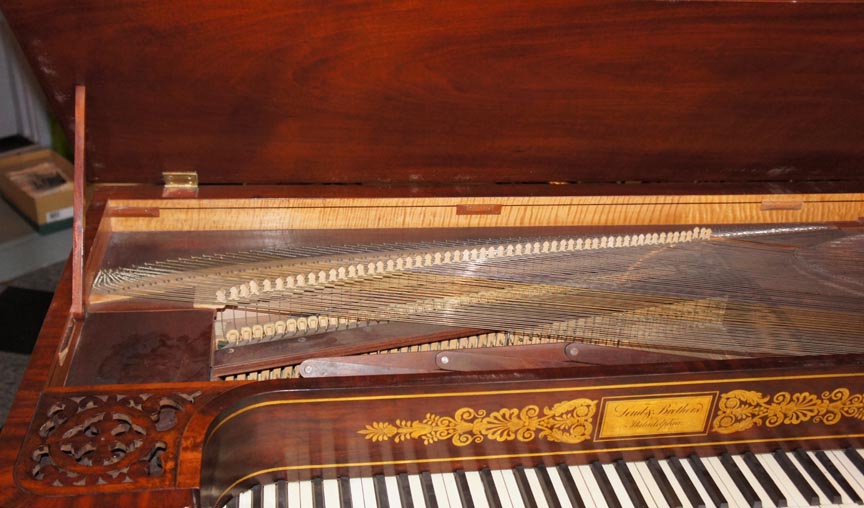 ---
There are two music drawers, one of either side of the keyboard.
---
---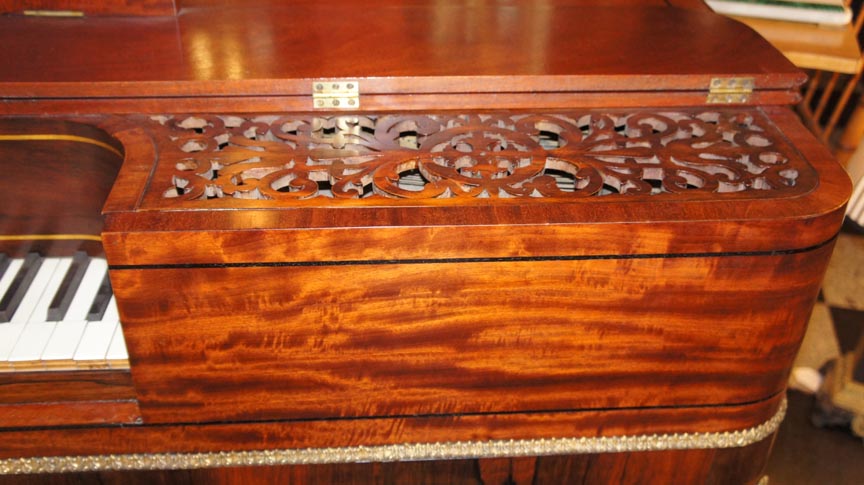 ---

---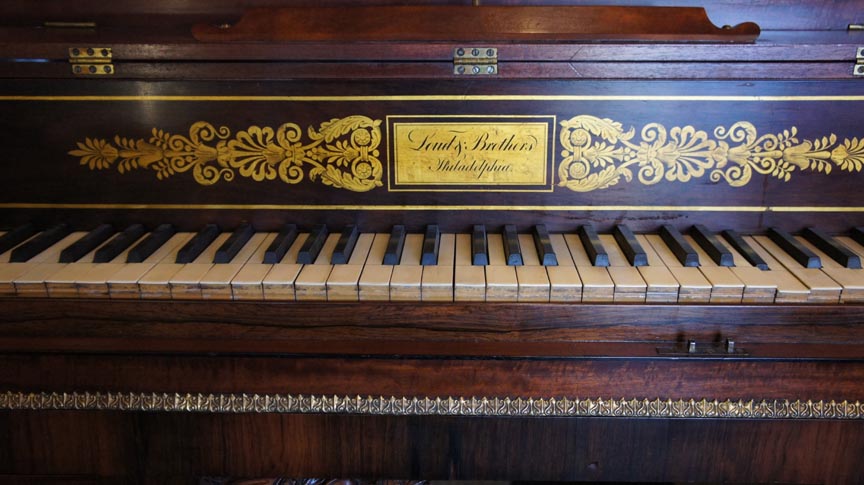 ---
HOME PAGE FOR THE DRAWING ROOM OF NEWPORT
ZSOLNAY // FURNITURE // GLASS // PORCELAIN // POTTERY // METAL
LIGHTING // PAINTINGS // EPHEMERA // TEXTILES // GOTHIC // MISCELLANEOUS
---
The Drawing Room is located at 152-154 Spring Street, Newport, Rhode Island 02840.We are open daily from 11 am to 5 pm and by appointment. If you have an interest in an item listed in this document or wish to purchase an item, please call us at 1-401-841-5060. The Partnership of Gacher and Santi has been in business for over 40 years. We have been located in Newport for over a quarter century. Our email address

is: drawrm@hotmail.com All images copyright by F. Santi, 2014
Free counters provided by Honesty.com.