Art Pottery
From
The Drawing Room Antiques
152 Spring Street
Newport Rhode Island USA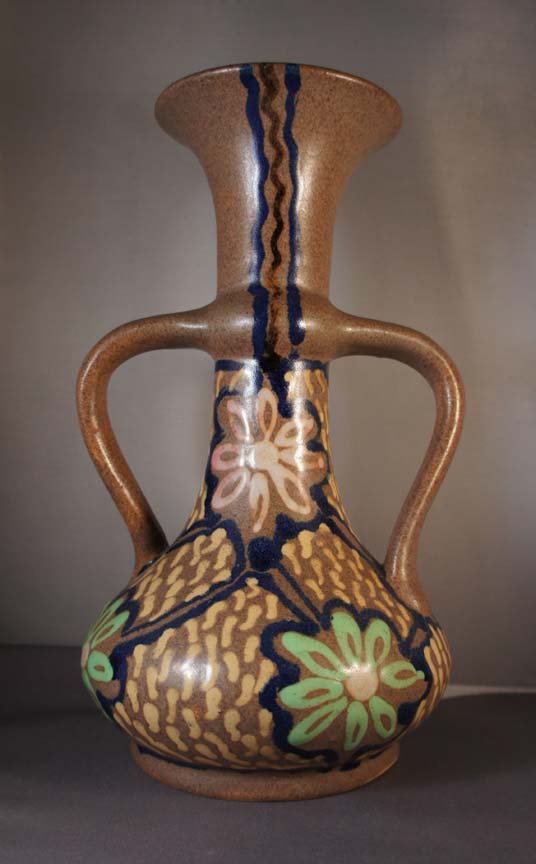 #5414 . A Decorative Art Nouveau or Secession Ceramic Pottery Vase. Marked "Germany" and numbered "850". Darkish Brown Ground with colored raised piping to create flowers with a white lined background. The decor has a Nabis feel about it. Reminds me of designs from the Munich School of Art. Jozsef Rippl-Ronai (1861-1927) designed items for The Zsolnay Factory in Pecs Hungary with similiar decorations. Size: 10 1/8' tall; footprint: 4.5".This pottery was made between 1919 and 1929 by the Kunsttöpferei und Majolikafabrik Carl Gebauer (Art-Pottery and Majolica Factory) in Bürgel, Thüringen, a small town near Leipzig. Located near the world-famous cities of Meissen and Dresden, the area is rich with the tradition of pottery-making. Gebauer began his career as a partner in the Neumann & Gebauer factory in Bürgel, founded in 1884, and then set up his own factory in 1892. His works were shown, and received commendations from several exhibitions throughout Germany. In 1920 he was employing 18 workers, exhibiting at the Leipzig fair, and his factory produced a variety of ceramic goods. By 1927 his workforce numbered 30 one of the largest ceramic factories in Bürgel. Once the Berlin Wall was established, Bürgel fell into the territory of the communist GDR. In 1948, the factory was taken into state ownership. Carl Gebauer's brother, Paul, was also a well-known ceramicist. But the Gebauer name is probably best known for Walter Gebauer, son of Paul, a world-renowned potter in the GDR, and highly respected throughout both Germanies for his glazes and technique. Walter, who worked with his uncle Carl from 1922-25, died in 1989. A ceramics museum in Bürgel, Keramik-Museum Bürgel, has a few similiar pieces. Price: $1,250.00.
---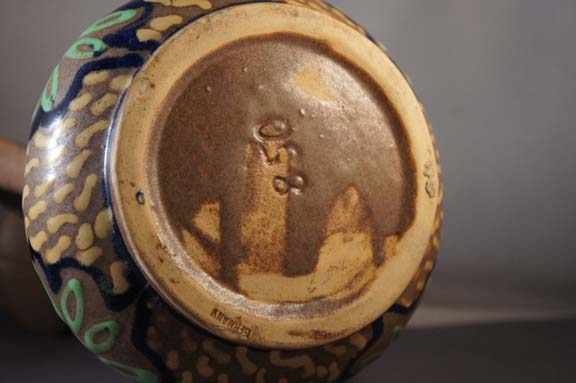 ---
---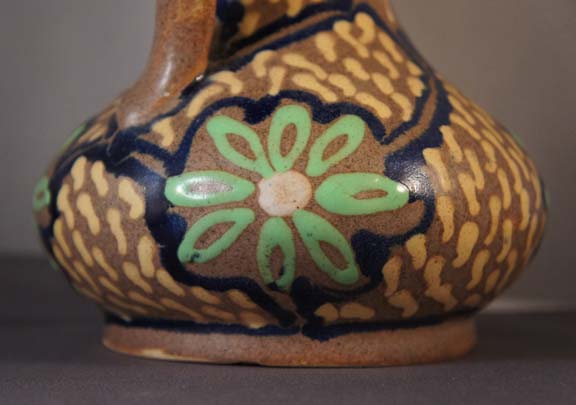 ---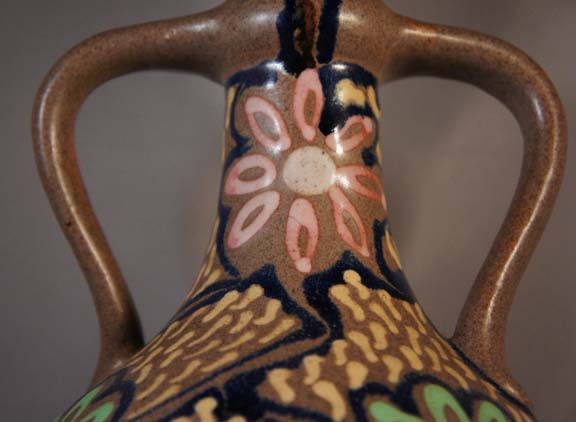 ---
Click on your return button to go back to the previous page or:
Enter here for the Art Pottery site of The Drawing Room of Newport
---
ZSOLNAY // FURNITURE // GLASS // PORCELAIN // POTTERY // METAL
LIGHTING // PAINTINGS // EPHEMERA // TEXTILES // GOTHIC // MISCELLANEOUS
THE DRAWING ROOM OF NEWPORT AND THE ZSOLNAY STORE HOME PAGE
The Drawing Room is located at 152-154 Spring Street, Newport, Rhode Island 02840.We are open daily from 10 am to 5 pm and by appointment. If you have an interest in an item listed in this document or wish to purchase an item, please call us at 1-401-841-5060. (cell phone: 401-261-3980)Our email

address is: drawrm@hotmail.com All images copyright by F. Santi, 2012

Free counters provided by Honesty.com.