John & Rico's
Antique Lighting from The Drawing Room
---
---
---
# 5338. A pair of Beaux-Arts Era bronze wall sconces. Size: 31" tall and 7" wide. The back plate is 4" wide and 18" tall. The shade is a new replacement. Condition: at some time we believe that at the top scroll on either side were additional hanging lights that would have hung on either side offering 3 pendants instead of the single one shown. Several hole were drilled in the brass scroll in the process of re-wiring. . . for the most part, the holes are not evident to the viewer: they are on the top of the scroll. The bronze is a soft bronze with an original dark patina. The style looks like they either came out of a Newport Palace or a grand Hollywood Mansion. Price for the pair is $3.450.00.
---
---
---
---
---
---
---
---
Note the hole in the highlighted area showing a drill hole.
---
Please note the hole in the highlighted circle where additional pendants may have been attached.
---
---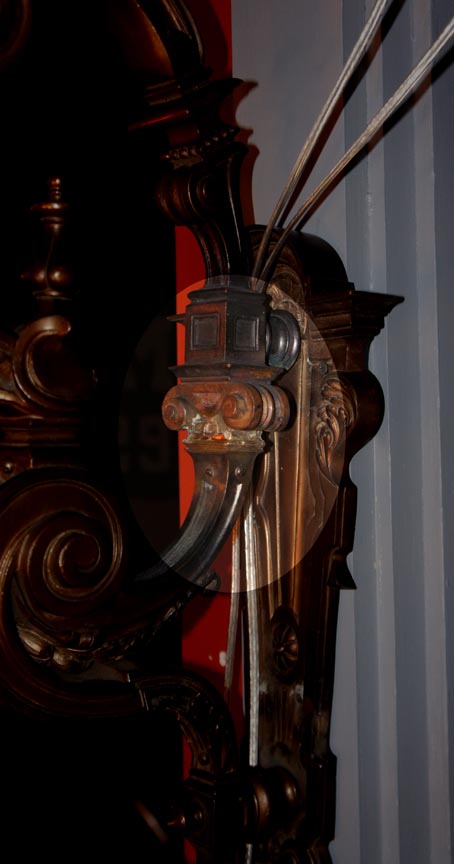 Note the area in the circle: there is an old welded restoration.
---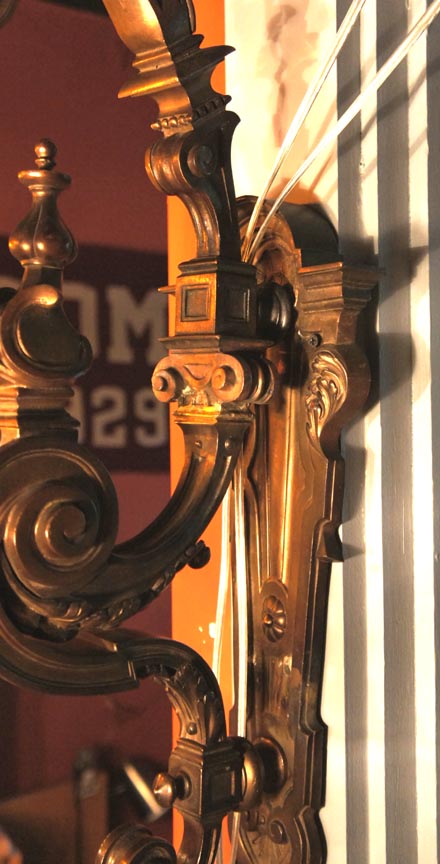 ---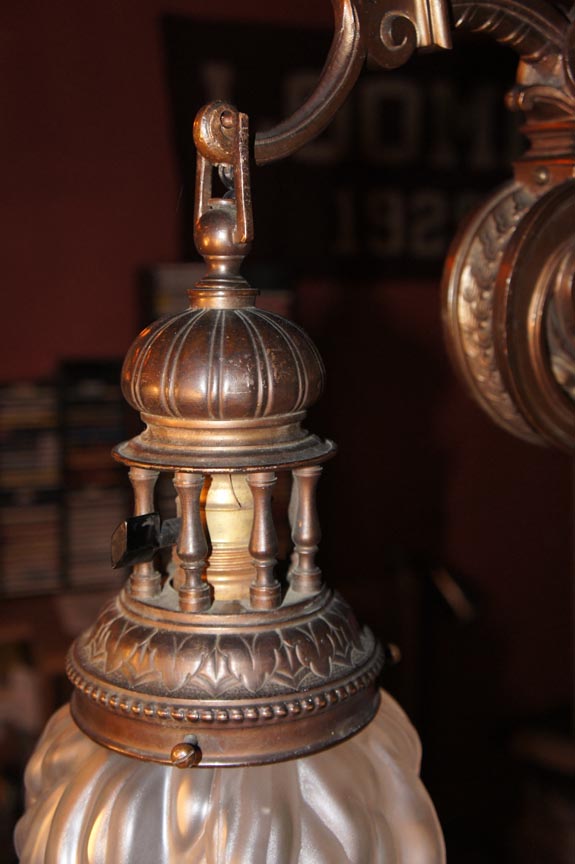 ---
ZSOLNAY // FURNITURE // GLASS // PORCELAIN // POTTERY // METAL
LIGHTING // PAINTINGS // EPHEMERA // TEXTILES // GOTHIC // MISCELLANEOUS
THE DRAWING ROOM OF NEWPORT AND THE ZSOLNAY STORE HOME PAGE
The Drawing Room is located at 152-154 Spring Street, Newport, Rhode Island 02840.We are open daily from 11 am to 5 pm and by appointment. If you have an interest in an item listed in this document or wish to purchase an item, please call us at 1-401-841-5060 (cell: 401-261-3980). The Partnership of Gacher and Santi has been in business for over 30 years. We have been located in Newport since 1985. Our email address

is: drawrm@hotmail.com

Free counters provided by Honesty.com.

Visitors since 01-17-01