John & Rico's
Antique Art Pottery
From
Their Drawing Room of Newport Antiques
_______________________________________________________
__________________________________________________
_________________________________________
_______________________________
_____________________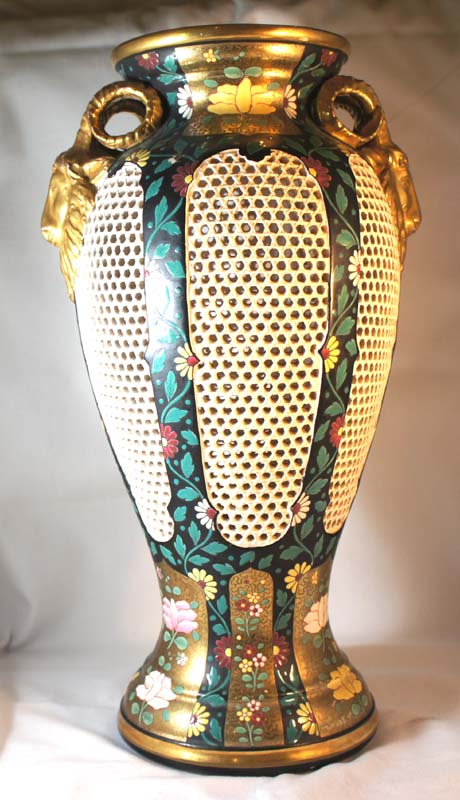 #5252. A rare Hungarian vase. Signed Emil Fischer Budapest. The Ignac Fischer (the father of Emil) was located in Pest but started at his fathers ceramic factory in Tata-tovaros and developed his knowledge in the Herend factory. He founded his own workshop in Pest in 1864 where he first started by only decorating other factory production. He started his own production in 1867. His specialized in decorated Majolica. He exported most of his production as Hungarian specialities. He was successful in the 1880 wining exhibition awards. His son, Emil Fischer took over the factory in 1895 and the factory slowly lost its sovereignty and became the property of the Zsolnay Factory at Pecs. We were told by a Zsolnay Family member that the Zsolnay Factory acquired the Fischer Factory to basically put it out of business. Size: 13" tall with a 5" diameter foot. Circa 1905. Six pierced panels with honey comb design framed with solid bands of polychromed flowers. Gold brocade background; two gold gilt rams support either side of the vase. Condition: flake to the head of one of the rams; top rim tiny edge flakes; no breaks or repairs to the honey comb pierced design. The only other factories that achieved this extremely difficult and style of design were the competing Zsolnay Factory and the Worcester Factory in England. Price $1,500.00.
---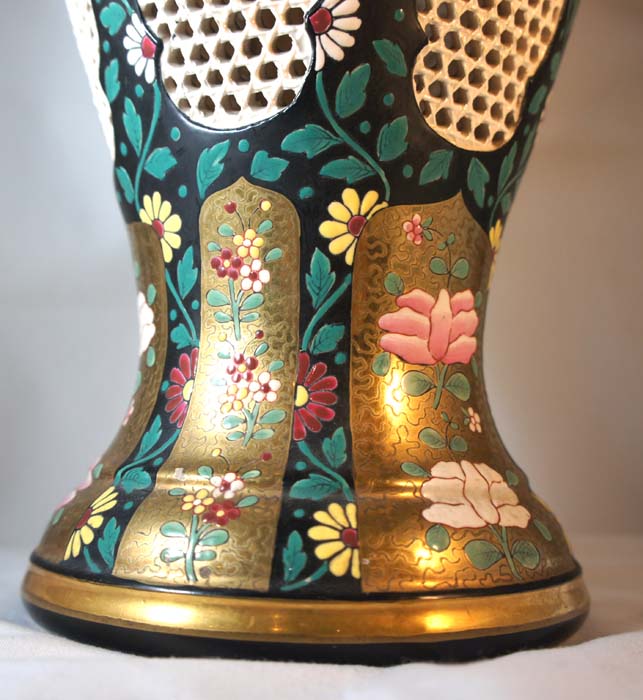 ---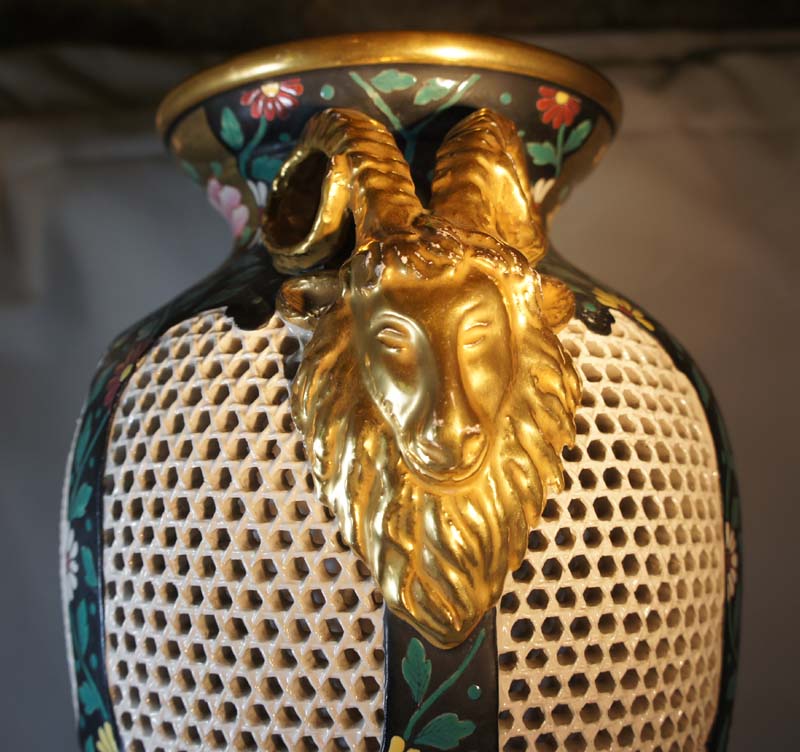 ---
There are tiny top rim edge flakes to the gold gilt surface.
---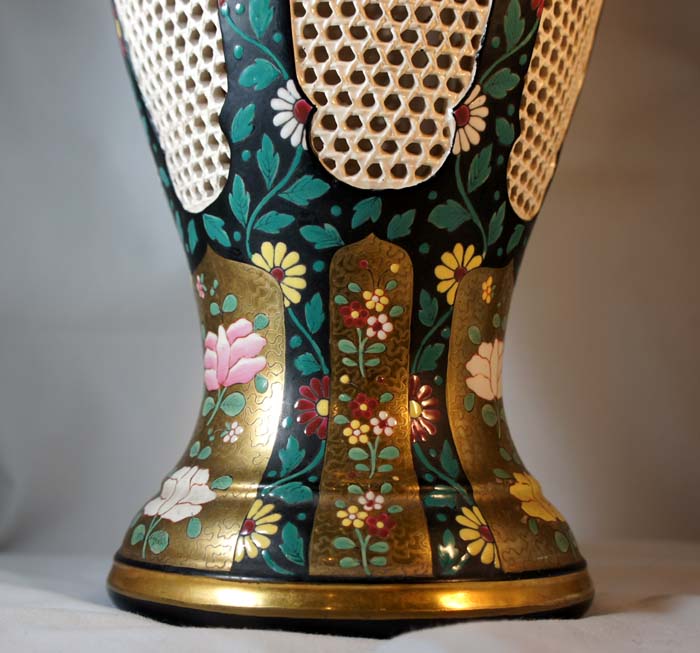 Form number 6339 and Des. 284
---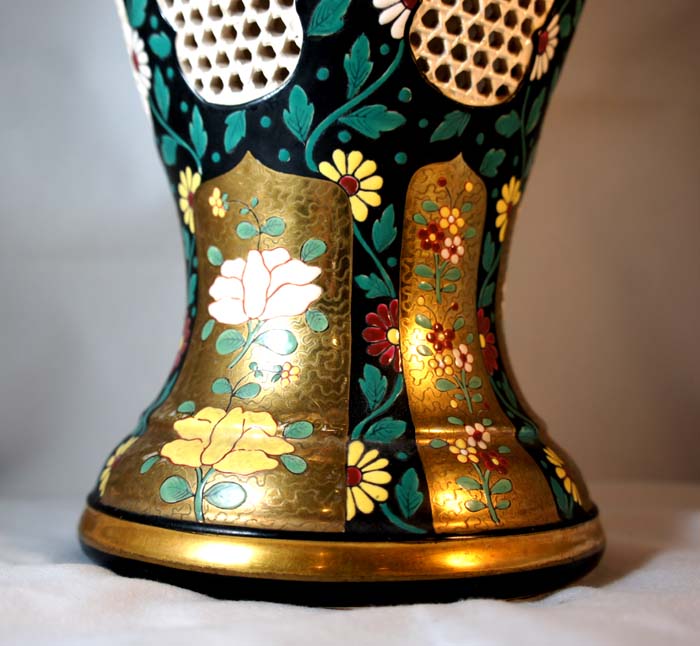 Six sided honey comb pattern.
---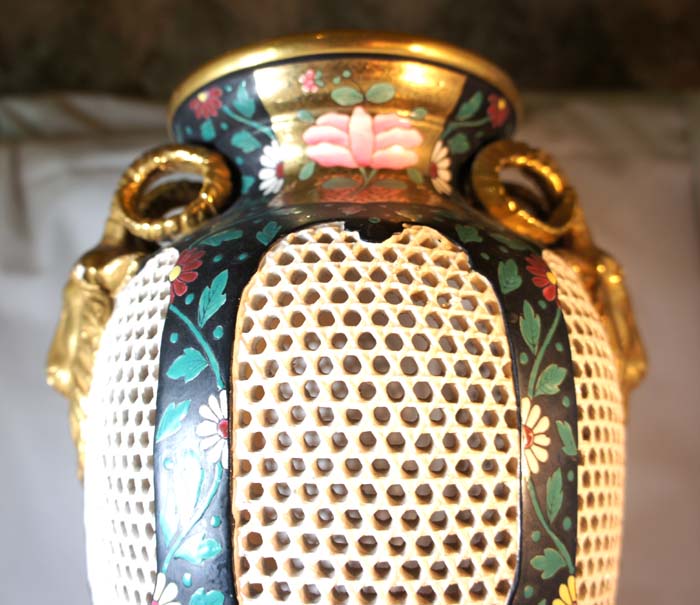 Inside the red circle shows the edge flak to the ram.
---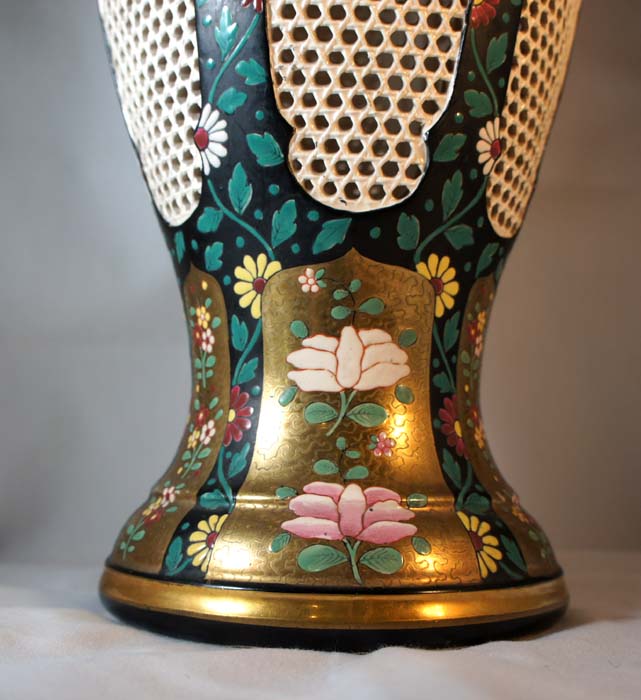 ---
---
---
---
The Drawing Room and The Zsolnay Store is located at 152-154 Spring Street, Newport, Rhode Island 02840.We are open daily from 11 am to 5 pm and by appointment. If you have an interest in an item listed in this document or wish to purchase an item, please call us at 1-401-841-5060. The Partnership of Gacher and Santi has been in business for over 30 years. We have been located in Newport since 1985.
---
Email us at drawrm@hotmail.com

If you have an interest in knowing more about Zsolnay, check our Ephemera Link: we stock two excellent publications on the subject of Zsolnay. If you wish an evaluation about a Zsolnay item in your collection, just send us a photo with notations of size, condition and marks along with a self addressed stamped envelope and we would be glad to help you. And . . . of course we are always interested in purchasing fine examples of Zsolnay ceramics.
---

Free counters provided by Honesty.com.

Visitors since 01-17-01