THE GRAND TOUR
A COLLECTION OF OBJECTS PURCHASED BY TRAVELERS ABROAD

# 5012. A pair of monumental Grand Tour Carved Marble Urns. Each is 51" tall and the base is 12" in diameter. Made between 1840-50. Italian. The dark marble bases are made of Portoro Marble. This marble has been mined in La Spezia Italy since the 16th century. It is a hard calcareous rock with black and yellow streaks. The base is solid. The urns were made in several sections and cemented together with plaster. The opening at the top is 6" diameter on the inside of the foliate carving. We suspect that these pedestals were used as lamp holders. They could have easily have held either a candelabra or carcel or moderator lamps. Condition: there is evidence that there were foliate 'ears' on either side of each upper urn section. A hole has been filled. The base to one of the urns has had restoration. These urns bolt together. We do not know the type of white with black veins stone composes the urn sections. We do not believe that it is alabaster; the urns may be Arabesqued marble which was mined in the Apuan Alps in Italy. This type of Grand Tour item was purchased and shipped back home. From a Padenarum Mass. private residence of note. Price for the pair: $7,950.00.
---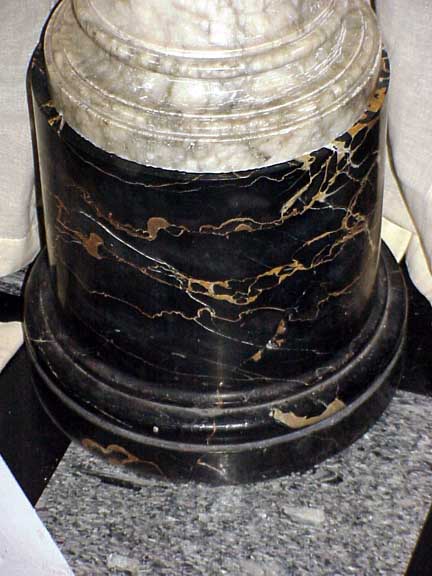 The marble pedestals are 12" diameter.
---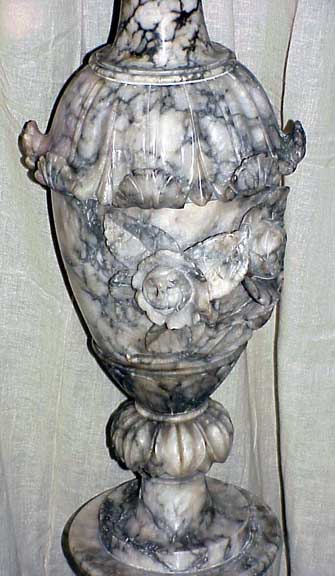 Showing the central section of the urns.
---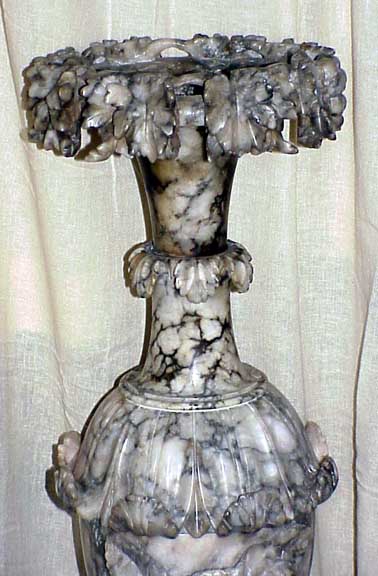 The foliate top could accommodate an inserted round top which can support a lamp or candelabra.
---

---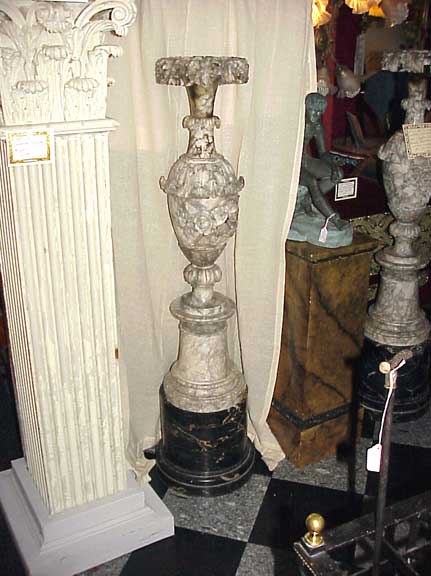 ---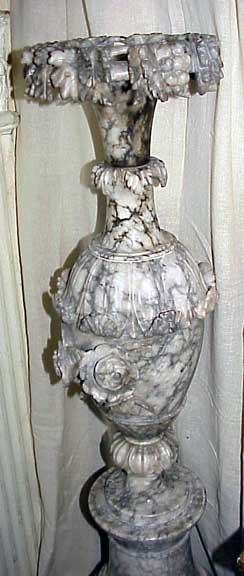 ---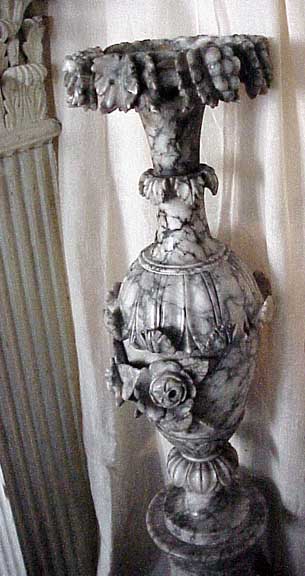 ---
---
ZSOLNAY // FURNITURE // GLASS // PORCELAIN // POTTERY // METAL
LIGHTING // PAINTINGS // EPHEMERA // TEXTILES // GOTHIC // MISCELLANEOUS//CLOCKS
THE DRAWING ROOM ANTIQUES HOME PAGE
---
The Drawing Room is located at 152-154 Spring Street, Newport, Rhode Island 02840.We are open daily from 11 am to 5 pm and by appointment. If you have an interest in an item listed in this document or wish to purchase an item, please call us at 1-401-841-5060 ( cell: 401-261-3980). We have been located in Newport since 1985.
Email us

Our Email address is: drawrm@hotmail.com